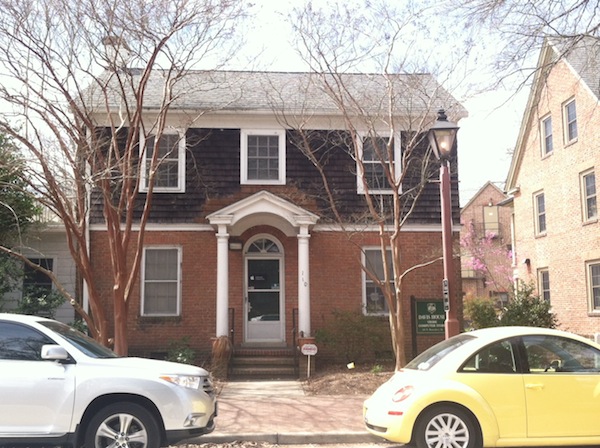 The Tribe Computer Store, the College of William and Mary's Apple Authorized Service Provider, will close by the end of the semester.
Located in the Davis House — next to the College Apartments — the store employs two full-time employees and ten student employees. It has operated from the Davis House since 2011, while products have been sold since September 2008 through the ID Office's online portal. Administrators have not yet decided what the Davis House's new use will be.
Vice President for Administration Anna B. Martin announced the upcoming closure in an email to students, noting that the store was "moving from bricks and mortar to on-line service." According to the email, the William and Mary Bookstore will carry Information Technology-recommended laptops. Service requests will now take place through Apple's website or at another Apple Authorized Service Provider.
"William and Mary has established an Apple Affiliate Link on Auxiliary Services home page that allows students to receive educational pricing on Apple products through the Apple Affiliate Program," Martin said in the email. "Please visit Apple to take advantage of ordering online at these prices."
Director of Auxiliary Services Cindy Glavas described the decision as a matter of ensuring cost effectiveness by senior leadership.
"The level of sales has been declining and is projected to continue to do so," Glavas said in an email. "While William and Mary will maintain its partnership with Apple through the Apple Affiliate Program to provide students, faculty and staff access to products at special educational pricing, we can no longer justify the costs of a bricks and mortar operation. Dell products and other technology accessories will be available through the William and Mary Bookstore."
Glavas noted that the decision to close the store was not an easy one.
"Any decision that affects employees is never an easy one, but one that had to be made based on the declining sales the store was experiencing," Glavas said. "Students, faculty and staff with AppleCare will continue to receive customer support through Apple either through Apple.com or with an authorized service provider."
However, Tribe Computer Store student employee Dylan Vorbach '15 said that having a repair center on campus is still a far more direct option than continuing service online.
Tribe Computer Store student employee Trevor Chang '15 also took issue with the email.
"Students can already get the education discounts at regular Apple retail stores or online, as well as Mac support through them," Chang said in an email. "[Martin] doesn't give any reason for the closure, nor what on campus support will be like, which I believe to be the bigger concern."
Tribe Computer Store student employee Molly Teague '15 expressed concern that the closure will negatively impact students who bought computers through the store, as well as those who relied on the store's close proximity to ensure quick purchases and repairs. 
"Now I wonder what people will do if they have computer problems, or even to buy replacement chargers or adapters or anything else," Teague said in an email. "I can't see how the school can just suddenly not have a place that fills this role."
The nearest Apple stores are located in Norfolk and Richmond. Glavas also listed Computer Concepts located in New Town as the closest authorized provider servicing iPads, Macs and Apple TV.
Chang expressed his belief that the closure jeopardizes support for apple users. "Every week many students come in with [computer] problems, and if Apple isn't supported on campus next year, students are going to have very limited options for repairs or purchasing of Apple products," Chang said.
Vorbach said he is also concerned about the store closure's impact on the services it provides.
"I'm concerned that there are a lot of promises to the campus community that will no longer be kept," Vorbach said. "From the computers we loan out to students while theirs are being repaired to our payroll deduction program — which allows W&M faculty and staff to purchase Apple products on monthly installments — the store provides important services on campus."
At this time, Glavas said there are no plans to continue the computer loaning program.
Jack Conroy '16, a Tribe Computer Store student employee, said he found the store busy, despite the fact that hours were cut from 8 a.m. to 5 p.m. on weekdays to 10 a.m. to 5 p.m. He was not surprised by the decision to close the store.
"We have not been receiving much support at all from Auxiliary Services," Conroy said in an email. "We have a single manager, Rebecca Bliley. I understand that most Apple campus stores have multiple managers. Rebecca was at one point, in charge of the ID Office and Tribe Computer Store at the same time."
Computer Store Technician and Assistant Manager Stephen Miller also alleged that Auxiliary Services and the Information Technology branch of the College did not adequately support the Tribe Computer Store. He said he believes there is an anti-Apple bias among the technology support staff at the College.
"Macs far outnumber PCs on campus," Miller said in an email. "We all have jobs here because of the students. Should we also earn our keep by supporting their tools for learning? I'm not bitter, just disappointed that an institution of higher learning would let this functioning piece of the puzzle drift away. [Auxiliary Services] seem to focus on the negative instead of embracing the opportunities. How many people love the bookstore? They lose money every year. We did the best we could with only 2 full time employees."
Tribe Computer Store Manager Rebecca Bliley '89 declined to comment.