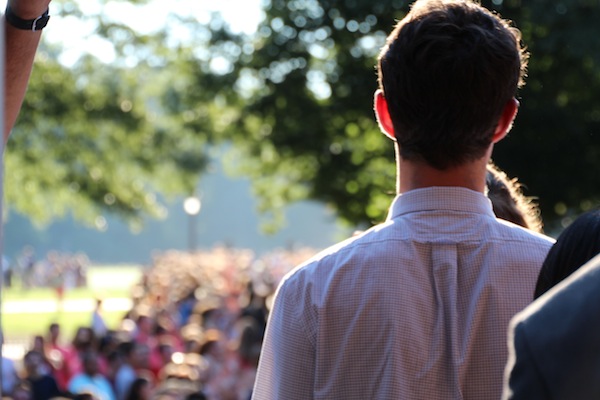 The newest members of the Tribe were officially welcomed to the College of William and Mary during the annual Convocation ceremony held Wednesday in the Wren Yard.
Before beginning the ceremony, College President Taylor Reveley asked for a moment of silence in honor of Peter Godshall '15, a student at the College who passed away Monday morning.
Provost Michael Halleran also took the podium to welcome new students to campus. He pointed out that the Class of 2018 would play a special role in the College's history, as they will graduate in the centennial year of the College's admission of women.
"We were the first college in Virginia to become co-educational, and we did so decades before many others. It will be an important and vibrant celebration," Halleran said. "The College was a leader in this area, just as the women and men who have attended William and Mary have been and continue to be leaders in every walk of life."
Reveley then introduced College alumnus and keynote speaker Ted Dintersmith '74. 
A former venture capitalist, Dintersmith serves the United States as part of a delegation to the United Nations General Assembly. He also created the Dintersmith Fellows program at the College.
Dintersmith began his remarks with a story of how he received a C plus as his first grade at the College. He explained that while he initially saw the grade as a setback, it ultimately helped him grow.
"Those occasional failures — those C pluses in life that jump all over you and tell you to change course — well, those are just the price you pay as you affect real change in the world you live in," Dintersmith said.
He advised new students to not worry about grades or majors. Dintersmith explained that the world is changing rapidly and that one must constantly reinvent oneself.
"The world we live in will not value you for the information you manage to retain or the grades you get. It will value you for your skills and your passion," Dintersmith said. "Your challenge here is not picking the right major; it's becoming the right person."
After Dintersmith's speech, Reveley presented Assistant Dean of Students Ben Boone '07 M.Ed. '09 and Brianna Buch '15 with the President's Award for Service.
In his closing remarks, Reveley encouraged new students to get involved with the many opportunities the College affords them.
"William and Mary does spread before its students a rich, succulent feast of opportunities, ways to learn, ways to lead, ways to grow while on campus," Reveley said. "You can have time and energy only to savor a small part of this succulent feast, but savor it you should. Suck the very marrow from its bones."
After singing the Alma Mater, Reveley and Student Assembly President Colin Danly '15 led students through the Sir Christopher Wren building. Upperclassmen cheered and high-fived the new students on the Sunken Garden side of the building.
"I think [Convocation] is really exciting and makes William and Mary so unique, that we have this experience," Emma Normoyle '18 said. "It feels amazing to be a part of a tradition that has so much history."