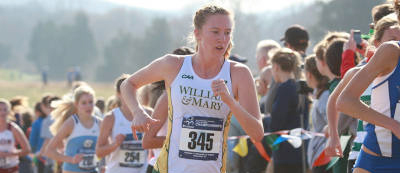 On a balmy Friday evening at the University of Richmond, William and Mary dominated the Spider Alumni Open. The men's and women's teams each earned first place in the event, with each team placing multipe runners in the top ten of its respective races. The Tribe's performance in the tune-up marks an ideal start to the cross country season.
The women's team, currently ranked No. 25 in the nation, got a boost from senior Carolyn Hennessey, who finished second overall in the two-mile tune-up. The Herndon, Va. native finished with a time of 10 minutes, 37 seconds, identical to the race's winner — the unattached Regan Rome. Hennessey's teammate, junior Meghan McGovern, finished third with a time of 10 minutes, 44 seconds.
Senior Dylan Hassett also finished in the top 10, taking eighth place with an 11 minute, four second run. Freshman Molly Applegate finished 11th, clocking in at 11 minutes and 23 seconds in her official Tribe debut. Overall, the performance was enough to edge Richmond, 27-29, with Christopher Newport finishing a distant third with 83 points. Though narrow, the victory marked a triumphant defense of the Tribe's national ranking.
The Tribe's men gave an equally impressive performance with their victory in the five-kilometer run, placing four runners in the top six. Sophomore Trevor Sleight led all runners with a 15 minute, five second time, earning his first career cross country victory. Tribe junior Ryan Gousse finished right behind Sleight, earning second place with a 15 minute, eight second mark.
Two more Tribe runners, sophomore Faris Sakallah and junior Nathaniel Hermsmeier, finished with identical 15 minutes and 10 second runs. Sakallah claimed fifth place and Hermsmeier settled in at sixth. Tribe freshman Cavender Salvadori finished 10th with a 15 minute, 21 second time, making him the fifth member of the Tribe to place in the top 10.
Overall, the College finished with 17 points, placing the team far ahead of Richmond's 42 points and Christopher Newport's 73 for a dominant victory.
The Tribe men's and women's teams will take a much deserved weekend off, as they gear up for the 56th Annual W&M College Open. The event will take place at 10:35 a.m. on Sept. 13 in Williamsburg, Va. From there, the Tribe will travel to Charlottesville for the Panorama Farms Invitational Sept. 26.