For women at the College of William and Mary, there are certain stores close to campus that have become synonymous with respective facets of pret-a-porter fashion. For the inexpensive "normcore" basics, head to Target (especially on Sept. 14, when the Joseph Altuzarra collaboration debuts). Nice outfit for a last-minute date? Victoria's Secret and Ann Taylor Loft have locations in New Town. Everything else? The Williamsburg Premium Outlets beckon.
But there is a particular category of shopping that may not be as well known: where to shop for contemporary designers in a unique and individually owned boutique setting.
Located a stone's throw away in Colonial Williamsburg, there are many boutique options that appeal to a variety of personal styles and aesthetics, echoing the stores of Rodeo Drive in Los Angeles or Spring Street in Manhattan. Perhaps the boutique most known to students is Closet Envy, nestled in a nicely-sized storefront in Merchant's Square.
"Closet Envy is the only ladies' contemporary boutique in Williamsburg," said owner Meredith Lunceford. "We carry high-end clothing, jewelry and accessories."
With exclusive designers — such as Diane von Furstenberg, Milly, Nanette Lepore, Tory Burch and Vince — on constant rotation, Closet Envy mainly appeals to women in their 20s and 30s, although a variety of styles can be worn by younger shoppers.While the retail prices of these designer items usually reaches above a typical student budget (you won't be able to get a prototypical Lepore shift dress for under $448, for example), Lunceford was quick to stress the prominence of sales, and even student employment.
"We have great end-of-the-season sidewalk sales, as well as sales throughout the year, that are exclusive to our email recipients," she said. "[We don't] currently have any student employees, but we always have in the past, and would love to have more students working with us."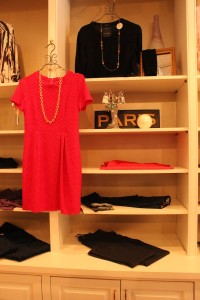 For a more shoe-centric boutique, The Shoe Attic on Prince George Street, located adjacent to the College Apartments, is brimming with both contemporary and quintessential shoe designs — all displayed in its "elegant attic" décor environment. Designers such as Jeffrey Campbell, Sam Edelman and Dolce Vita are always in stock. The boutique also has a modest selection of clothing and accessories, from less expensive designers like Poppy Lux, BB Dakota and Unif.
"Many of our styles are very much up with the trends, several are off-beat, and others are timeless," said owner Brittany Rolston. "I arrived in Williamsburg five years ago with a passion for fashion that filled a walk-in closet and a sizeable attic. What better to do here than share that passion and knowledge of shoes with others?"
Like Closet Envy, The Shoe Attic also implements sale strategies meant to appeal to students.
"We have special events from time to time, which we announce through our social media and email lists," she said. "We also offer a student discount of 10 percent on non-sale merchandise."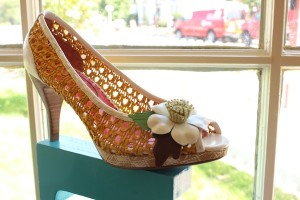 The Jazzy Giraffe, tailored to shoppers with a more mature taste, is a lucrative stop for boutique designers, as opposed to strictly department store labels. Located in the Henry Street Shops in Merchants Square, some of the available lines include Joeffer Caoc, Elemente Clemente, Pink Tartan and Dubarry.
Owner Donna Wright – who named the boutique after seeing her mother-in-law's videos from a safari in Africa – said the emphasis on these mostly-undiscovered designers make The Jazzy Giraffe unique compared to other boutiques in the area.
"I've found in this business that it's difficult to compete with the mainstream department stores, especially with such a dominance of online shopping, which is the current trend," she said. "Our niche is that people comment that many of our lines hold their interest because they have never seen them elsewhere."
While Wright acknowledges that the overall aesthetic of the store is aimed at an older generation of women, she thinks there are a good amount of options for students.
"Most students enjoy bringing their moms into shop because I find that they want their moms to look age-appropriate, but with an edge," she said. "For the younger girls, our Escapada line offers great colors and a resort look at a great price. Our handbags appeal to all ages, as well."
Two additional boutiques on Duke of Gloucester Street also emulate an individualized setting. The two-story Binns features distinctive and modern clothing, accessories and shoes, with designers ranging from Escada to Kate Spade, from Salvatore Ferragamo to St. John. A few storefronts away, Bella Fine Lingerie offers a selection of intimates and loungewear, from noted brands like Cosabella, Aubade and Chantelle.
But perhaps the most important question looms: why choose Williamsburg to open a boutique, especially with larger and more populous cities such as Richmond or Virginia Beach in such close proximity?
"Williamsburg has a number of wonderful boutiques, which is what drew us to the area," said Wright. "We wanted to be in the company of other specialty stores."
Rolston concurred, while also mentioning the charming environment as a major lure.
"We thoroughly enjoy being located in a historic building adjacent to William and Mary and the Market Square area of Colonial Williamsburg. The variety of shopping, dining, history, and culture within a short walk is unique and delightful," Rolston said.