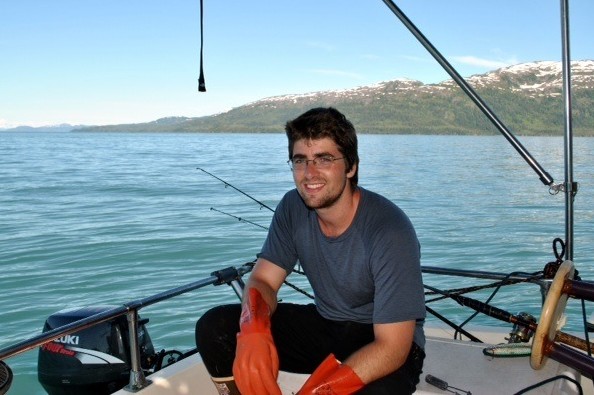 On July 9, Cody Roman Dial '09 emailed his parents and friends about his plans to explore Costa Rica's rugged, treacherous Corcovado National Park. The journey should have taken 4 or 5 days. No one has heard from him since.
Aside from a possible abandoned campsite and several confusing, unconfirmed sightings from locals, searches have yielded no trace of the 27-year-old Alaska native. As the son of explorer and Alaska Pacific University environmental science professor Roman Dial, Cody is described as an experienced survivalist. However, Corcovado is rife with dangerous ravines, illegal gold mining tunnels and poachers, according to the Alaska Dispatch News. Cody does not appear on the park's registry, but it is believed that he entered illegally to access challenging routes off-limits to visitors. He had been exploring Latin America since January, taking a break from pursuing his master's degree in environmental science at APU.
Costa Rican officials concluded their search and rescue efforts in late August. The Red Cross funded a fact-finding mission but forbade Roman from participating in their searches. Despite attempts to enlist the help of the New Mexico National Guard, which has an arrangement with Costa Rica's security forces, the U.S. military determined that it has no legal authority to help with the search.
Roman and his friends conducted their own search of the park. He now believes that his son may no longer be in the park, indicating foul play as a potential explanation for Dial's disappearance, according to the Alaska Dispatch News.
During his time at the College of William and Mary, Cody was a biology major and a member of the College's now defunct branch of the Psi Upsilon fraternity. It was during those college years that Hunter Braithwaite '08 first came to know the young man, whom he describes as soft-spoken and exuding a serious energy.
"Coming from Alaska … he had an exotic presence in Williamsburg," Braithwaite said in an email. "One didn't wonder how he had gotten out there in the first place, but why he had decided to leave it for Virginia. He had all these stories of exploring the mountains and the woods. Looking back on it, I can't say that this disappearance doesn't make sense. But that makes it all the more sad."
Ben Saxton-Ruiz '08 describes Cody as a dedicated brother and an avid rock climber. Cody would hone his skills by scaling the kinesiology department's wall.
"He had a great respect for nature," Saxton-Ruiz said in an email. "He never backed away from a challenge, and if possible would learn from the experience. Lastly, he is one of the sincerest people I know; he would call you out on your B.S., even if you didn't want to hear it."
Devon Trotter '06 was president of Psi Upsilon when Cody was first recruited. He reflected on his friend's sense of humor and artistic creativity.
"[Cody] Roman is the type of guy whose spirit belongs to the wilderness; so much so that he often felt constrained by society's superfluous rules," Trotter said in an email. "An environmentalist, Roman's heart belonged to nature."
Many of Cody's friends from his time at the College mentioned that Cody's hobbies centered on nature.
"He would tell stories about going up in the mountains in Alaska as a kid and rolling boulders down the slopes for fun, which I assumed at the time was hyperbole but it wouldn't surprise me if that was true," Ed Winstead '09 said in an email. "If there was something around that could be climbed, he'd climb it — onto a roof, up a chimney, whatever he could get a grip on. … If there's anybody who could make it through something like this, wherever he is and whatever's happened, it's him."
Eric Goldman '06 is working to keep attention on his friend's disappearance. He said that a GoFundMe account has been created to enable the searchers to continue their efforts. So far, $3,315 dollars out of a requested $15,000 have been raised. Additionally, the Dials have requested that checks be sent to Margaret Dial at Alaska USA Federal Credit Union, PO Box 196613, Anchorage, AK, 99519 with the memo "Cody Roman Dial Donation Account."
Goldman said he believes his friend is still alive.
"He is an excellent adventurer … and a better friend, and that I'm sure he'll have one hell of a story for us when he's found," Goldman said in an email.
Correction: Devon Trotter was president of Psi Upsilon at the College of William and Mary, not Ben Saxton-Ruiz.