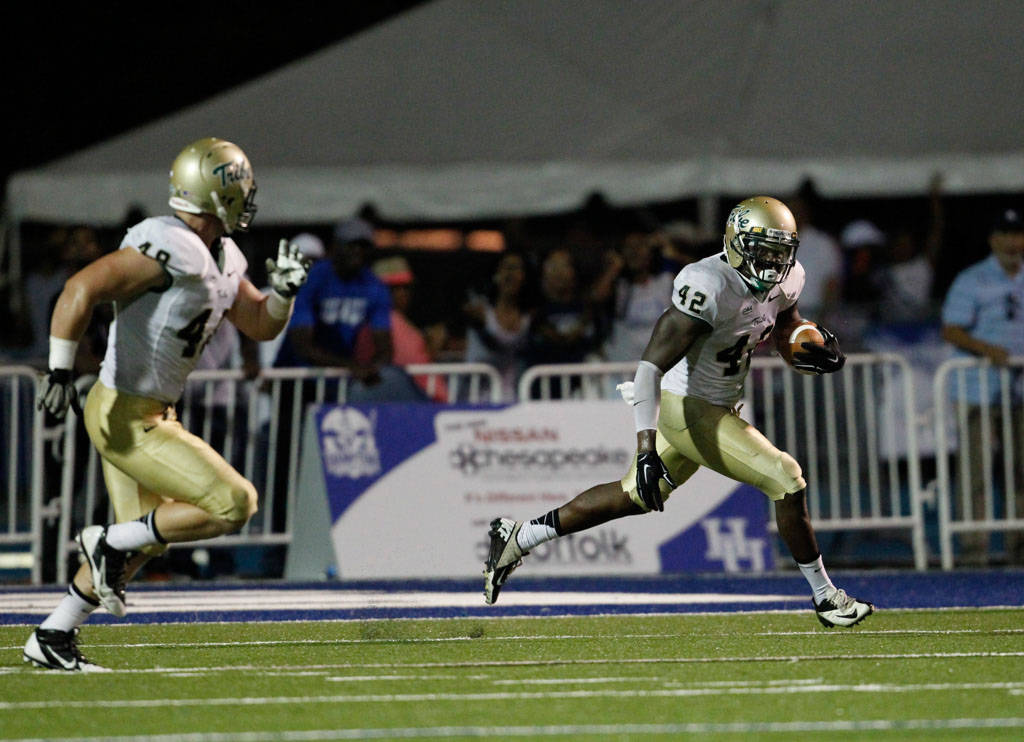 Four William and Mary defensive players received Colonial Athletic Association all-conference first team honors last year — an astounding statistic, especially given that the only one not returning this season recently played in his first National Football League game.
Jerome Couplin '14 will surely be missed, but so was B.W. Webb '13 until the Tribe defense proved itself to be one of the most stifling units in program history last year. Senior Ivan Tagoe steps into Couplin's shoes as the team's free safety after playing right beside him as strong safety for a full season. Any lingering concerns over the transition were softened when Tagoe made 13 tackles in the first two games.
Beyond the graduation of the current Detroit Lion and four other important contributors, the program's defense has hardly ever been more hyped than for the current season. Tagoe is joined by junior middle linebacker Luke Rhodes and senior defensive end Stephen Sinnott as team captains, looking to lead their experienced unit to another season of not giving an inch. Rhodes, senior outside linebacker Airek Green, and senior defensive end Mike Reilly are all returning All-CAA first-team honorees.
The fear starts up front. With Sinnott and Reilly circling quarterbacks like 260-pound vultures and senior defensive tackle Jasper Coleman punishing unlucky linemen through the middle, the Tribe's defensive line will be tough to handle. Having led the conference last season with 11 solo sacks, Reilly was named the pre-season CAA Defensive Player of the Year at media day in July.
"Mike Reilly has kind of made himself into what he is through his work ethic," defensive coordinator Trevor Andrews said. "You won't find a guy that works harder anywhere. His ceiling will probably depend on how the guys around him play. Guys like Coleman, [Tyler] Claytor and Sinnott and the other guys up front are who really helped [Reilly] have a great year last year."
The one remaining question regards who will fill the trenches beside Coleman. Junior defensive tackle Spencer Bopp started the opening game at Virginia Tech, but was replaced by freshman Isaiah Stephens for the 42-14 win at Hampton. Nevertheless, whoever steps in at the role will be flanked by three veteran linemen aiming for a big season.
A bona fide stud since his freshman season, Rhodes enters his junior year as the defense's nucleus and Bulldozer-in-Chief. Rhodes trailed only Couplin in total tackles last season with 98, good for 12th in conference. Green could be an even more instrumental player this season, especially after racking up 13 tackles through the first two games. Quincy September '14 left a hole on the right side that has been filled thus far by sophomore Marcus Harvey. Harvey comes off an encouraging first season that included an interception for a touchdown, though Andrews occasionally used Rhodes and Green in a two-linebacker set against Hampton last week.
"Luke and Airek are proven play-makers," Andrews said. "They play really well together — that's one thing I noticed transitioning that maybe I didn't notice before. Those two kids have played a lot of snaps and a lot of games together and they think for each other. If one of them screws up, the other can make it right. It's been really fun to watch those guys do it."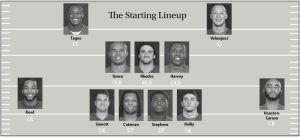 The College's secondary has produced the program's two brightest stars of the past two years, and, fittingly, this year's squad is one of the team's best. Junior cornerback DeAndre Houston-Carson will presumably guard the opposing team's most dangerous wideout each week. Houston-Carson settled into the same role last season with impressive results throughout and finished as a third-team All-CAA selection. Sophomore Tre Green will work opposite Houston-Carson in a big step up from his reserve role last season.
Tagoe, junior Jared Velasquez, and senior Frank Tamakloe comprise the Tribe's safety corps, each offering sizable game experience. One of the indelible images of the 2013 season was Velasquez bringing back an interception 90 yards for an electrifying touchdown against James Madison in the College's homecoming game, a victory which jumpstarted a three-game winning streak.
"I'm really excited for Ivan Tagoe," Andrews said. "Since he's gotten here, the kid has done nothing but keep his mouth shut and work hard and play hard. I think he has as high of a ceiling as anyone on this team and I think he'll do some things this year."
Hired after a historic defensive campaign under current Nevada defensive coordinator Scott Boone, Andrews, formerly the program's defensive line coach, faces sky-high expectations in his first season, particularly given the questions on offense. However, if the offense does struggle, there are few other Football Championship Series defenses that are more capable of picking up the slack.