Every football season raises questions, and this one is no exception. In 2013, William and Mary nearly rode a dominant defense to the Football Championship Series playoffs, lifted by an offense that seemed to grow stronger. Now that former quarterback Brent Caprio has graduated, the College's offense has to build on last season, rather than regress.
Last year,  the College ran the ball 470 times and attempted 299 passes across its 12-game schedule. It should be no surprise that this season, the Tribe has already run 78 times and thrown just 39 passes — the College has leaned on its running game for head coach Jimmye Laycock's entire tenure, and this year promises to bring more of the same.
Clearly, the chief offensive burden falls to the Tribe runners, especially junior running back Mikal Abdul-Saboor. After serving a limited role in his freshman year, Abdul-Saboor rushed for 840 yards in nine starts last season, averaging 4.7 yards-per-carry. His 91.6 yards per game ranked fourth-highest in the Colonial Athletic Association last year. Abdul-Saboor's longest gain was just 17 yards last season, and he earned his yards by consistently moving the chains in five-yard bursts. The Tribe is depending on that consistency this year, and so far Abdul-Saboor has delivered 192 yards and 6.9 yards per carry in his first two games, including three rushing touchdowns.
By contrast, the rest of the Tribe's backs averaged just 3.3 yards per attempt, a drastic drop-off from Abdul-Saboor's 4.7. Sophomore running back Kendell Anderson is the Tribe's second option, with 54 yards in his first two games. The College's offense will benefit if Anderson and senior running back Jarrell Cooper can provide a spark when Abdul-Saboor takes a breather.
Despite its emphasis on running the ball, the College will not abandon that passing game. Sophomore quarterback Steve Cluley is now two starts into his career. So far, he has completed 17 of his 37 passes for 243 yards, for an average of 6.6 yards per attempt. Laycock and offensive coordinator Kevin Rogers have mostly limited Cluley to short attempts, occasionally calling a deep pass to keep defenses honest. Though Abdul-Saboor and the Tribe's runners will be the backbone of the offense, the College's success hinges on whether Cluley can punish defenses that ignore the Tribe's passing threats. Abdul-Saboor and his teammates appear to believe in Cluley.
"The biggest thing is having a quarterback this year that we all feel confident in," Abdul-Saboor said. "This year we're going with our guy, and we all have his back."
Cluley's receivers are in a state of uncertainty. Senior tight end Bo Revell is out for the season with a leg injury, and an ankle sprain leaves senior receiver Tre McBride's status in doubt. McBride was a potent weapon for the College last year, piling up 801 receiving yards and five touchdowns, while also adding 605 yards on kick returns. The Tribe's passing offense will be visibly different when McBride returns — his speed, athleticism and reliability are irreplaceable assets.
For now the Tribe's passing revolves around senior receiver Sean Ballard and freshman receiver DeVonte Dedmon. Ballard was a mainstay in last year's offense: he caught 36 passes for 593 yards, and his 16.5 yards per catch were third in the CAA. Dedmon made his first start against Hampton and has demonstrating his speed and elusiveness. When McBride returns, the Tribe can experiment with three receiver sets that draw defenses away allowing Dedmon to catch the ball in space. However, there is uncertainty at tight end, where sophomore Eric Hensley has yet to catch a pass.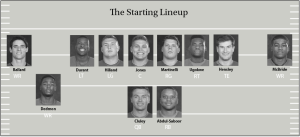 The task of protecting the Tribe's skill position players will fall to the offensive line, where freshman tackle Chris Durant and freshman guard Connor Hilland join three incumbent starters: junior center Andrew Jones, sophomore guard Dominic Martinelli and sophomore tackle Jerry Ukogwe. The starters weigh in at an average of 293 pounds, but the line must prove that it has skill and chemistry to match its size and strength. Laycock is pleased with his linemen's versatility.
"The offensive line is kind of a revolving thing anyway," Laycock said. "We have backups that can move in, and some young guys. I think that will resolve itself."
The first two games of the season indicate that the College will lean heavily on its running game early on, at least until McBride returns and Cluley grows more comfortable. Given the Tribe's sterling defense, the College will compete if the offense can grind out rushing yards, convert the occasional third and long and avoid turnovers. If McBride returns quickly, Cluley improves and Abdul-Saboor keeps churning for first downs, the team will be all the better for it.