William and Mary suffered a 3-1 loss against No. 10 Charlotte in North Carolina Tuesday. Despite leading by one goal at the top of the second half, the 49ers capitalized a comeback opportunity, scoring three unanswered goals in the second half.
Freshman forward William Eskay scored his second goal of the season in the third minute off an assist from senior forward Josh West. Junior forward Jackson Eskay followed up with a shot on goal two minutes later, but Charlotte's defense deflected the attempt.
Both teams combined for three shots on goal in the first half. Despite 49er forwards Kyle Parker and Brandt Bronico's efforts, Charlotte was unable to get the ball past the College's senior goalkeeper Bennett Jones before halftime.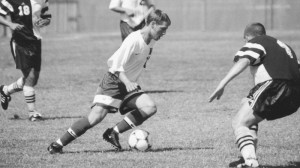 The second half, however, saw a reversal. Both teams shared possession evenly through the first few minutes of the half, Charlotte's offense gained momentum after the opening 10 minutes. The 49ers tied the game in the 69th minute, with a goal by 49er forward David Mayer that hit the left corner of the net from 10 yards away. Charlotte forward's Zhuvonte Wilson and Bronico were awarded assists. Six minutes later 49er forward Hans Honer scored his second goal of the season, finishing a rebound of his own shot and making the tally 2-1 in favor of Charlotte.
The 49ers upped their lead once more in the 82nd minute, when Parker shot the ball into the right corner of the Tribe net after a pass from Charlotte midfielder Dominic Bonilla. The Tribe attempted two shots on goal in the final nine minutes of the game but was unable to make a comeback.
Charlotte outshot the Tribe 11-3 in the second half, 14-6 overall. Eight of Charlotte's 14 shots were on target and Jones blocked five of them. The loss puts the Tribe's record at 3-7 and advances the 49ers to a 7-1.
The Tribe faces Colonial Athletic Association opponent Drexel (4-4-2) Saturday at Martin Family Stadium. The game will be a feature in a weekend-long celebration of Crapolfest, hosted in memory of the life of Andrew E. Crapol, a former Tribe soccer player who lost his life to cancer in 2009. The game will start at 7 p.m.