The Fashion Week cycle, which began with Mercedes-Benz Fashion Week in New York in September, finally came to a close this past Wednesday in Paris, much to the disdain of the fashion-forward people of the world. But for any fashion mavens at the College of William and Mary, another opportunity for entertainment is coming up soon in Williamsburg. Exclusively on campus during fall break, Virginia Fashion Week events will be held in the Chesapeake Room of the Sadler Center Friday Oct. 10 from 7-10 p.m. and Saturday Oct. 11 from 5-10 p.m.
The College of William and Mary alumna Ann Leister, owner and director of Splash Model Management, founded the event. Leister, who arrived to the interview wearing oversized electric blue glasses, an array of costume jewelry and an oversized gold statement necklace, explained her inspiration for VAFW.
"I wanted to bring New York-style fashion shows to the Hampton Roads area and to spotlight the design talent, models and creative talent that call this region home," she said. "It felt like a natural progression for my agency to help distinguish itself from others."
This year the event will include a model catwalk competition and an emerging designer competition Friday. Saturday, there will be a Style Lounge with Beauty Bar, as well as pop-up shops.
VAFW is a chance for emerging and smaller-scale designers, many of whom hail from Virginia, to showcase their work. The designers participate in hopes of selling their pieces to stores and boutiques or finding an investor to back their designs. Time will soon tell if 1970s aesthetics, tactile layering, slouchy shapes, transparent garments and other major spring/summer 2015 trends will be reflected in the collections of these fashion hopefuls.
On Saturday, Mikasa La'Charles '07, a contemporary ready-to-wear designer, will debut her newest collection. La'Charles won the VAFW emerging designer competition in 2009 and went on to claim a spot in the Top 20 Emerging Fashion Designers on the East Coast at Charleston Fashion Week in South Carolina.
Another collection is Ayvazyan & de Beauvoir Couture by Gohar Ayvazyan Beaver, whose show will be the event finale Saturday night. Beaver, who lives in Charlottesville, was born and raised in Armenia. Her designs have been showcased in Moscow, Armenia, America and Paris. Beaver is inspired by a mix of her Armenian heritage and other cultures to create pieces that are modern yet unexpected, with clean lines and edgy features.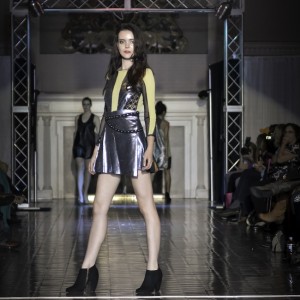 Lee Matney, the owner and director of Linda Matney Fine Art Gallery on Richmond Road, shot the promotional photos and lookbooks for many of the designers. He is also hosting the event's after-party at his gallery. Matney was approached by Leister to help with the event when his gallery opened in 2010 and immediately agreed to get involved.
"I was very excited about connecting art with fashion because it has interesting potential and synergy," Matney said. "After the recession in 2008, a lot of people doing creative projects hit a snag. People support the art scene and what is happening here. It brings people together."
This year, the photo shoot for the event took place at the Cedar Inn in Williamsburg. Matney shot it inside the garden and the sitting room. The shoot was styled by Ann Leister's daughter, Jennifer Leister '15, and has an upscale Colonial-meets-Victorian-era aesthetic.
Matney cites his inspirations as legendary photographers Irving Penn and Richard Avedon, as well as Tony Richardson's 1996 film "Mademoiselle."
"I am really inspired by the psychology of the image," he said. "Photography changes and manipulates reality, and I can project my psyche onto the photograph."
VAFW has had fairly successful attendance throughout its eight year run, although it has struggled to gain broad public awareness. The event has received little support from the cities of Virginia Beach and Norfolk, but found encouragement last year from the city of Williamsburg, and subsequently moved a weekend of the event here.
J. Leister encourages students of the College who will be on campus during fall break to attend the event.
"Even if you're not a super 'fashion-y' person it will be entertaining," she said. "On the flip side, if you are a fashion person it is a great opportunity to put on one of your fun crazy outfits and a pair of heels … [and] to meet really fashionable and cool people that are going to compliment your outfit."