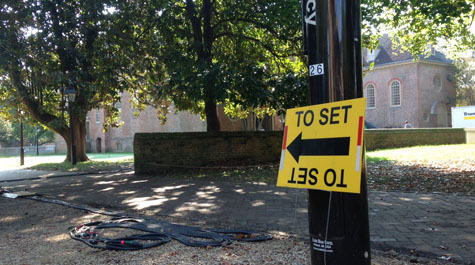 Lights, cameras and a green screen surrounded the Sir Christopher Wren Building Wednesday, as AMC's "TURN: Washington's Spies" filmed an upcoming episode on the College of William and Mary's campus and in the Williamsburg area.
"TURN: Washington's Spies" focuses on the Culper Ring, an American spy ring created in the late 18th century. The show premiered last spring and is currently filming its second season.
William and Mary News reported that more than 100 cast and crew members were involved with production at the Wren Building, which will portray an English castle in the episode. More filming took place at the Governor's Palace in Colonial Williamsburg.
"The show takes place during the American Revolution, so we're filming some in the historic village of Williamsburg, and we're using that town as Philadelphia in our story," producer Henry Bronchtein said. "We have several story lines. This show covers things that are going on in New York, things that are going on in Philadelphia, things that are going on in the battlefields and in Long Island, as well as other parts of the country, in the colonies at that time."
Bronchtein, a director, producer and production manager of the HBO series "The Sopranos," said that the Wren Building was the most elegant of the locations producers selected as possibilities for this episode.
He added that the College was gracious in allowing crews to be on campus. Some students had to enter and exit the Wren Building for class, while others stopped by outside to watch the filming in action.
"The students seem interested and pleased that we're here," Bronchtein said. "There's a lot of people-watching and we're always glad for that, so it's been a nice experience. We're very grateful to be allowed to film here and grateful to be allowed to film in historic Williamsburg. We're hoping we're making a quality product that will interest people. We hope everybody watches."