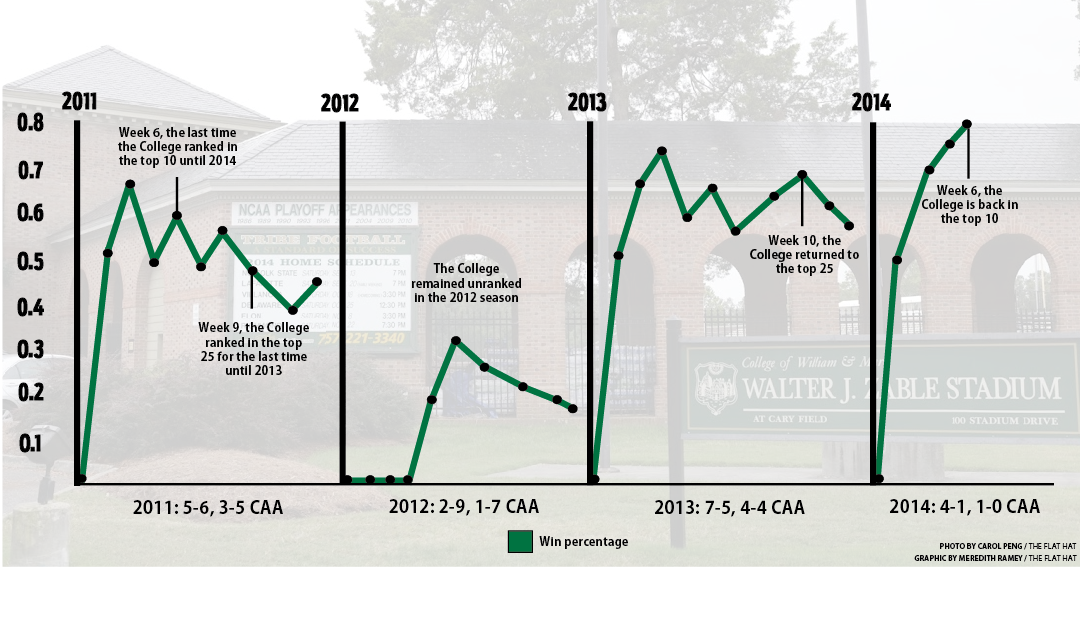 The last time William and Mary ranked in the top ten of the Football Championship Subdivision national rankings, it was early October 2011. The Green Bay Packers were the defending Super Bowl Champions, "Watch the Throne" was still dominating dance floors and the first "Hunger Games" film was five months away. Sophomore quarterback Steve Cluley was still in high school, as were the Classes of 2016, 2017 and 2018.
But on Monday, with announcement of its No. 10 ranking, the Tribe returned to the upper echelon of the FCS, riding a four-game win streak to its highest poll position in three years. As illustrated above, the College's past few seasons have been inconsistent and perhaps even disappointing. The Tribe was unranked for nearly two years, a span that included the team's entire 2012 campaign. But the College has steadily improved since its 2-9 campaign in 2012; it drew attention for a successful run late last season and has carried that recognition into the current year.
At the moment, the Tribe stands tall at 4-1, with a 1-0 record in the Colonial Athletic Association. The College has twice erased double digit deficits in the second half, including an overtime thriller against Stony Brook that saw the Tribe tie the game with less than a minute remaining. It hasn't been completely smooth sailing for the College this year, but nothing has stopped the Tribe's ascent back to the top ten.
Now that it has recovered its long-lost top ten status, the Tribe will have to defend its ranking. Next on the schedule is a trip to No. 4 New Hampshire this weekend (4-1, 2-0 CAA), likely the most challenging opponent the College has faced since its opener against Virginia Tech. The College then returns to Zable Stadium Oct. 18 for a Homecoming showdown with No. 6 Villanova (4-1, 2-0 CAA). The Tribe has performed admirably this season, but the toughest stretch of its schedule is immediately ahead.
There's no way to be sure how long the Tribe will maintain its ranking. But after three years, three graduated classes and hundreds of cultural milestones, the College is back in the top ten. It's been a long time coming.