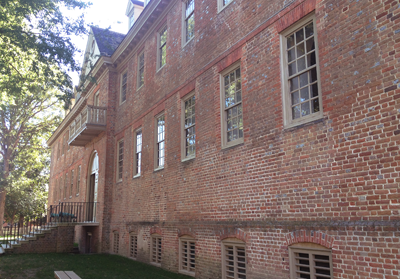 Thomas Jefferson. Lord Botetourt. The Reverend James Blair. The College of William and Mary is dotted with statues, buildings and memorials dedicated to the many people and groups who shaped the school's history. Now, the Lemon Project and a new history class seek to memorialize one of its most persecuted and unknown supporters in its 321-year history: African Americans.
African Americans have had a close relationship with the College since its founding. They constructed the Wren Building and other facilities, and even supported the College financially through tobacco cultivation on the nearby Nottoway Plantation, according to the College's website and Earl Gregg Swem Library Special Collections.
The new course, HIST 311, "Memorializing Enslaved of W&M," is taught jointly by professors Edwin Pease and Jody Allen Ph.D '09. It aims to honor the plight of African Americans through the colonial, antebellum and Jim Crow eras. In the course, students learn about the intertwined history of African Americans and the College with the ultimate goal of establishing a memorial on campus for these African Americans.
"[As] a really great reference point that we've used in this class, we looked at a documentary on the Vietnam memorial that Maya Lin designed, because that really broke the mold for twentieth century memorials and how we think about memorializing events," Pease said. "Showing it to the students, it really seems to open up their eyes."
Jamesha Gibson '15 is a student in Pease and Allen's class. She said the course attempts to push away from more traditional memorials, such as statues, in an effort to better encompass the size and complexity of the issue.
"One thing is, [statues] can be representative," Gibson said. "And at the same time it's not fully expressing the continuum of memory, not only of Jim Crow and slavery, but how that broadly affects us in general."
Other colleges, such as the University of North Carolina — Chapel Hill and Brown University have already dedicated memorials on their campuses to commemorate the slaves. Pease said his class has looked at these sites for inspiration.
"We've looked at memorials from all over the world, not just slavery per se, although there are slavery-related memorials in different countries," Pease said. "There are a couple of pretty powerful ones in the West Coast of Africa, where a lot of slaves were taken from."
Pease said the construction and design of the memorial is complicated by the scope of the project, especially in comparison to other memorials.
"The real distinction between a slave memorial and many other memorials is that slavery happened over such a long period of time in this country, so it's not like the Vietnam War which was about ten years long, which is pretty contained in contrast," Pease said. "Most memorials are dealing with events that are much more constricted."
Pease and his students, like Brontë de Cardenas '16, also noted that the lack of historical information regarding African Americans and the College is another obstacle in the creation of the memorial.
"We don't have a lot of information about the slaves that were at William and Mary," de Cardenas said. "I think this class has taught me to kind of look at it, not being so set on personal stories and more recognizing the experiences that happened."
A town hall meeting will take place Nov. 11 to gauge the community's opinions of the memorial and to discuss the history, purpose, feasibility and possible designs for one in Williamsburg.