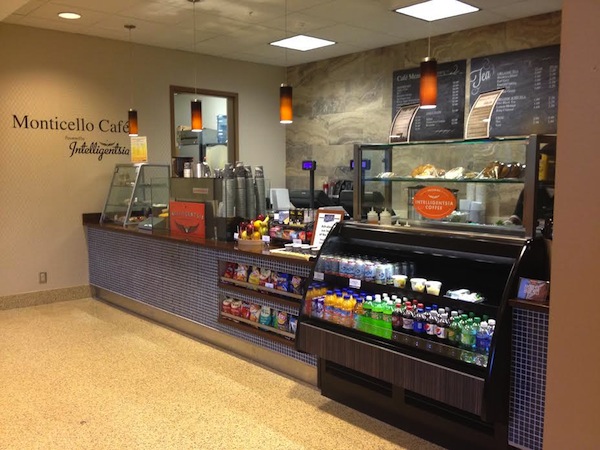 Graduate students at the College of William and Mary's School of Education recently voiced concerns regarding service at the school's only dining option, the Monticello Cafe.
The cafe opened this fall as part of the College's transition of dining providers from Aramark to Sodexo USA. Despite positive experiences at the start of the academic year, students said it now faces problems.
"I was impressed the first few weeks with the quality and preparation, but since then, it's been night and day," Julie Marsh Ph.D. '16 said.
Issues cited by students include lack of ingredients needed to complete various menu items, closings during scheduled hours of operation, slow service and insufficient employee training.
Second year Ph. D. candidate Diana Hernandez described several occasions when the cafe lacked necessary ingredients.
While cafe workers offered alternative options, they ultimately did not have the ingredients needed to serve the alternatives.
Marsh said that she has visited the cafe on multiple days only to find that it was not open during its posted hours of operation. She also discussed the extended wait time at the cafe.
"I've gone [to the cafe] in between meetings wanting a quick sandwich, and I'm still waiting there 20 minutes later," Marsh said. "This should be a five-minute or less process."
Ed. D. candidate Amanda Armstrong added that inadequate employee training can create unnecessarily long waiting times.
"I had to wait a significant amount of time for an espresso drink, and I understand they're training, but it was obvious they were walking these people step-by-step. … That's something they should've done before opening," she said.
Hernandez said she believes service problems at the Monticello Cafe have had negative effects
on the School of Education as a whole.
"Many [students] are here from 9 a.m. to 10:30 p.m. or 12 a.m.," Hernandez said. "It's a very long day, so between graduate assistantships, classes and just the scholarship we're working on, we don't have the option to leave campus. We're left to order something from delivery, and there aren't too many options in Williamsburg for that."
Some individuals, like Armstrong, have stopped visiting the cafe altogether. Armstrong said she has not eaten there in four weeks, instead opting for what is, in her view, a more reliable option: Starbucks.
Students are not the only individuals affected by these issues — administrators, faculty and community members who travel to the School of Education for conferences also rely on the cafe.
"[These issues] reflect poorly on the School of Education as a whole when [it's] hosting conferences and the cafeteria isn't able to service our guests," Hernandez said.
Marsh and Hernandez have communicated their concerns to the manager of the cafe in a series of emails.
The main intent of these exchanges was to outline the issues observed and request a feedback system for the cafe.
In response, the manager suggested that Hernandez form a committee, consisting of students and faculty of the School of Education, which could meet monthly to discuss dining services at the school.
A similar committee exists at the Marshall-Wythe School of Law.
"It is not our responsibility to create committees and resolve issues under contractual agreement [between the vendor and the school]," Hernandez said. "Our responsibility as tuition-paying students is to our scholarship."
Despite communication between students and the cafe, Marsh expressed uncertainty as to if changes have been made.
"I hope at this point [the café] is listening and trying to make things better, but is it 100% resolved? [That is] yet to be seen," she said. "We're at a tipping point right now. We might simply, as students, stop using the power of our dollar there."
In Hernandez's view, follow-through and open dialogue are the keys to showing the community that the cafe should provide the level of service it promised in the beginning of the yea ar.
"We shouldn't be past mid-semester wondering if we have access to nutritional meals in our building," Hernandez said. "Mutual support [means the cafe] will provide us with nutritional needs when we're here for lots of hours, and we in turn will support the business. … It's a relationship, and it should be a positive one."