Senior tight end Bo Revell knew something was wrong right away.
It was the first passing play of William and Mary's season opener, a road game at Virginia Tech, and Revell reached for a pass from sophomore quarterback Steve Cluley. As Revell stretched, a Hokie defender fell hard on his lower body, and Revell crumpled to the ground. Even on television, it looked unsettling.
"I knew it was pretty bad. I knew my leg was not facing the right way," Revell said. "When I tried to get up, I felt my bone moving around a bit … so I sat back down."
Revell was stuck at the crossroads of dream and nightmare. At that moment, he was a senior captain on a talented team, playing on national television in Virginia's most hallowed football stadium, but he was also badly injured. Revell's season, along with his Tribe career, was over.
Nothing in Revell's demeanor suggests that he sees his injury as a tragedy. When he speaks of the hit and the two months of rehab that have followed, his perspective is impressive.
"You want to have your senior season, because that's what everything builds towards," Revell said. "You just have to … find a silver lining. For me personally, I want to go into coaching after my playing days are done. … I found a silver lining in maybe getting a head start on that and being able to help out in other ways."
Nobody could have blamed Revell if he had responded with anger or despair. Nobody would object if he walked away from the game that treated him so cruelly after he'd given so much. A lesser person would've lost his way after such a disappointment, but Revell broke through the adversity like he used to bowl over defensive backs.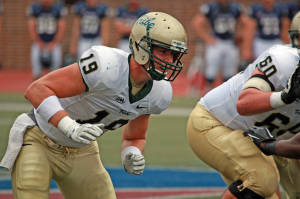 The way Revell has thrived since his injury is inspiring in its own right. But there's a narrative within that story about how the potential for injuries hangs over every play of every football game. What happened to Revell was a freak accident, a twist of fate. Even despite his optimism and fearlessness, Revell acknowledges the inevitability of injuries in football.
"It's just something that you can't control, you know?" Revell said. "It's just something that kind of goes along with it, and you do everything you can to prevent it. … You try to do the best you can, and it's just fate at that point."
Sudden injuries aren't exclusive to football. In a 2013 basketball game, Louisville's Kevin Ware obliterated his tibia as he landed after a block attempt. But injuries are ubiquitous in football, like a cloud that's always looming. That players like Revell can be so fearless about getting hurt, when that threat of injury is always present, is hard to grasp.
Danger is present every time a receiver gets clobbered over the middle or when three defenders crush a tail back. It's there when a quarterback takes a hard sack or a defender's knee bends the wrong way. Fans often bury that fear and enjoy the game, but in football it's just a matter of time before a player collapses and a crowd of coaches, trainers and teammates stand around the injured player like a crime scene.
Already this season, several Tribe players — including starters such as Revell, senior linebacker Airek Green, junior running back Mikal Abdul-Saboor, sophomore punter Hunter Windmuller, senior place kicker John Carpenter and senior receiver Tre McBride — have missed at least one game due to injury. That doesn't account for athletes who have played through pain for the sake of serving the team. Such a sacrifice deserves respect, but does that make it the right choice?
This is the problem football faces. After all, nothing about the play that ended Revell's Tribe career was illegal. It was a large defender landing on Revell's leg in the wrong spot. By Revell's own admission, that type of unavoidable, devastating injury is just part of football. It's a figurative contract that all players eventually accept, a reality that binds them together.
"It's kind of like a family atmosphere, and you want to protect your guys," Revell said. "We all really care about each other and … you've really got to watch over each other. When a guy goes down, it can be scary … but at the same time we have each others' backs and all we can do is be there for each other."
That community and bravery is admirable, as each individual on most college football teams would sacrifice his immediate health for the sake of the squad. That mentality appears more dangerous than ever given the recent increase of awareness regarding concussions in football. Revell's injury will eventually heal perfectly, as will most injuries sustained on the football field. Head injuries are a different matter, however, and there's reason to worry that the acceptance of injuries by players and fans extends to concussions, which can have more damaging effects.
A recent ESPN article by Tom Farrey pointed to a new Harvard and Boston University study that said for every concussion diagnosed in the Football Championship Subdivision, 27 suspected concussions go undiagnosed. This happens in part because concussions are less obvious than, say, a broken leg, and also because many athletes ignore concussion symptoms, resuming play without evaluation. More than any other injury, concussions are seen in the "injuries are part of the game" mentality, one that veers into dangerous territory.
"I think [concussions are] something that people are aware of more than ever before," Revell said. "I don't think [guys] are afraid of it. I think they're just doing more to prevent it. … And I don't think people are afraid to say they have one anymore. I think that culture is shifting, where it doesn't mean you're weak."
The culture does appear to be shifting, as further precautions added to football and concussion reporting seem to be more common. There also appears to be a dissonance between the fearlessness players like Revell show toward injuries and the heightened awareness concussions deserve. The normalcy of severe injuries such as Revell's suggest that safety and football are mutually exclusive concepts, and it's possible that concussion awareness gets trampled in that clash.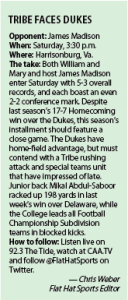 As that discussion occurs among fans and personnel at every level of football, Revell looks forward. He has embraced his non-playing role with the Tribe, spending games in the coaches' box and mentoring younger players in practice. There's little question that he's made the most of his unsavory situation.
"I wish I was out there helping, but at the same time, [with] every positive thing that happens, every win that we have … [it] brings such a level of excitement because I know how hard [the team has] worked and I know how hard I've worked to help them," Revell said. "When you're a part of something like that, any success that you guys have as a collective just makes you feel great as an individual."
Revell's story reminds fans that injuries are part of football, adversity is merely an obstacle and optimism and maturity can cure many ills. Football wasn't as kind to Revell as he was to it, and it's unfortunate that so many other football players have been and will be in his exact situation. It's all part of the game.
That's what fans will say the next time a player falls to the turf.