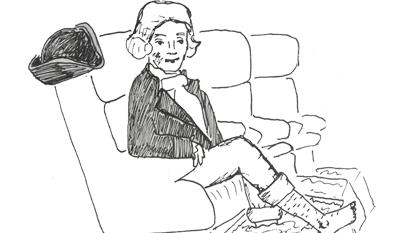 If the massage chairs in Earl Gregg Swem Library aren't doing enough for you, a trip to one of three Williamsburg spas may be able to do the trick instead.
All located near the College of William and Mary, the Spa of Colonial Williamsburg, the Giving Tree Spa and the Williamsburg Salt Spa offer a diversity of services aimed at relaxation and rest. The spas supply an array of services and prices to fit the differing needs and budgets of students.
Whereas the Spa of Colonial Williamsburg and the Giving Tree Spa offer traditional spa services, the Williamsburg Salt Spa provides breathing treatments fusing health and relaxation. The Spa of Colonial Williamsburg also includes salon services in its range of amenities.
Both the Giving Tree Spa and the Williamsburg Salt Spa extend student discounts. Each location offers massages at fairly comparable prices that undercut the more costly services of the Spa of Colonial Williamsburg. The most economical option can be found in the Williamsburg Salt Spa's breathing treatment services, which cost a student, at most, $22.50.
The Spa of Colonial Williamsburg does not extend a student discount at this time, but it provides a wide variety of traditional spa and salon services for both men and women. Services include massages, body treatments, facials, nails, hair, makeup and waxing. The spa also emphasizes health and wellness with various amenities including a full workout room, aerobic studio, two outdoor pools and an indoor lap pool.
The spa's director Denise Haddaway suggested that the spa's hours would appeal to college students, who could then take advantage of a range of workout classes or a massage to de-stress.
"I think a massage is always stress reducing," Haddaway said. "Then focus on your head, because massaging your scalp and your pressure points or trigger points will actually take you to a deeper level of relaxation [and] will take you out of your head."
The signature experience of the Spa of Colonial Williamsburg borrows from treatments based on botanical remedies from different historical periods. According to the spa's website, historians identified healing practices that Native American healers, apothecaries, doctors and scientists utilized.
The Giving Tree Spa, like the Spa of Colonial Williamsburg, offers traditional spa services. These amenities include massages, facials and body treatments, as well as monthly specials featuring a combination of a massage and facial or a single service accompanied by a price markdown. However, unlike the Spa of Colonial Williamsburg, the Giving Tree does not provide salon services.
Spa director Dan Dunn said that students prefer the Giving Tree for its customer service and close location to the College's campus — it's at the Wyndham Governor's Green Resort right off of Richmond Road.
"The majority of the services requested from students are massages," Dunn said in an email. "We see an average of 200 students per year, especially through our online booking option."
The Giving Tree also provides a 15 percent student discount on all services except for monthly specials.
For alternative relaxation therapy, students can look to the Williamsburg Salt Spa. The spa, which opened in 2008, provides massage and breathing treatments and incorporates salt into all forms of therapy. For example, massages take place in a room containing salt rocks. They include salt pillows to alleviate muscle pain or ache and sometimes utilize hot salt rocks as an alternative to a hot stone massage.
Agnieszka Drygala, the spa's owner, emphasized the health benefits of salt breathing treatments; they specifically alleviate asthma, sinus and allergy problems while bolstering the immune system. This therapy encompasses a forty-five minute relaxation session that takes place within a handmade salt cave inside the building.
"Our main product, I would say, is our salt therapy treatment room," Drygala said. "It is a gorgeous room made of fifteen tons of salt. We have imported salt from Poland and Pakistan. The environment inside the cave … it's exactly the same [as] in the natural salt mines. The environment here is perfect for people with all kinds of respiratory problems, like allergies, asthma, bronchitis, COPD … it's a good relaxation place [and] good to improve your immune system."
The spa, which opened in 2008, was one of the first of its kind on the east coast. The therapy originated in Poland in 1843, when Felix Boczkowski recognized the health benefits received by salt miners, who suffered no workplace-related respiratory problems. To recreate these conditions, the Williamsburg Salt Spa constructed a handmade salt cave that recreates a microclimate rich in ions and minerals — breathing in this saturated air of the salt cave improves overall fitness for all ages.
The salt therapy treatment room can be rented out to at most eight people, which Drygala said could relieve stress by combining relaxation and fun.