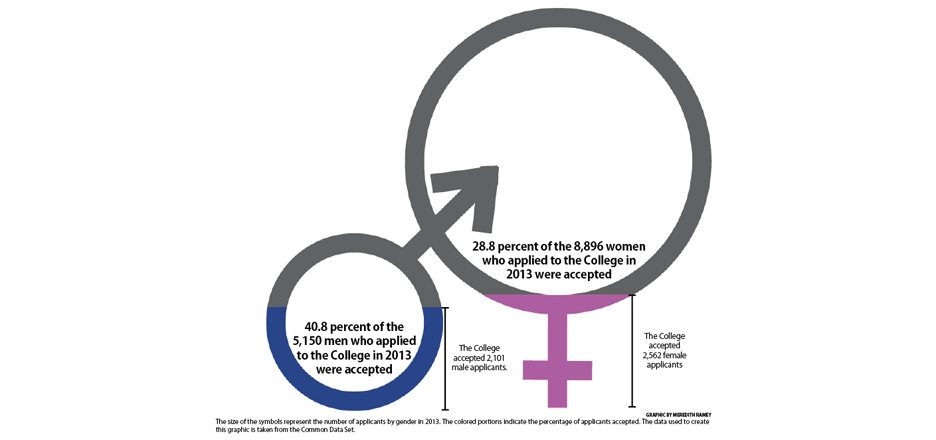 Across the country, college acceptance rates are on the decline. Now more than ever, it is easier to apply to and harder to get into any given college. According to the College of William and Mary's Common Data Set, for every two men who apply to the College of William and Mary, three women apply. However, the acceptance rates for women are lower than the admittance rates for men.
Associate professor of sociology and gender, sexuality, and women's studies Gul Ozyegin said she thinks that while the statistics relating to gender are less than desirable, they don't tell the entire story.
"From a professor's point of view, it is such a delight when you have a class full of many different points of view and students tremendously benefit from those kinds of environments," she said. "Gender diversity is important but diversity is not just race and gender; it is personal experience and background."
Personal experience, however, can be hard to quantify. The Common Data Set is a joint effort by the College Board, U.S. News and World Report and Peterson's to provide students and parents with accurate, timely statistics and information about colleges and universities.
According to the most recent Common Data Set, women compose approximately 60 percent of the annual applicant pool; they make up approximately 55 percent of each incoming class. However, Tim Wolfe, Interim Associate Provost for Enrollment and Dean of Admission, said he doesn't see this as a major issue.
"One can always speculate as to why more women than men apply to William & Mary, but ultimately it comes down to the decision of individual students, each with their own preferences," Wolfe said in an email. "Again though, the fact that there is simply a larger pool of college-bound women overall to begin with significantly impacts this."
The overall acceptance rate for the College hovers around 33 percent. Last fall, acceptance rates for women were at about 25 percent, while men were
accepted at over 40 percent. Approximately one of every four accepted students ended up enrolling.
Sixteen years ago, in the fall of 1997, men made up 36.7 percent of the applicant pool. Of the 2,418 men who applied, 51.4 percent were accepted and 42.9 percent of the 4,173 female applicants were accepted — this translates to a difference of roughly eight percentage points. Of the men accepted, 42.4 percent (526) enrolled as full-time students. Of the women accepted, 44.8 percent (802) enrolled as full-time students. The incoming class for the fall of 1998 was 39.6 percent male.
Eight years ago, in the fall of 2005, men made up 37.8 percent of the applicant pool. Of the 4,006 male applicants, 39.8 percent were admitted and 25.7 percent of the 6,604 female applicants were admitted. In 2005, there was a difference of about 14 percentage points between the admittance rate of men and the admittance rate of women. Men comprised 46.7 percent of the incoming class for the fall of 2006.
Four years ago, in the fall of 2009, men comprised 35.9 percent of the applicant pool. Of the 4,457 men who applied, 44.7 percent were admitted. Of the 7,652 women who applied, 27 percent were admitted. Of the 1,993 men who were admitted, 33.2 percent enrolled. Of the 2,065 women who were admitted, 35.3 percent enrolled. Men comprised 47.6 percent of the incoming class for 2010.
In the fall of 2013, men made up 36.7 percent of the applicant pool. Of those 5,150 men, 40.8 percent were admitted. Of the 8,896 female applicants, 28.8 percent were admitted, which makes for a difference of twelve percentage points between the genders. Of the 2,101 men admitted, 31 percent ended up enrolling and 32.3 percent of the 2,564 women admitted enrolled. Men comprised 44.1 percent of the incoming class for 2014 (the class of 2018).
Men generally comprise 35-40 percent of the College's applicant pool. They are consistently admitted at a higher rate than women, but admitted women enroll at consistently higher percentages than admitted men. Women consistently comprise over 50 percent of a class's population.
Wolfe said that when reading statistics specific about a particular college, it is important to take a national perspective.
"Nationally, about 57 percent of students in college are female. William & Mary's undergraduate population tends to be close to that with between 55-58 percent of the freshman class female in the past few years," Wolfe said. "Additionally, it is not uncommon for liberal arts colleges and universities in general to attract a greater proportion of female applicants. Likewise, engineering programs still tend to be heavily male, which can swing the balance some, simply based on whether a university has an engineering school or not."
Brendan McNamara '16 said he thinks that although gender distribution is important, it should never become the sole consideration for an applicant. McNamara has been a tour guide since his freshman year and said through his experiences, he has realized that whether or not a student chooses to apply to a given school depends on how the offerings that college brings to the table line up with his or her preferences and priorities.
"No matter the distribution of applicants, the College works to have a vibrant student body that will uphold our strong academic reputation and vivacious traditions, while also advancing the College ahead," McNamara said.