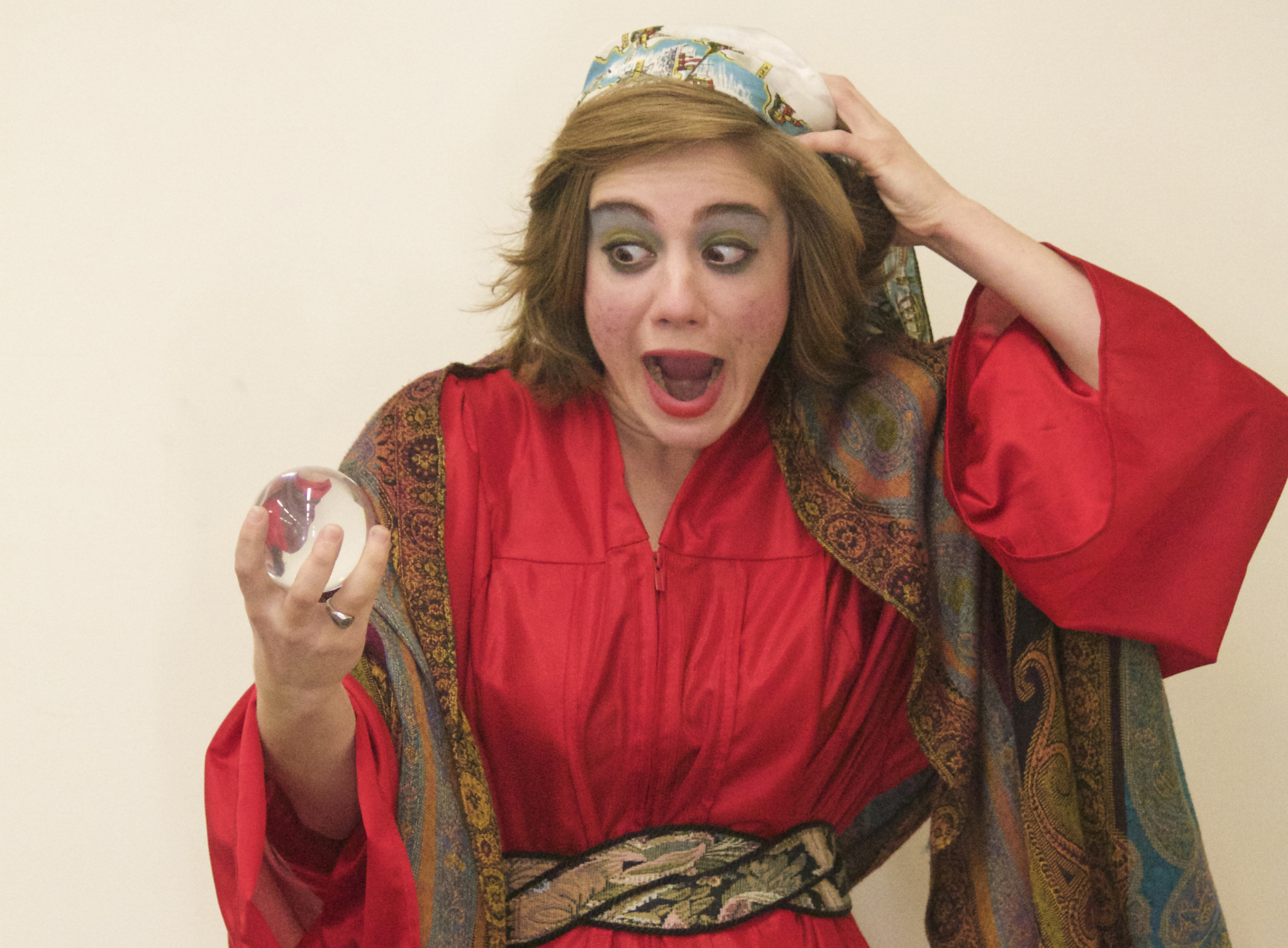 With a sharp rap of his cane, the esteemed Duke Solinus (Jason Via '15) steps upon his pedestal and casts a sweeping gaze over the expectant crowd as an eerie silence fills the circus tent. His long coat sways hypnotically as he addresses the audience, only to turn and disappear into the wings as gracefully as he appeared. Thus begins Shakespeare in the Dark's production of "The Comedy of Errors."
One of the shortest and earliest works of the great playwright William Shakespeare, "The Comedy of Errors" takes place in the city of Ephesus as two sets of twins who were separated at birth find themselves caught in the midst of a farcical case of mistaken identity. Hysteria ensues as Antipholus of Syracuse (Henry Hines '17) and Antipholus of Ephesus (Matthew Spears-Heinel '18), along with their respective slaves Dromio of Syracuse (Bruno Del Alamo '16) and Dromio of Ephesus (Max Sorger '16), find themselves mixed up in scorned women, unpaid debts and perilous combat as they come closer to reconciling with their long-lost families.
Student director Erin McIntyre '14 presents a dynamic and expressive cast in a whimsical and playful manner. The avant-garde circus theme allows the actors to fully immerse themselves in their roles and perform Shakespeare's complex verses with ardor and conviction. While some high-octane sequences seem a bit overdone and several lines were lost to the actors' backs, the immersive staging in Commonwealth Auditorium was precise and polished, making for playful interactions between actors and audience members. An apt sprinkling of colorful balloons across the stage enhances the circus setting and washes each fast-paced chase, fight and tumble in a flurry of floating multi-colored ornaments.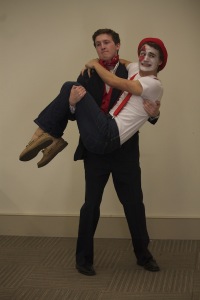 Costumes designed by Stacey Loveland '17 and Abigail Simon '17 vary from classic and traditional to detailed and elaborate while still allowing the actors to retain their full range of movement. A distinct color scheme distinguishes between the two sets of twins, while evident accessories — ranging from delicate parasols to looming top hats — serve to personify each character. Despite the fact that some actors' makeup doesn't quite hold up under the heat of the action, the subtle intricacies of each character's makeup are alluring without seeming harsh at close proximity.
The cast demonstrates the contrasting personalities of the characters to create several enticing foils. Isabel Steven '17 plays Luciana, the capricious acrobatic sister of the fierce whip-wielding Adriana (Catherine Strycharz, a first-year grad student). Both Steven and Strycharz express great emotional depth, as Luciana hopes to experience love, but not at the expense of her sister's marriage, while Adriana's furious temper recedes to reveal a woman whose only wish is to be loved and respected by her husband.
Hines, Spears-Heinel, Del Alamo and Sorger all give impressive physical performances with well-defined chemistry, propelling the show with well-timed comedic gestures. The actors convincingly play against his or her counterpart in a way that highlights each of their unique talents while lending depth to their motivations.
The ensemble contributes greatly to the spice of the performance by taking on multiple roles. Standouts include Hayley Wenk '18, who portrays the Russian goldsmith with a respectable accent, as well as Riley Cruickshank '18, the sassy courtesan whose compelling mannerisms and interactions with other characters accentuate each scene.
A must-see show for the weekend, "The Comedy of Errors" showcases impressive physical comedy, unyielding stamina, well-rehearsed comedic timing and well-developed characters, all wrapped up in a theme that allows the audience to become fully immersed in the madness and mayhem of the stage. Shakespeare in the Dark proves that low-budget theatre does not translate to low quality at the College of William and Mary.