Breakout freshman Regan Rome and three-time All-American Jon Grey '11 will each represent Team USA at next week's BUPA Great Edinburgh XC Challenge. The event features teams from the United States, Great Britain and Europe. All races take place Jan. 10 at Holyrood Park, located in Edinburgh, Scotland.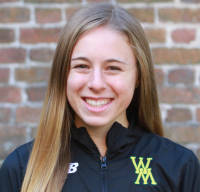 Rome, the reigning Colonial Athletic Association Rookie of the Year, enters the race after a rookie campaign that featured a No. 4 finish at the CAA Championships and a No. 14 finish at the National Collegiate Athletic Association Southeast Regional. Rome crossed the line as the 10th fastest freshman at the NCAA Championships, finishing No. 90 overall.
Rome follows in the footsteps of junior Emily Stites, who ran in the 2013 Challenge. Stites finished No. 7 overall and as the first U.S. runner; shortly thereafter, Stites won the U.S. Junior Cross Country title before serving as a captain for Team USA at the IAAF World Junior Cross Country Championships.
Mary Grace Doggett (N.C. State), Katie Lembo (Providence) and the top-three high-school finishers from the Foot Locker Nationals (Anna Rohrer, Ryan Frazier and Makena Morley) join Rome on Team USA Women's Junior 4K roster.
Grey enters the Challenge fresh off the USAT&F Club Cross Country Championships, where he finished No. 7 overall in December. Sponsored by Team USA Minnesota, Grey returns to the Challenge having competed in 2012. He also won the 2011 USAT&F Club Cross Country National Championship.
The event will be streamed live on USATF.tv. After the conclusion, races will also be available on-demand.