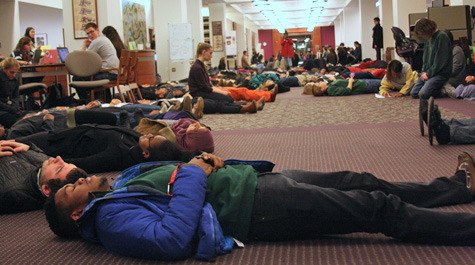 To commemorate the deaths of Michael Brown and Eric Garner, students at the College of William and Mary organized a "die-in" last semester in which students lay down in Earl Gregg Swem Library for four-and-a-half minutes of silence.
For many students who participated, those four-and-a-half minutes of solidarity were undermined by racist remarks and hostile actions that followed on several fronts. The comments and events caught the attention of Vice President of Student Affairs Ginger Ambler '88 Ph.D. '06, College President Taylor Reveley and the Faculty Assembly.
Faculty Assembly president and associate professor of government David Dessler said individuals leaving the library after the die-in were met with hostility, as were students in a residence hall.
"Students and faculty leaving that event were confronted with hecklers who shouted racial epithets," Dessler said in an email. "Following that, some students in at least one residence hall ran through the hallways, banging on the doors of the rooms of black students and shouting, 'Police!'"
Several students also made racist remarks over social media. One Facebook post read, "i tell you one thing if i owned a business down there i would have been in the back room with a clear line of sight with a 12 gauge pump layin them [n***as] out one by one."
In response to the online comments, Ambler sent a campus-wide email denouncing the "incivility," and the Faculty Assembly released a statement declaring solidarity with students and faculty of color and calling on the administration to take action toward "promoting a safe and welcoming environment for all members of our community."
"When I arrived at W&M thirty years ago, problems in race relations were not really acknowledged," Dessler said in an email. "They existed, but people did not talk about them. Over the years, both the student body and the faculty have become more diverse, and a conversation on race relations has taken root. I think we are still very much at the beginning of that conversation, but we have made discernible progress over the years."
Reveley sent out a campus message Dec. 17 addressing the issue and echoing Ambler's condemnation of what Reveley called "unsigned comments on social media in terms meant to wound, not persuade."
President of the College's chapter of the NAACP Alexis Foxworth '15 said she saw the hateful comments as an unfortunate but inevitable consequence of social agitation.
"In times of hostility you do see people's true colors, and it's very unfortunate," she said. "And you can't say you lose faith in the Tribe as a whole, but it just shows there's more work to be done at the micro level — educating the individual person and maybe counseling that individual person and talking to them one on one. And fortunately enough they don't account for the entire Tribe, but I do know there were a lot of hostilities that were awakened in that moment, and it brought out the best in some folks and it brought out the worst in some people as well."
In spite of this, Foxworth said she has never personally felt racially antagonized in her time at the College. While she has not experienced outright discrimination, she did say that the fact that the College is a predominantly white institution means that when a minority student is the only non-white person in a classroom, it can feel uncomfortable or isolating.
With efforts to increase student diversity at the College continually on the rise, though, Reveley said he expects conversations and movements like those of last semester to increase accordingly.
"As our student body has become more diverse, conversations at the College about race have become richer because of the different views, life experiences, and perspectives of our students," he said in an email.
For Foxworth, these conversations are significant because they are more than a reflection of the numbers — they mark the beginning of this generation's involvement in the fight for racial equality. Battles for integration and legal equality took place long enough ago that this generation has no memory of them, making this the first time students at the College have had a cause of their own to defend.
"So now we are fighting a different fight," she said. "We have integration, we have what appears to be equality … but now it is fighting the injustices that aren't as apparent. I think for our generation, for our age group, this definitely has been a totem moment because the fights that have come before us have been before our time."
Looking long-term, Foxworth called this stage of protests and die-ins the "agitation phase," meant to grab the attention of people around the country and pave the way for more concrete changes to take hold in the near future.
"What some of these protests and these die-ins are really trying to do, what folks across the country are trying to do, is awaken the national consciousness," she said. "And clearly Ferguson isn't going away. All of the die-ins — we're going to be hearing about these things for years to come."