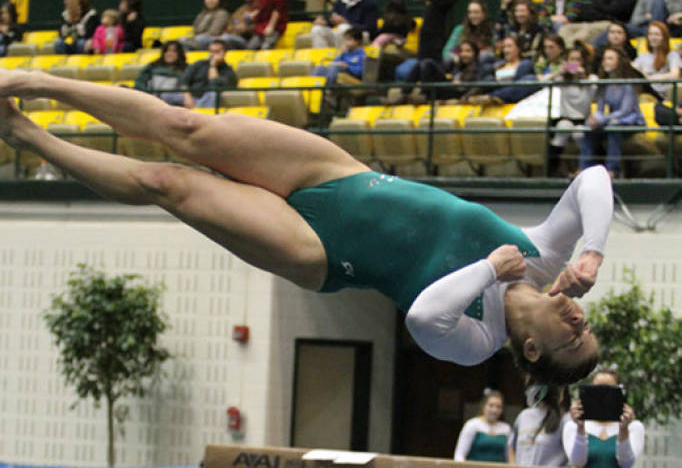 Over the weekend, William and Mary competed on the road for the first time this season. The No. 14 men's team finished fourth in the Navy Open Saturday in Annapolis, Md. while the women finished third in a Sunday meet at Towson University.
The Tribe placed fourth in the men's competition, earning a score of 406.25. Defining moments of the meet included individual wins by junior Neal Courter in the floor and high bar events, as well as a second-place performance in vault. Courter tied his school-record performance on floor with a mark of 15.3 and achieved a career-high score in high bar.
Other notable highlights included senior Peter Ten Eyck's 14.05 score in pommel horse, freshman Jeremiah McReynold's 13.75 mark in rings, junior Keaton Ackerman finishing third in all-around, and sophomore Rob Meyer placing second on the parallel bars.
In terms of team performance, the College won the high bar thanks to the efforts of Courter and senior Michael Deitz. Despite the performances, the Tribe fell behind three ranked opponents: host No. 13 Navy, No. 16 Springfield and No. 17 Temple. All of the teams were close in cumulative score, with the Tribe just 6.2 points out of first place.
Just 50 miles away from the men's competition, the women's squad placed third in the Towson quad-meet with a score of 190.9. Propelling the team's effort, junior Brittany Stover won the vault title with a score of 9.875. Stover continued to shine with the College's top scores in the all-around, beam and floor events with 38.8, 9.725 and 9.750, respectively. The Tribe's other leading scorer was freshman Monica Ouellet on bars with 9.525.
As a team, the College gave a season-best performance in beam with 48.125 points with strong effort from Stover and her sister, senior Brandy Stover, as well as graduate student Larson Lasek. The Tribe was victorious against West Chester University, but fell to North Carolina and host Towson.
The College continues its season next weekend on the road. The men's squad returns to Annapolis for a dual meet against Navy Sunday at 3 p.m., while the women travel to North Carolina State University Saturday for a quad-meet starting at 1 p.m.