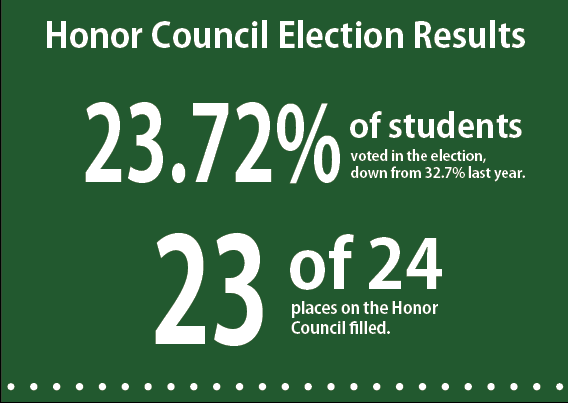 In a Jan. 28 election, students at the College of William and Mary voted 23 of their peers to serve as the next members of the Undergraduate Honor Council.
The Undergraduate Honor Council works to uphold the College's Honor Code by investigating and hearing Honor Code violations.
Of 10 candidates from the class of 2016, eight – Audrey Scruggs, Mellie Ligon, Sarah Perry, Cayla Sherrell, Nicole Walsh, Taylor Jacobs, Constantin Fabian and Doo Hyun Nam – received a plurality of the votes and were elected to the council. Sherrell led the race with 834 votes, while Scruggs received the next highest number of votes at 777.
Typically, 24 students — eight each from the sophomore, junior and senior classes — make up the council, but this year only seven students from the class of 2017 ran for office.
These seven candidates – Caleb Ebert, Shannon Caietti, Philip Holzknecht, Emma Zahren-Newman, Jacob Young, Rachel Smith and Liana Abramson – were all elected to the council. Smith received the most votes at 853, while Ebert received the second highest number of votes at 832.
Of 11 candidates from the class of 2018, eight students – Ava McClain, Jacob Nelson, Madison Folmer, Alexandra Bate, Michelle Hermes, Oliver Stayrook, Zhaoning Liu, Ashley Witmer – were elected. Nelson and McLain tied for the highest number of votes, with both receiving 634.
Brian Fuller '15, Honor Council election chair and chief financial officer, said that the majority of new council members are freshmen, as many sophomore and junior members were re-elected.
"I think the new members provide a new perspective and new energy to the council," Fuller said in an email. "I have confidence that the new members will contribute greatly to the work of the Undergraduate Honor Council in this upcoming term."
This year, 1,479 students out of 6,234 eligible students voted in the Undergraduate Honor Council election, equating to a 23.72 percent voter turnout rate. Comparatively, last year 2,038 students participated in the election, a 32.7 percent voter turnout rate.
In the council's election process, interested students attend an information session and are then eligible to submit applications. A nominating committee chooses candidates, who are not allowed to campaign. Instead, they are elected on the basis of their reputation as honorable members of the College's community.