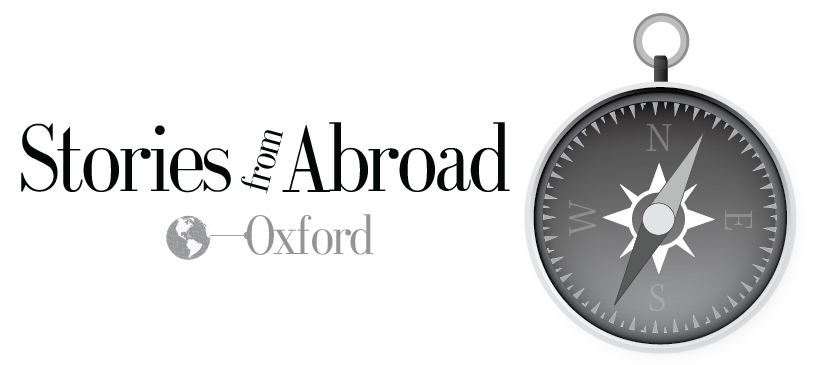 The Bodleian Library is one of the oldest libraries in the world. It has copyright over every single book published in the United Kingdom and spans nearly a full city block. From the outside, it looks like a fortress, complete with turrets and ramparts of stone. To enter, you pass under a massive wooden gate built to withstand a battering ram and through an open courtyard with a statue of Sir Thomas Bodley — diplomat, scholar, and the library's founder — in the center. You then open a plain glass door to enter the main lobby. If you go forward, you'll enter the Divinity School, better known as the location where they filmed Madam Pomfery's hospital in the Harry Potter movies. But if you're here to study, you turn right, swipe your card at the clerk's desk and proceed through another glass gate. You're not allowed to take any bags with you up in the reading rooms; only books, computers and writing materials are allowed. The library has lockers on the bottom floor for you to put your belongings. Then you climb three flights of stairs to Duke Humphrey's library. (I got here a week early for rowing training: water practice for two hours a day, and then indoor work for another hour. For eight days. Besides the race at the end of term, this time in Duke Humphrey's library is when it all pays off).
I'm finishing a paper on the War on Terror and the Bush administration's response to 9/11. The entire class, called a "tutorial," will cover the Global War on Terror from 9/11 to the present, including the rise of ISIS and the Charlie Hebdo attacks. My tutor is a first year graduate student doing a dissertation on this same topic. She grew up in Germany, came to England for her undergrad, did two years of investment banking in London, and then came here for grad school. She's only three years older than me, and it's her first time teaching. The conversation we had last week about the Iraq War was the first time she had ever officially taken the role of teacher. Even when you're defending your arguments about the actual subject, it's hard not to think about how great that is.
The Oxford tutorial was designed as a civil, rigorous conversation between two people, like a College of William and Mary class that only happens in office hours. It was also intended as a process of mutual discovery between equals. Of course, with the tutor's breadth of knowledge and experience, the exchange is never completely equal, but the hope is that the student's thoughts and arguments receive the same respect and value as their tutor's. You are, after all, looking at the same information, but you can refine each other's arguments and present ideas the other hadn't thought of. This is when the line between teacher and student becomes blurred. You become more like colleagues.
Indeed, many tutors prefer to hold classes at pubs rather than their offices. In a good tutorial, it's like the professor is reaching their hand out, offering their knowledge and passion as gifts. And, if accepted, their passion becomes your own. This is why we spend so much time in the Bodleian, with all its lockers, doors and passageways. There's nothing like walking out of a great tutorial, having connected with the material but, more importantly, being inspired by your tutor — who is both your guide and co-conspirator.