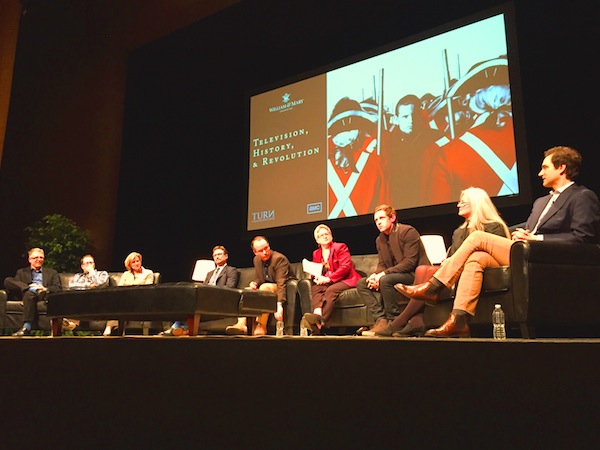 Lights, camera, revolution!
After filming on location in Colonial Williamsburg and inside the Sir Christopher Wren Building at the start of the fall semester, the show runners and actors of AMC's "Turn: Washington's Spies" returned Tuesday to discuss the program with faculty of the College.
The public "Television, History and Revolution" panel filled Phi Beta Kappa Hall to the balcony with fans of the program as the participants discussed a variety of topics related to American history, theater and film.
The television program's speakers included executive producers Craig Silverstein ("Nikita") and Barry Josephson ("Bones"), author and historian Alexander Rose, lead actor Jamie Bell and several of his co-stars. The College faculty participants included associate professor of American studies and English Arthur Knight, history professor and Director of the Omohundro Institute for Early American History Karin Wulf, professor of history and editor of the William & Mary Quarterly Joshua Piker and professor of history and executive director of the College's historic campus Susan Kern.
History professor and Department Chair Cindy Hahamovitch moderated the panel by asking submitted questions as well as questions that came about through the discussion.
The discussion began by focusing on Rose's conception of the story behind his adapted book: "Washington's Spies: The Story of America's First Spy Ring."
"It was basically just an accident, a happy accident," Rose said. "I was reading a biography of Kim Philby, who some of you may know as a fairly well-known British traitor, and at the same time I think I was reading a biography on Benedict Arnold, and I sort of put two and two together."
"It was late 2008. I just came off doing a bunch of cop shows and thought, 'Oh my God, [Rose's story] is awesome, this is completely different,' so I was willing to take the risk and just get shot down," Silverstein said. "And we did get shot down. We got shot down at the network we were both at, which is Fox, and then AMC was just like, 'Yeah, we will try it.'"
A recurring discussion topic was about the line between historical accuracy and film narrative privileges. According to Josephson, such films as "Lawrence of Arabia" and "Patton" are not supposed to be historically accurate.
"I often think the point of making that movie is not to be historically accurate and not to answer those questions," Josephson said. "The great thing is if it's provoking and you learn about the conflict of that period through that story."
The panel also discussed the differences between the original book and the adapted film narrative, specifically the inclusion of father-son conflicts and love interests in the story.
"[You've] got to have that fundamental clash. That's what drama is," Rose said. "Same with the love interest; [you've] got to have a love interest."
Bell also added to the discussion by describing the character development of the show's protagonist Abraham Woodhull and the experiences of working on location in Williamsburg.
"It's an evolution," Bell said. "As the season progresses, we see [Abraham Woodhull] become more formal, wearing suits — his loyalist suits — and in this season we are doing now he is changing even more. His outside changes as his inside changes."
Bell also added that filming on location at these historic sites while wearing historically accurate costumes showed the discomfort people of the time period experienced.
"Now our feet are freezing because we don't have these nice plush shoes; it's just like solid leather sole, and we are standing in mud all of the time. They did not have nice irrigated streets," Bell said. "So every time you see us in a scene outside, our feet are freezing."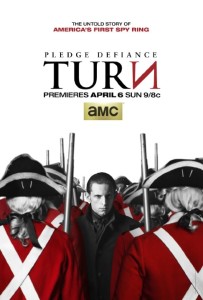 After exploring historical sites in and around the Richmond area to film, the show runners set their sights on Colonial Williamsburg as a place to shoot scenes for the second season.
"When we wanted to do early Philadelphia, Colonial Williamsburg was the perfect place to shoot," Josephson said. "And when we scouted, we realized how really magnificent the College of William and Mary was. Obviously we all knew about the university, but we didn't know just how historic some of the buildings really were and how well kept they were."
The sequence at the Wren Building, which served as King George III's throne room, was premiered at the event and allowed the producers to discuss how they made the transformation.
"We were looking for a room that sort of matched the moment to convey royalty," Josephson said. "We could have potentially made it an all-CG room; we felt it's a hard thing to ask actors to work in a space that's just empty and green walls."
Josephson's advice for aspiring college students seeking a career in the film industry is to get their hands dirty by watching great films and by making student films.
"I always recommend that people try and make their student films," Josephson said. "Whether they're film majors or not, if they have an interest in telling story, of translating a book or a script or short story to a film, make one even if it's a ten-minute short because I think then you really learn the language. You know the things that you admired and you get to learn a little bit about technique."