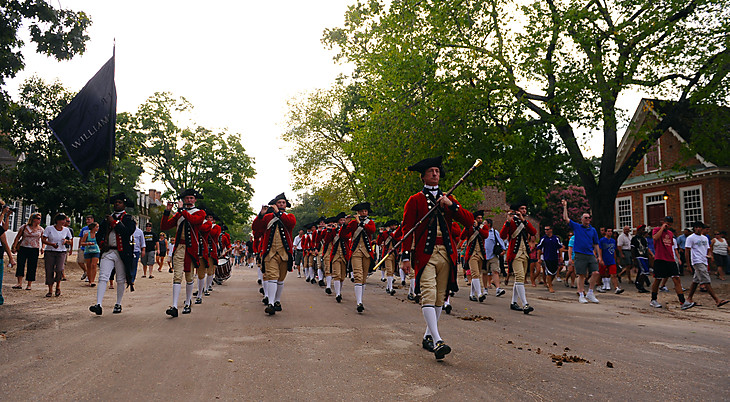 WATCH
Ohana Minstries of the Historic First Baptist Church will be performing a live play at the Williamsburg Library Theater on Sunday, Feb. 8 from 3:00 to 4:30 p.m. "The Prodigal Daughter" is a biblically-based narrative that explores the lives of Cain and Abel's children from a modern perspective in which Abel's daughter Florentyna becomes the first female President of the United States. This event is free and open to the public.
VIEW
On Thursday afternoons from 2:00 to 3:30 p.m., the Williamsburg Regional Library shows afternoon films free of charge. Each month has a theme. The theme for February is "Under Construction," and focuses on movies that feature building and architecture. The feature film playing Feb. 12 will be "The Fountainhead," in which an architect's career and personal life are on the line because he refuses to compromise his building designs.
CREATE
At Paint on Pottery on High Street, every Tuesday from 6:00 to 10:00 p.m. is reserved for Ladies Night. However, Tuesday nights now also include a glass fusing class from 6:30 to 8:30 p.m. For a fee, participants can design and create jewelry, household items and unique glass creations. Paint on Pottery will supply all the tools, materials and instruction necessary to create an original masterpiece.
EXPLORE
If you are 18 or older and enjoy looking at trees or traversing the outdoors, join Helen Hamilton and local botanists for a walk around Freedom Park and the Williamsburg Botanical Gardens on Sunday, Feb. 8 from 1:30 to 3:00 p.m. This walk will help participants identify trees in their winter condition — naked — as well as learn how to distinguish them by their physical features. After the walk, Hamilton will also be signing copies of her book, "Wildflowers and Grasses of Virginia's Coastal Plain," which can be purchased on-site. This event is free and open to the public.
BIKE
On Saturday, Feb. 7, a group of women from the Eastern Mountain Bike Association's Dirt Divas will be gathering at Freedom Park from 10:00 a.m. to noon to mountain bike. This group plans to explore the trails, meet new fellow female riders in the community and help newcomers learn some of the nuances of mountain biking. Various levels of biking groups will be available. While the event is free, a bike and helmet are required, and some form of hydration is recommended.