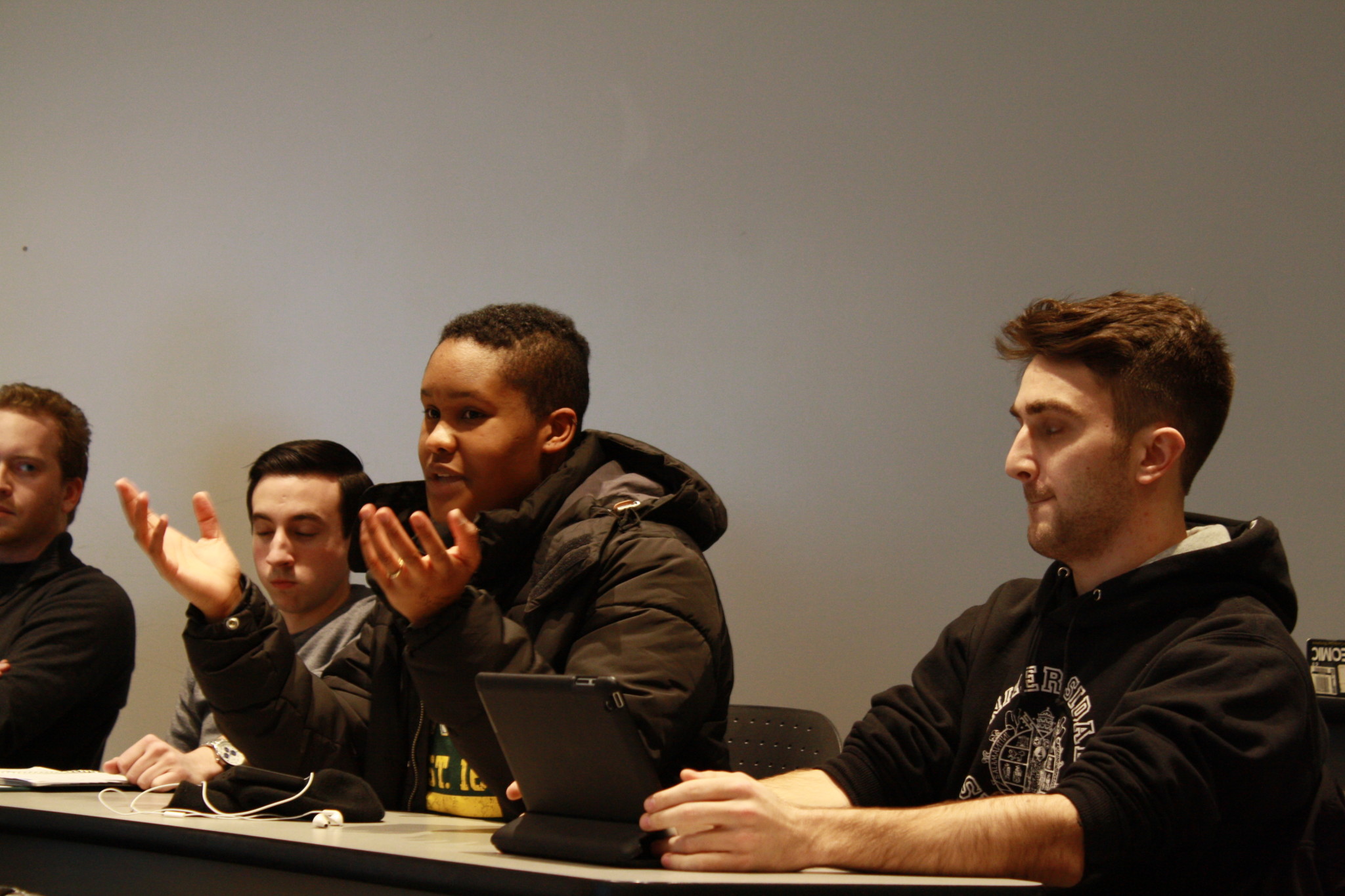 In an effort to address the current racial climate at the College of William and Mary, Taylor Mack '15 and Brittney Harrington '15 have created the Call to Community Action: A Request for Administrative Response to Racial Bias Instances.
Directed toward the administration and the Board of Visitors, the document seeks to confront administrative inaction and promote a safer racial environment on campus.
In the call to action, Mack and Harrington present two proposals for administrative responses to bias incidents. They also included a series of 24 personal letters from students and alumni. The letters recount instances of racism and racial bias on campus.
The first proposal, the Zero Tolerance Policy, categorizes bias incidents as student conduct violations to be investigated under the current student conduct process.
"More likely than not, a student conduct violation will result in a warning, community service or education on the offense," the call to action states. "The goal of the William and Mary Bias Zero Tolerance Policy is not to punitively punish students who commit acts of bias out of ignorance and innocent intent."
This proposal could prove problematic, however, according to Frank LoMonte, executive director of the Student Press Law Center.
"I'm sure this is a well-intended policy but we know from experience how dysfunctional campus disciplinary systems are, and we really need to hesitate before pushing tons more cases into such a broken system," LoMonte said in an email. "When you bring someone up on disciplinary charges, you're talking about putting them at risk of suspension or even expulsion, which are life-altering consequences, and that ought to be reserved for truly severe acts of wrongdoing. The 'call to action' talks about zero tolerance for instances of bias even where the incident is done out of ignorance with no malicious intent, and that's exactly the kind of case where discipline seems completely inappropriate."
The second proposal, a Bias Response Team, seeks to create a group of community members to provide support for victims of bias incidents and work to further discussion of the College's racial climate.
Harrington and Mack began working on the call to action several days after accusations of insensitive party themes at Greek life events arose.
"We were disappointed by the lack of prompt action by the administration," Harrington said. "There is a pattern of racist things not getting a reaction from the school because of free speech or having something happen that's not a prosecutable hate crime … but at some point, people in power have to make a decision about whether they're going to prioritize the free speech and expression of people who are doing things that are racist or the comfort of students who are already marginalized."
The two have met with College President Taylor Reveley, Rector Todd Stottlemeyer '85 and Chief Diversity Officer Chon Glover to discuss their ideas.
Harrington said that all three were receptive to the call to action, as well as hearing students' personal experiences with racism at the College.
"Working to improve the racial climate on campus is of great importance to me and members of the Board of Visitors," Reveley said in an email.
Prior to the creation of the call to action, Reveley announced that he was in the process of creating a Task Force on Race and Race Relations. It will be led by Glover and will include students, alumni, faculty and staff.
"[Our ideas] are going to be taken to the task force, who will then use the time and resources they have to figure out what solutions are best for the campus," Harrington said. "That may be entirely some of the ideas we presented, maybe some in part, or maybe something entirely different."
Although the call to action's intended audience is the administration and the BOV, it has reached other individuals on campus.
"We've been reached out to by a lot of people, faculty especially, and that was really surprising because … when we were working on it, I wasn't thinking that it was going to get all over to everyone," Harrington said. "It was a thing to the people who had power imploring them to take action."
Mack also spoke about the call to action at the Feb. 10 Student Assembly meeting.
"When I went to the SA, I articulated what Brittney and I had already done, why we wrote the call to action, [and] what its intended purpose was," Mack said. "[I] tried to create some transparency around it so that we can get as many supporters and allies around it as possible."
Moving forward, Mack voiced hopes that the call to action sparks discussion about the racial climate on campus.
"I wanted it to be a conversation starter," Mack said. "I wanted it to be thought-provoking but not provocative. I really hope it gets people thinking about what they can do on the individual level. … When things happen, go to the administration, talk to the administration, report to the administration. Keep those dialogues open because that's how things are going to change."
Harrington voiced similar thoughts on long-term goals for the call to action.
"The end goal here is cultural change," she said. "It's people not doing racist things because they genuinely believe no one deserves to feel like [that] in their home and the place they exist 24-7 nine months out of the year … people make light of their experiences and think it's funny and think it's worthy of a party costume. That's what we want, and that's a hard thing to achieve. It takes time, and it takes resources. It takes people with power standing up. It takes white students saying they don't support racism standing up to their white peers. But in the meantime, while we're waiting for this cultural change to happen, there need to be policies in place so students know they will be held accountable if they do things that damage the safety of the community."
To see Taylor Mack discuss the Call to Community Action with SA senators, visit the link below.
https://www.youtube.com/watch?v=HboTdHzUXQs&feature=youtu.be