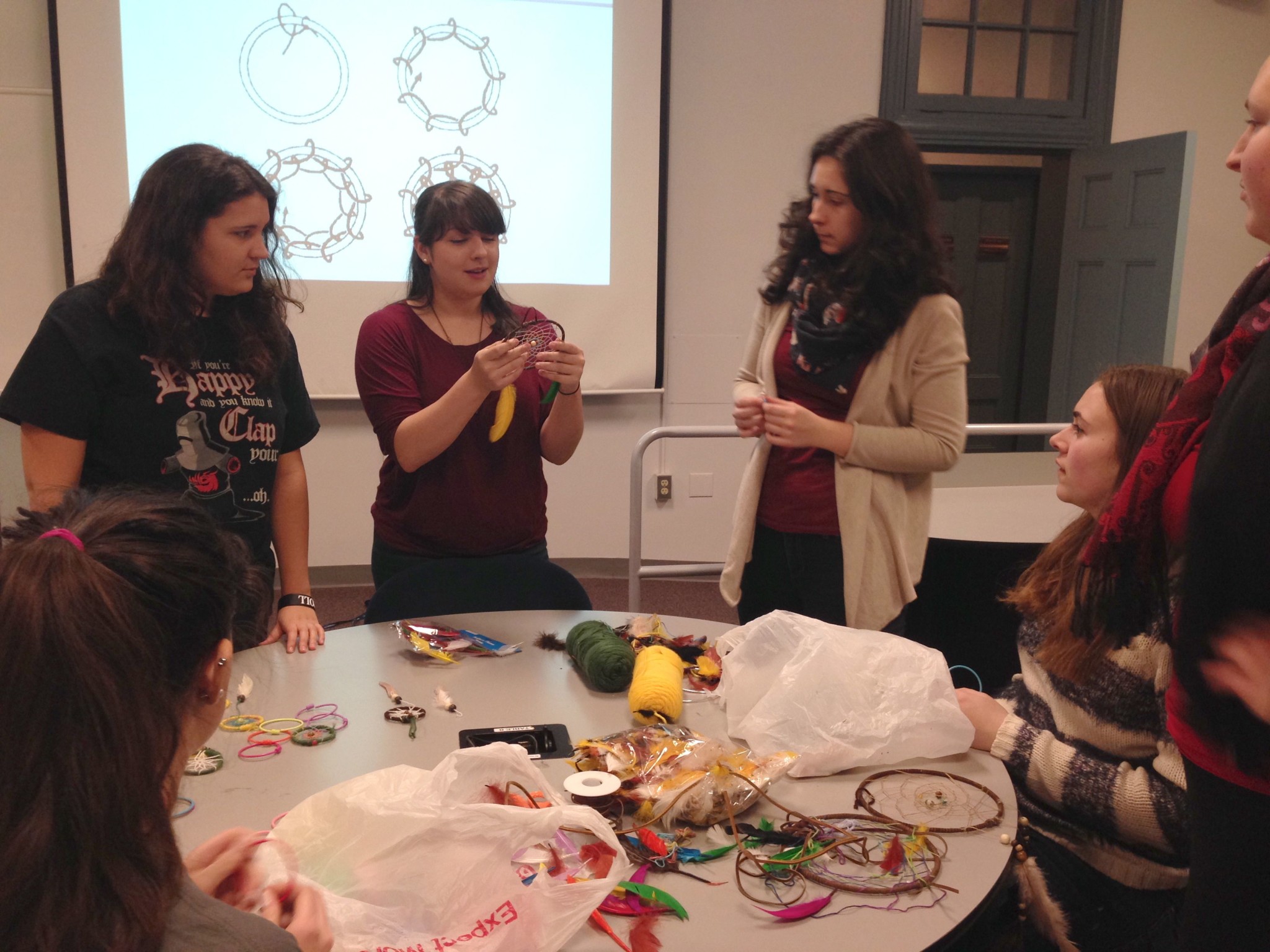 After a two-year hiatus, the American Indian Student Association at the College of William and Mary resurfaced last fall. Now operating under the title of American Indian Student Association, the organization aims to educate the College community about Native American culture and issues tribes face today.
At a Center for Student Diversity event at the beginning of last semester, Mackenzie Neal '18 saw a sign for NASA, but was told the organization no longer existed since all of its members graduated in 2012. Neal, who is part Quapaw, revived the club to connect with an unfamiliar part of her heritage, and is now the organization's president.
"The Quapaw tribe is actually in Oklahoma," Neal said. "And I grew up in Virginia, away from that area … so I just knew that my mom had moccasins on the Christmas tree every year, and I didn't really know what that was for."
Neal said she feels as though she missed out on the opportunity to attend powwows when she was younger, but is making up for it with the club's upcoming Native Dance and Drum Demonstration.
The event will take place March 28 in Trinkle Hall and will feature demonstrations of traditional music and dance, as well as a raffle and Native American vendors selling crafts like beaded items and pottery. Proceeds will benefit the Virginia Indian Tribal Alliance for Life, which advocates for native people throughout the Commonwealth, and the American Indian Science and Engineering Society, which promotes Native American representation in STEM fields.
AISA Vice President Emily Williams '18 is native Diné on her mother's side and native Hawaiian on her father's side. Like Neal, she grew up without paying much attention to these roots, and hopes to explore them through club activities. Williams said that through the organization, she would like to bring awareness to the problems of food sovereignty and obesity in Native Americans.
"They're not eating the foods that their bodies are used to anymore — maize, peppers, pumpkins, fish, deer — foods that they kind of evolved with, and part of the reason they struggle with obesity so much is because things that are in mainstream markets … like sugar, flour, wheat, they can't really digest it," Williams said. "Their bodies aren't meant to digest it because they haven't grown with it."
Emily Martin '18, a member of the group who has Kickapoo roots, said she would like to address poverty on reservations through the club.
"Reservations are actually the poorest areas of America," she said. "They are below Appalachia. They have the highest poverty rates and the most alcoholism."
While many members of the American Indian Student Association have familial connections to Native American tribes, Neal said the club has also attracted history and anthropology students. All are welcome to join, regardless of background.
"I think college is a great place to raise awareness of Native American issues," Neal said. "Especially because this is a time when people are realizing different cultural values and being exposed to things that they weren't in their hometowns."