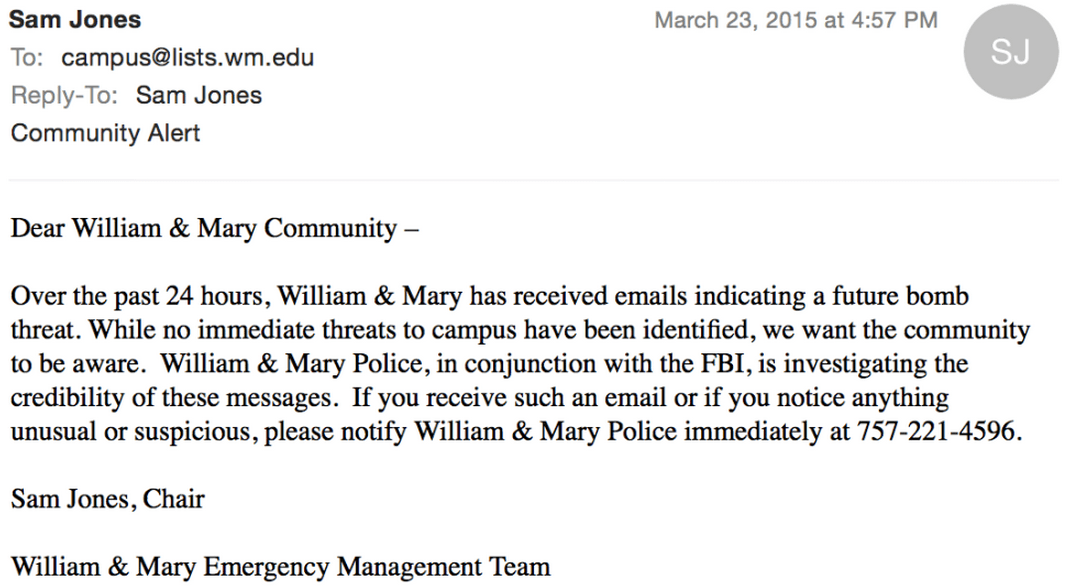 Update (March 25 at 3:56 p.m.): Emergency Management Team chair Sam Jones sent an email to students, faculty, and staff Wednesday saying the FBI, working in conjunction with the William and Mary Police Department, determined that the bomb threats were unfounded.
"Law enforcement continues to investigate the emails but I wanted to let you know they have determined there is no threat to the university," he said.
The William and Mary Campus Police Department, in conjunction with the Federal Bureau of Investigation, is investigating the credibility of bomb threats sent over the past 24 hours by an unknown sender to four College of William and Mary email addresses. Emergency Management Team chair Sam Jones notified students, faculty and staff in an email sent at 4:57 p.m. Monday.
According to Jones, the threatening emails from the unknown sender were not sent to any individual, but to email accounts belonging to offices of the College. The emails did not give any indication that the threat was immediate, he said.
"[The emails] used the word 'future' … and they used the word 'bomb.' Those were the two things that would certainly get anybody's attention," Jones said.
Although he declined to say whether there were any leads in the investigation, Jones said that police efforts were focused on identifying the sender of the emails. He encouraged students to be observant and cautious and to notify the campus police if they see anything suspicious.
College spokesman Brian Whitson said that the threats were made in four identical emails sent to generic email addresses.
"We don't believe there is an immediate threat to campus but the W&M Police Department is working closely with the FBI to investigate," he said in an email.
According to Jones, the Emergency Management Team is prepared for any situation.
"We run tests, we do training, you know, should something come up the campus is ready for it," he said.
https://twitter.com/Ambrose2017/status/580151175804260353
Heather McPherson, host of the William and Mary Campus Radio program Periwinkle Waves, urged listeners to remain calm about the email Monday.
"Sam Jones, notorious for sending snow day emails, sent an email about bomb threats that have been received over the past 24 hours," McPherson said. "I think we'll all be okay here in Williamsburg."
The last time the College reported receiving a bomb threat was August 28, 2007. The threat was received in an email sent to staff members.