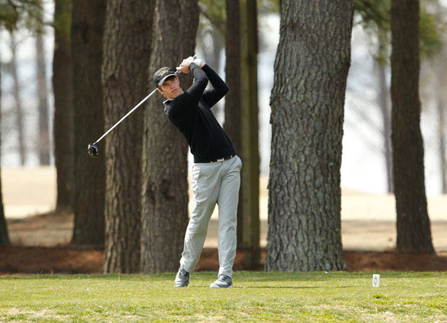 William and Mary hosted the 38th Annual Middleburg Bank Intercollegiate Sunday through Tuesday at the Kingsmill Resort's River Course and finished in sixth place.
The College completed the tournament's opening round on Sunday in 12th place, turning in a score of 295. Radford and Loyola tied for the top spot, each shooting a 283 to lead the 30-team field.
Sophomore Davis Morrison, competing as an individual, recorded a one-over 71 for the Tribe's best individual score and tied for 15th overall after the first round. Senior Charlie Kern finished one stroke behind Morrison in his final home competition, tying for 25th place at a score of 72. Both Boston College's Nick Pandelena and High Point's Jack Sides shot a three-under 67 to top the individual scoreboard.
The Tribe rocketed up the leaderboard Monday, shooting a 291 and bringing its two-day score to 586 to tie with Miami for seventh place. Loyola and Maryland finished the day deadlocked at the top of the leaderboard at an overall score of 573.
Davis Morrison rose to 11th in individual rankings, posting a 72 for the round and bringing his overall score to 143. Morrison's brother and fellow sophomore Austin Morrison shot a one-under 69 for the Tribe's best score of the day, catapulting him to 15th place with a tournament total of 144. Jamison Randall of Old Dominion took a one-stroke lead into the final round Tuesday, topping the individual competition with a score of 139.
The College recorded its best score of the tournament Tuesday as it shot a 286 and finished in sixth place overall with a score of 872. Radford and Loyola finished in a deadlock for first place, each posting overall scores of 859. Radford eventually won a three-hole playoff to take top honors.
Senior Alex Hicks finished as the Tribe's top performer, tying five other golfers for seventh place overall at a score of 213, including a two-under 68 in the final round. Davis Morrison finished one stroke behind at 214, good for a tie for 13th place, while Austin Morrison completed the competition tied for 15th with a tournament total of 215. Kern joined them in the top 25, shooting a 217 for the tournament to place him in a tie for 21st place. Loyola's Matt Oshrine topped the individual leaderboard, setting a tournament record with an overall score of 208.
The Tribe competes in the Whiting Turner Invitational hosted by Towson at Prospect Bay Golf Club in Grasonville, Md. March 28.