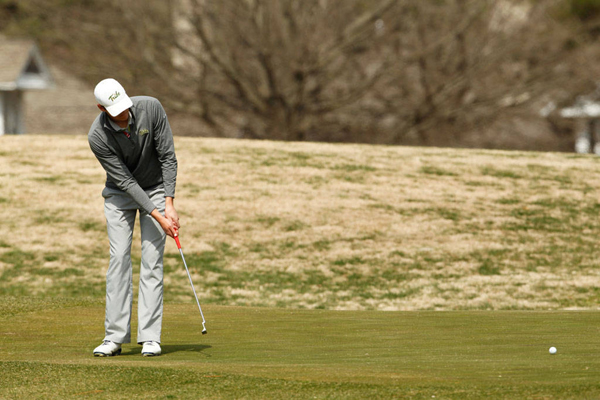 There was no place like home for College of William and Mary senior Charlie Kern this week, as the Seattle native tied for third overall in the Redhawks Invitational held at Seattle University.
Kern started out with a solid three-over par 73, but he had much more in store in the next rounds. Later in the day, Kern dipped below par with a one-under 69. It was one of only three rounds that any golfer played under par on Monday and helped vault Kern 13 spots up the rankings and placed him among the day one leaders.
The last day of the tournament, Kern battled for the top spot with a handful of other competitors. His score of 72 would net him a tie for third with Drexel's Christopher Crawford, making them the highest-placed athletes not competing for the University of Washington. Kern's final three-round output was a four-over par 214.
Kern's efforts placed him ahead of the No. 1 ranked player in the country, Washington's Cheng-Tsung Pan, and he earned the honor of being named the Colonial Athletic Association's Golfer of the Week. This is the first weekly award of Kern's career, and the first of the season for the Tribe.
On the team side, the College tied for 11th overall at the two-day, three-round tournament, improving its total team score in each successive round. After a 313 opening round landed it in 15th, the Tribe responded with scores of 303 and 302, finishing at 918 overall (+78).
Kern was the top performer for the College, finishing 21 whole strokes ahead of fellow senior Alex Hicks. Hicks rebounded from an opening round 83 to deliver scores of 74 and 78 in the second and third rounds.
Sophomore Austin Morrison was disqualified in the opening round, but was able to take part in the rest of the tournament, delivering scores of 80 and 76. His twin brother sophomore Davis Morrison, had identical scores in addition to an opening round 83.
Freshman Bryce Johnson couldn't keep the momentum of his four-over 74 opening round and ended the tournament with a 34-over at 244.
No. 10 Washington won the invitational handily, finishing 24 strokes ahead of host Seattle with a total score of 854 to clinch the team title. The Tribe's score of 918 tied it with Utah Valley for 11th.
The College has two weeks off before competing in the CAA Championships on April 24-26 in Southport, N.C.