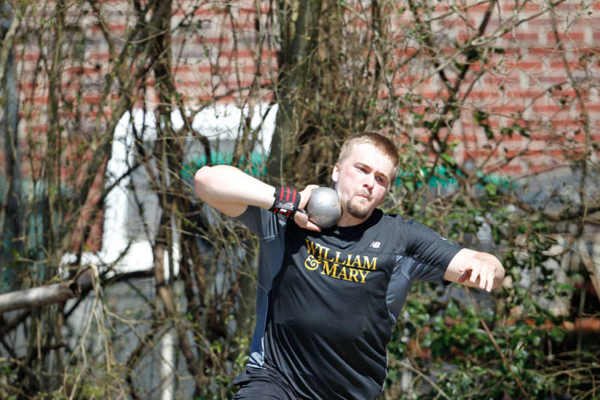 William and Mary continued its season at the Patriot Invitational in Fairfax, Va. This is the fourth weekend in a row both teams have participated in a tournament. After a busy weekend hosting the Colonial Relays last week, the women's program brought a condensed roster to George Mason, yet still finished 18th out of 24. The men's program entered a full roster and managed to place second out of 22 teams.
Freshman Leia Mistowski finished in second place in the hammer throw. Her 51.74-meter throw is the 12th best in school history. Freshman Kathleen Wirshup threw a personal best 35.39 meters in the javelin toss, the 14th best throw in Tribe history. Running her first ever 5,000-meter race, freshman Lindsay Myers finished seventh out of the field of 33 and was the only freshman to finish in the top 20. Junior Breanna Brukalo finished 15th in the 400-meter hurdles, and senior Nina Ullom placed 5th overall in the pole vault. Ultimately, the Tribe finished with 14 points, good for 18th place. Dartmouth took first with 97 points.
On the men's side, two athletes earned their first Intercollegiate Association of Amateur Athletes of America qualifier. Freshman Preston Richardson threw the discus 47.98 meters, a freshman record. This is the seventh-longest throw in school history and earned Richardson a qualification for IC4A competition. Another freshman, Davion Hutt, also earned an IC4A qualifier in the 100-meter dash. Junior Brian Waterfield took first overall in the hammer throw with the second longest throw in school history, 61.73 meters. Junior Taylor Frenia, competing in the discus, matched Waterfield's achievement, as he threw 51.34 meters, the second-best discus throw in school history. Sophomore Bob Smutsky and freshman Derek Trott placed second and fourth place, respectively, in the javelin. The Tribe finished the day with 60 points for second place overall. The Tribe was only bested by the host school, George Mason, who finished with 69 points.
Both the men and women's teams will split their squads next weekend, as some student-athletes travel to Newport News, Va. next weekend to compete in the Captain's Classic at Christopher Newport. A few of the top distance runners on the women's team will branch off from the rest of the team and head west to Walnut, Calif. to compete in the Mt. SAC Relays. Other members of the Tribe will also travel to U. Va. to compete in the Virginia Challenge.