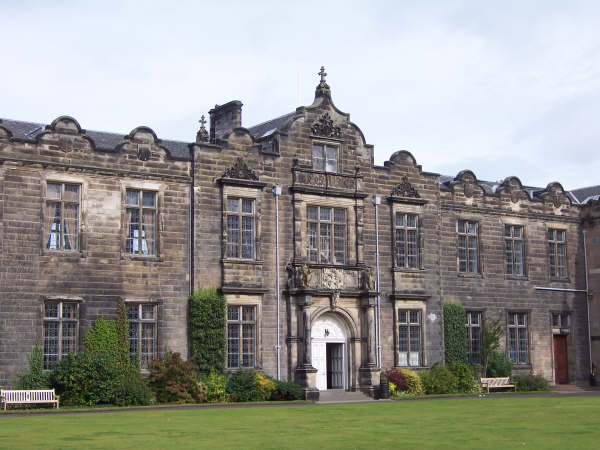 The graduating class of 2015 will be the College of William and Mary's first to include students in the Joint-Degree Programme with the University of St Andrews.
St Andrews is situated 50 miles northeast of Edinburgh, Scotland. For the program, students can either apply through the College or St Andrews. They spend their first year at the institution to which they applied and then switch to the other for their second year. For the remaining two years, individuals may choose where to spend their time — either bunching two years at the same place in the middle or alternating. Only four majors are currently available in the program: history, English, international relations and economics.
Only 18 of the 30 original College-based students will graduate with joint degrees this spring, while all eight of those who began at St Andrews have remained in the program. Associate professor Laurie Koloski at the College advises the program's history majors. She said the graduation rate is no surprise.
"I think it's just not that surprising that it doesn't work out for all of them, it just turns out to not be the best academic path for all of them or maybe the best social path for some of them — the moving back and forth between the two institutions," Koloski said. "So it'd be great if everybody stayed in, right, but, again, I don't really see that as a failure."
Of Koloski's five advisees who began at the College, two have left. One dropped just last spring — only one year before graduation. Koloski said that it wasn't because she did not like the program or the College, but that coming back for her senior year was not the right move. Because of her opportunities and activities at St Andrews, she elected to stay there.
There are a number of reasons why students leave the program, according to English professor and program advisor Kim Wheatley. She said that many experience one of the two academic cultures and find that they like one over the other, and choose to stay. Sometimes they decide to switch to a major not offered in the program, and must leave. While adding more majors has been discussed, Koloski said that it is better to figure out specifics of running the program itself before any changes are finalized.
"It's not like I was studying abroad, I was really there for a long time." – Baxter Gaston '15
Baxter Gaston '15 said that students have to really want to experience all that the program is — not just the academics — to be successful.
"The opportunity is incredibly unique and … just a pretty outstanding learning opportunity to be able to just be fully involved in both schools and I'm pretty engaged in both academic systems," Gaston said. "It's not like I was studying abroad, I was really there for a long time."
Many highlighted the immersion within both institutions as one of their favorite aspects. Victoria Seeck '15 opted to alternate between Williamsburg and Scotland for all four years. Originally from Belgium, Seeck said that she wanted to study in Europe and also experience education in the U.S.
"As much as there are difficulties that come with [the transitions] I think you meet so many people, and you know you're gone for a year, but you come back and they're still there," she said. "It's like great knowing so many people in so many different places and to keep up with them, see what they're going to do, how they're different, how they've changed and stuff so I think the friends — … both in the program and outside the program — are my favorite part."
The connections were also a highlight for Olivia Flynn '15, who said she loved having friends in both places. The program also allowed her to travel extensively — to the Middle East and Northern Africa as well as all around Europe. Flynn and Seeck said that the program had a very good support system, particularly on the College's side and from Program Director Colleen Kennedy.
Jake Jose '15 said he joined for the rigorous history program at St Andrews. Unlike Flynn and Seeck, he said that he didn't feel he experienced the same level of support. Jose said he thinks the type of student the program markets to is not the kind who tend to be successful in such a varying and transitory program.
"I think the way they market the program as a really rigorous, honor-based academic program with these two great institutions draws a type of student that requires a certain amount of structure," Jose said. "The way the rug gets pulled out from underneath you, I think has really scared a lot of students."
All four students agreed that the program has improved since their first year and said that they are happy they went through with it.
Students have the option to participate in both ceremonies in Williamsburg and Scotland. Gaston, Seeck and Flynn are planning to attend both the College's event May 16 and return to St Andrews a month later for its June 23 ceremony.