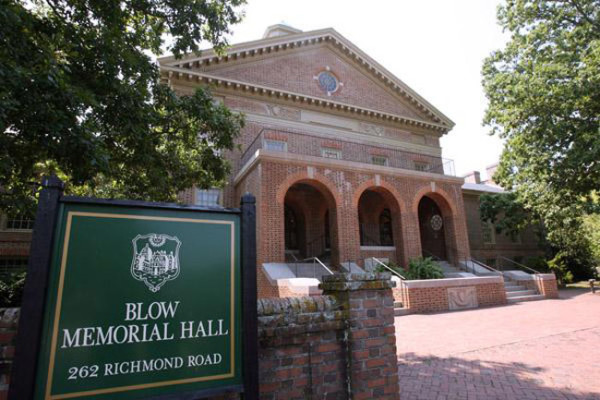 Housekeeping staff discovered a pencil drawing of a non-descript human figure hanging from a tree on the second floor of Blow Memorial Hall on the morning of June 15.
The approximately 12" by 12" drawing, located near the WMSURE space in Blow 236, the Counseling Center and the housekeeping break room, did not include any letters or words. According to College President Taylor Reveley, staff scrubbed the drawing off the wall before authorities could take any pictures. The William and Mary Police are investigating the incident.
Professor Anne Charity Hudley said she learned about the drawing from housekeeping staff Tuesday. Hudley co-directs WMSURE, a faculty-led program that supports research opportunities for underrepresented students. She said she then discovered the interior door of her office open.
Hudley posted about the incident on Facebook, encouraging people on campus to download the Rave safety app to their phones.
"If you saw anything suspicious around Blow Hall this weekend, please let the William and Mary Police or me know," Hudley said in an email. "Blow 236 is a space for all of us; a place where you're always welcome. We want to preserve our communal sense of welcome but we want to encourage you to use caution and notify police (there is a phone in Blow 236) immediately if you see anything suspicious or feel unsafe."
Communications and University Relations Associate Vice President Brian Whitson said that the motive for the drawing remains unclear.
"The drawing could be referencing different things, such as a lynching or a past student suicide," Whitson said in an email. "At this point, we don't know what it is referencing. What we do know is that it was offensive and we take this very seriously."
College President Taylor Reveley released a statement responding to the act of vandalism.
"There has been speculation on campus and in the social media that it was meant to depict a lynching," Reveley said in a campus-wide email. "According to the investigation, however, the drawing was not accompanied with any words, messages or other symbols that police say are typically attached to a racially motivated threat. Given its proximity to the Counseling Center, another possibility is a reference to suicide. But, again, we don't have evidence that suggests or confirms this. Either way, the drawing was flatly unacceptable, very disturbing, and quite detrimental to our community."