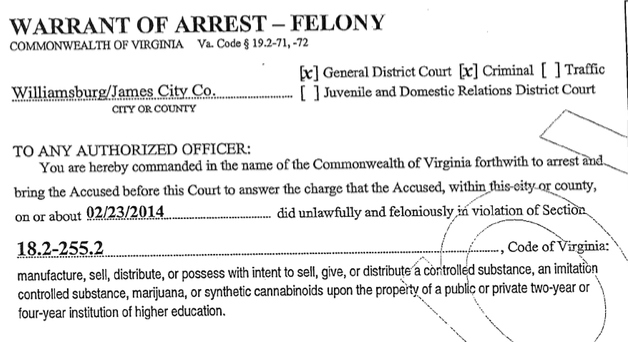 Former College of William and Mary student and red-shirted football player Sam Marshall will serve no prison time for selling imitation LSD last year, the Williamsburg James City County circuit court ruled.
Marshall was expelled in 2014 after being arrested on 17 felony narcotics charges and has been living in Charlottesville since then. In January, Marshall signed a plea agreement that reduced the charges he faced, but which still carried a possible jail sentence of up to ten years.
The 2014 police report of the Sam Marshall case, obtained by The Flat Hat through a Freedom of Information Act request. The names of the students who were not charged with a crime have been redacted.
The court ruled that Marshall would receive a $575 fine and a six-month suspension of his driver's license. He also received a five-year suspended prison sentence, which will not require him to spend any time behind bars but will remain on his record. Marshall did not respond to requests for comment.
The sentence comes nearly 16 months after Marshall was first arrested in the stairway of his freshman dormitory, Lion M, in the Green and Gold Village. According to the police report for the incident, obtained by The Flat Hat through a Freedom of Information Act Request, Marshall was arrested after the police were called to investigate a drug overdose in the Wildflower Refuge.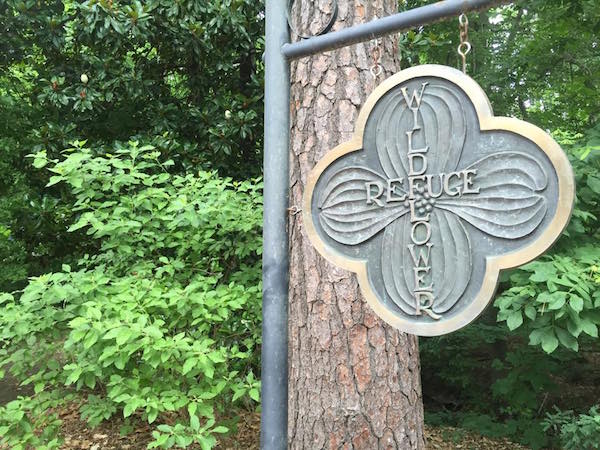 The overdose involved two members of the men's soccer team. According to the police report, one of the players, then a leading scorer of the men's soccer team, took two tabs of what the other player described as 'acid' and had what appeared to be a seizure.
The seizing player was rushed to Sentara Williamsburg Regional Medical after an unidentified student called 911. At the hospital, the player who did not consume the drugs told the officers that he and the player who experienced a seizure received the acid from a football player named Sam. A urine test later tested positive for NBOMe 25I and 25H, a research chemical which the DEA has said can lead to death even in small doses.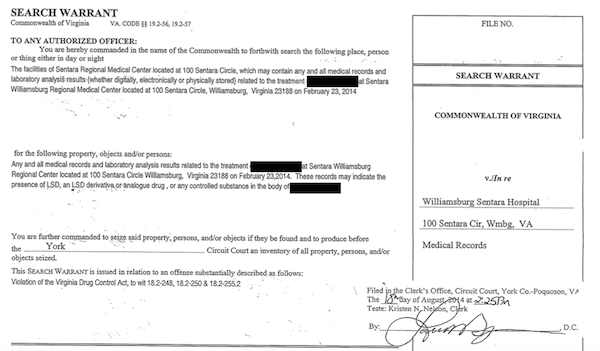 After a brief investigation, officers identified Marshall, who confessed to both possession of cocaine and marijuana and to selling 40 tabs of acid to eight students. None of those students has been charged with committing any crime. Lieutenant Don Butler of the William and Mary Police Department said that there was not enough evidence to seek prosecution for the buyers, and that the priority in the wake of the overdose was student safety.
According to College spokesman Brian Whitson, the students who were named as buyers were notified that they were in possession of a dangerous substance and warned not to ingest it. One of the students named as a buyer, who requested anonymity because he did not want to appear in conjunction with this article, confirmed that he was called by an administrator and warned not to take the tab he had purchased.
"It is important to remember that in a situation like this, our first priority is ensuring the safety of the students," Whitson said in response to questions sent in an email. "Our focus was to identify every student who might be in possession of a dose and make sure they did not take it."
At a preliminary trial in September, the player who did not consume the NBOMe 251 testified that all the soccer players who ingested the drugs were given a two-game suspension, saying the soccer coach had told the players that seeing what happened to the player who experienced a seizure had been "punishment enough."
Tribe Athletics spokesman Pete Clawson said that the Federal Education Rights and Privacy Act prevented him from confirming the suspension. Records available online suggest that the three men's soccer players named in court documents did not miss a game in the following season, contrary to the suspension.
"Court testimony is not subject to FERPA but the athletics department is restricted in what it can release about a student-athlete," Clawson said in an email. "While I am not confirming any action, I would suggest you double-check active rosters for the spring 2014 season."

Clawson did not respond to a request for the rosters for the Spring 2014 season, and they are not available online. Soccer is played in the fall, though teams may scrimmage in springtime.
Clawson also said that Tribe Athletics follows all NCAA policies and guidelines regarding reporting of banned substances.
"Again, FERPA prohibits me from discussing or confirming specific cases," he said. "For your own information, you should know that NCAA regulations only apply to tests sanctioned by the NCAA."
In January, The Flat Hat spoke to two students who said that they frequently sold LSD on campus. The students, who requested anonymity to avoid incriminating themselves, said that acid was popular among student athletes because it quickly left the body and because its characteristics make it easy to conceal.
The students said they were aware of Marshall's pending sentencing but were not worried about getting caught. They said they personally tested each batch they sold, and for added safety, they mentioned that tester kits could be purchased off Amazon for less than $20.