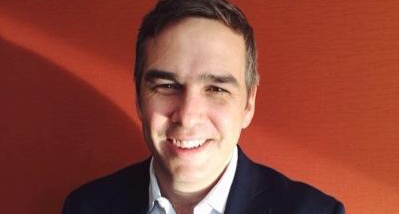 As an eighth grader, Brent Colburn '98 M.P.P. '00 got dragged around the campus of the College of William and Mary for his brother's college tour. This is his earliest memory of the College.
"It always just felt like a very friendly place," Colburn said. "Even then I remember thinking it was the most welcoming of the schools that we visited. I had my William and Mary tour early in my academic career."
Today, Colburn is a Resident Fellow at Harvard's Institute of Politics. He previously served as the Assistant to the Secretary of Defense for Public Affairs, the Chief of Staff at the Department of Housing, the Assistant Secretary of Defense at the Department of Homeland Security and the Director of External Affairs at the Federal Emergency Management Agency. He has also worked on numerous political campaigns, including those of Barack Obama, John Kerry, Howard Dean and Al Gore.
Colburn's father was an army officer who worked in the Pentagon. Colburn attended Robert E. Lee High School in Springfield, Virginia. He eventually chose to attend the college, following in the footsteps of his brother Brian Colburn '95 and sister-in-law Andrea Adams Colburn '95 M.Psy. '97, who met as freshmen in Gooch Hall. He said he chose the school for its strong track program and academic rigor.
"William and Mary's like the perfect distance from Northern Virginia," Colburn said. "It's close enough that you're close to home but far enough that it feels like a little bit of a different world. It was great; it was one of the best decisions that I ever made."
"The one downside to being a government major and a public policy master's student was the amount of time I had to spend in Morton," Colburn said.
Freshman year, Colburn lived in the north hall on the third floor of Yates. Instead of joining Sigma Pi like his brother, Colburn devoted his time to running.
"We had very different groups of friends at William and Mary, but it was great to have him there and be able to spend some time with him," Colburn said. "I mean, the best part was as a freshman, was that he had a car so I could borrow that when I needed it … It was great, I could literally walk across a field [to the Sigma Pi house] and get the keys to the car."
He noted that his two head coaches on the men's cross-country team, Walter Drenth and Andy Gerard, had a profound impact on him.
"For me, the track and cross country teams were as much my social networks as it was something that I really was committed to doing and doing the best I could at," Colburn said. "It provided a lot of structure for me in school, which was important, a sense of community that was very important. When I look back on my college experience, that's the thing that I remember —we all lived together, we all socialized together, we all traveled a bunch together. It was a great way to grow up with a really great group of folks and have kind of a center to my life at William and Mary, which was fantastic."
Colburn ran the 1,600-meter race, but his passion was always cross-country. He said he still has fond memories of training with his teammates in Zable Stadium and the cross-country and track teams soon became like a second family for him.
"I always really looked forward to getting back to school," Colburn said. "I liked fall, because it was cross country season."
This love of running was part of the reason he chose to attend the College for graduate school. Colburn said that he was interested in public policy, but the fact that he would receive fifth-year eligibility to run strengthened his resolve to stay.
He also said that his connections with government professors Ron Rappaport and Clay Clemens '80 also spurred him to pursue public policy. However, studying government was not without its drawbacks.
"The one downside to being a government major and a public policy master's student was the amount of time I had to spend in Morton," Colburn said.
When it came time to leave the College, Colburn said he felt mixed emotions. After six years in Williamsburg, deciding what to do next was stressful.
"You've accumulated these wonderful experiences, you've made these great friends and these great contacts, and then you're deciding what's that first step out of college going to be, or out of grad school in my case," Colburn said. "There's all this pressure to have the perfect job or to do the exact right thing right away … I think the lesson that I learned was, most of the times you're not going to have a plan and even if you have a plan, the journey you end up on in life is not going to look anything like the plan you had anyway. Trust that if you keep working hard and looking for opportunities, you're going to do some pretty amazing things."
He said that he advises current College students to not worry too much about post-graduation plans. Additionally, he recommends students take the time to educate themselves about topics unrelated to their field of study, in order to stay sharp.
"One thing that I really loved about William and Mary that I think will be hopefully replicated through this experience is just the chance to be around interesting, diverse, and intellectually curious people," Colburn said.
"So often, especially students that go places like William and Mary, they tend to be type-A, high-achieving people who are always looking to the next thing," Colburn said. "Don't take for granted the time you do have, and really try to enjoy it."
Despite his worries for the future, Colburn said he ultimately felt ready for a change in scenery after graduate school.
"I got to know the Green Leafe very well … after six years I was definitely ready to get out and see the world a little bit," Colburn said. "I kind of stumbled what I ended up doing for a living and got very, very lucky."
This "stumble" took the form of joining the advance team of Al Gore's 2000 presidential campaign. At the time, Colburn reckoned the job would be a temporary lark. Instead, Colburn said he enjoyed the competitiveness and the sense of purpose and community that came with political campaigns.
"So I kept working on campaigns that didn't win," Colburn said. "It took me till 2008 to work for then-Senator Obama's campaign, and we won. So that's what really opened up the door to go into government as a political appointee."
Colburn said he enjoyed the work he did in Chicago as Director of Communications of Obama's 2012 reelection campaign. However, his favorite job throughout his time in government was a bit closer to home —working at the Pentagon like his father.
"It was an amazing thing to get to work at a place where my dad had worked," Coblrun said. "So that's something I never expected. It's not like I went into the family business or something like that. It was pretty incredible to walk down the hall and have childhood memories of having gone to see my dad up there and go to events at the Pentagon that he was involved in. It was a really special way to get to end my time with the Obama administration."
This summer, Colburn began a fellowship at the Political Institute at the Kennedy School at Harvard University. He is teaching a seminar about the differences between campaign and administrational environments. He said he enjoys teaching and is excited to be working at the only university in the United States older than the College.
"One thing that I really loved about William and Mary that I think will be hopefully replicated through this experience is just the chance to be around interesting, diverse, and intellectually curious people," Colburn said. "That's a really fun thing. When you're in that environment, you take it for granted, but it's not always the way things are."
This past spring, Colburn received the Baxter-Ward Fellowship, an award given to a distinguished alumnus of the government department. Walking around campus, Colburn said he was struck by some of the new construction. He said he still felt the sense of welcome that he noticed on his first visits to the College, now coupled with memories of hanging out with friends, attending the Candlelight Ceremony senior year and making the trek from the Sir Christopher Wren Building to William and Mary Hall during Commencement.
"You step on campus and it's that same feeling of familiarity that comes with having gone to a place like William and Mary," Colburn said. "You walk down Old campus and it feels and looks exactly the same, in a very good way."
Correction: Colburn ran the 1,600-meter race, not the 600-meter or the 10,000-meter events.