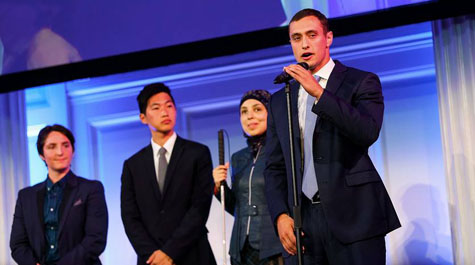 Founder of Armed Service Arts Partnership Sam Pressler '15 was one of 52 applicants from around the world selected for an Echoing Green Global Fellowship.
The fellowship is awarded to leading social entrepreneurs looking to make a meaningful change in their community. It includes $80,000 in funding spanning two years, mentorship from accomplished social entrepreneurs, stipends and technology support. Pressler found out he won only two weeks after graduation.
"It was totally surreal," Pressler said. "The partnership has really given me the runway to see how far I can take this."
"I'm finding that there's a lot of work to be done in support of our veterans and their families," Munevar said. "Working with Sam is wonderful."
Pressler's organization took root at the College of William and Mary, where he started the William and Mary Center for Veterans Engagement. Beginning with a staff of fifteen volunteers, Pressler organized long-term projects, such as the Veterans Writing Project and a Comedy Boot Camp, where veterans had a place to showcase their talents.
President of Student Veterans of William and Mary Sebastian Munevar '16 worked with Pressler on various initiatives within WMCVE.
"Personally, I can't think of many young people working on something as important as Sam does," Munevar said. "I've only been out of the Army for a couple of years, but I'm finding that there's a lot of work to be done in support of our veterans and their families. Working with Sam is wonderful. He's a natural problem-solver and has a great ability to communicate his vision elegantly. We are all immensely proud of his achievements and are behind him 100 percent of the way."
As WMCVE grew successful, Pressler created ASAP to expand the reach of his work. The organization gives veterans an outlet to express themselves and aims to foster a strong community of support between veterans and their civilian counterparts. Through interactive workshops and group sessions, veterans become immersed in programs involving music, photography, writing and comedy.
With the help of Former Echoing Green Fellow and Founder of Building Tomorrow George Srour '05, Pressler plans to scale his outreach nationally. His next step is to introduce his organization to universities. By partnering with local nonprofits and students at this level, his goal is to break down the barriers between civilian and veteran lifestyles.
In the long term, he plans to expand the programs to 20 different college campuses, serving a population of 2,000 to 4,000 veterans annually. In addition, ASAP aims to offer 400 to 600 student volunteers the opportunity to engage closely with veterans through the arts.
"Everyone around me was going down a more traditional path. I was doing something completely different," Pressler said.
Beyond simply creating programs for veterans, Pressler said he hopes his work will inspire more research on the topic of how the arts can act as a therapeutic tool for veterans. He said that by partnering with research organizations and the veteran participants, he hopes it can spark a new wave of expressive arts programs across the country.
Despite his successes, Pressler admits the journey has not been without its roadblocks. He recalled a period of doubt during his senior year.
"Everyone around me was going down a more traditional path. I was doing something completely different," Pressler said.  "When that happens, it can really make you feel insecure and question your choices. I really had to do some soul searching … I was sitting there imagining that I could follow more traditional job working for someone else after graduation, but I would be living with regrets. We were sitting on a unique model; I wanted to take it to its highest level."
He was not the only one to take a risk. Megan Brew '15 recently left her job to work for Pressler as ASAP's Director of Operations.
"I think a lot of people at William and Mary are intellectually curious, but what makes Sam different is that he is truly a critical thinker," Brew said. "When sees a problem out there in the world, he finds a way to act to change it. I would not have come here to work for [Sam] for 60 hours in a week if I did not strongly believe him and in the mission."
Flat Hat News Editor Amanda Williams contributed to this article.