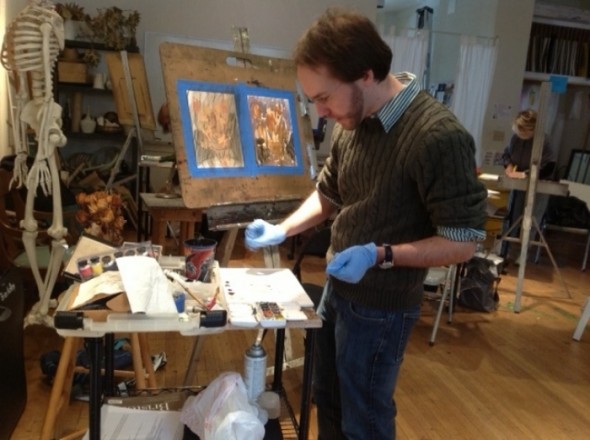 For former College of William and Mary visiting professor Brian Kelley '07, exhibiting his paintings in This Century Art Gallery was a bit like coming full circle — again.
Kelley's show, titled The Memory of Light, ran this summer at the Boundary Street gallery. It's not the first time the alumnus has come back to Williamsburg. Kelley came back in 2012 to teach as a visiting professor, returning to the place where he first began to pursue art.
In high school, Kelley played guitar, wrote poems and worked on a literary magazine, participated in a student art show and helped produce video content for his school's morning announcements. Upon arriving at the College as an undergraduate, he began exploring studio art, English, music and philosophy. He tried his hand at a literary magazine, which folded his sophomore year. He also participated in WCWM, the College's radio station.
"I was doing as much as I could in middle school, high school and college and at a certain point I just kept wanting to take studio art courses," Kelley said. "I kept wanting to take drawing courses and painting courses, and when push came to shove … it didn't feel like a hard choice … The more I spent time [exploring the creative arts], painting kept feeling like the thing that felt the most open-ended, it was the one that I never felt like I was getting bored."
Professor Brian Kreydatus taught Kelley in numerous life drawing and printmaking courses.
"The more I spent time [exploring the creative arts], painting kept feeling like the thing that felt the most open-ended, it was the one that I never felt like I was getting bored," Kelley said.
"He was certainly one of the best students I've had at the College and it's been an absolute pleasure to see how his work has developed and expanded," Kreydatus said in an email. "The exhibition of paintings and prints was extremely strong — varied in handling and subject but unified in quality and intent."
Many of Kelley's pieces feature images College students would recognize, including a depiction of the ghostly "Lady Skipwythe" peering out of a window of the George Wythe House, a rendering of the Robert Carter House and a scene from the Meridian Coffeehouse. Kelley drew upon his experiences in Williamsburg for these works.
"I went on ghost tours as a William and Mary student and got interested in the history of Williamsburg as a whole and the ghost stories of CW specifically," Kelley said. "I think back to Skipwythe in terms of how there was the PG story that the tourists would get, but then if you had the William and Mary [tour guide] take a freshman dorm, you'd hear the real story. Her sister had an affair with her husband and she didn't even die that night, she died later and she didn't even kill herself, she just died. Way more depressing."
Although the print of Lady Skipwythe was small, Kelley said it took several days of effort because it featured green, violet and black ink. Each color had to be printed separately and allowed time to dry.
Kelley said he used to primarily consider himself a painter, but he has been working a lot with printmaking lately. The Memory of Light incorporated oil on canvas and watercolor paintings, etchings, woodcuts and linocuts.
This Century Art Gallery Artistic Director Apryl Altman said the gallery's exhibition committee was drawn to Kelley because of his ties to Williamsburg and his use of different artistic media.
"It's been very nice to have a mixture of paintings and prints in the same exhibit," Altman said. "As you float from one to the next, you can really appreciate the etchings and the woodblock prints as well as the painting … We were impressed with the way he looked at things. He oftentimes took very ordinary objects, but it was the way he looked at them, just a little different vantage point than you'd normally expect that really made them interesting and kind of tweaked your interest to look further into the painting or print."
His piece featuring the Meridian was inspired by one of his favorite haunts as a student. Kelley painted his friend Andrew Miller '13 reading in a chair in the library room of the coffee shop. Kelley said returning to these familiar places as a professor was strange at times.
"It was definitely interesting [to teach at the College] because there is a sense that … you're part of the Tribe but you're now seeing it from a different point of view, you're a teacher not a student," Kelley said. "It made it interesting to do things like go back to the Meridian … I would go sometimes to see bands play to hang out with Andrew, but I wouldn't necessarily go every day … There're lots of parts of Williamsburg that, as a student, you don't really even know exist … All of a sudden you're spending lots of time at Trader Joe's."
"Sometimes you walk outside and the thing that strikes you isn't what's happening, what people are doing, or how big the space is, but the sky's a really interesting color this morning," Kelley said.
A large oil painting titled "You Can Go Your Own Way", was one of the older paintings in the exhibition and tied back to Kelley's DJ roots. Kelley said while he normally doesn't name paintings after songs, he painted it while listening to a lot of Fleetwood Mac in his studio.
"Sometimes when you're in the studio there's one album or one song or one artist and you're just like I want to keep listening to this person or this thing while I'm working," Kelley said. "In the same way light can set a tone or a mood for a painting, whatever you have playing in the background while you're working can influence things."
After graduating from the College, Kelley received a Master's in painting from Indiana University and moved to northern Virginia to continue painting and teaching studio art. In addition to the College, he has lectured at George Washington University and George Mason University. He has exhibited his work at the Muscarelle Museum of Art and the Andrews Gallery. The inspiration for The Memory of Light came after a recent solo exhibition in Manassas, Virginia. That particular show focused on structure, architecture and space. Kelley said he became intrigued with the idea how light itself can affect space.
"Sometimes you walk outside and the thing that strikes you isn't what's happening, what people are doing, or how big the space is, but the sky's a really interesting color this morning," Kelley said. "Or the sun is setting and one cloud just goes an intense pink and then orange and you're kind of thinking to yourself, when's the last time I saw that? It's not really about space. It's not really about content. It's just about this thing that light did in the space. That has been something that's interested me a long time."
Kreydatus pointed out Kelley's focus on light in the show, saying he was especially struck by the etching "Robert Carter House" and the painting "Green Shade."
"Both depict notoriously difficult lighting situations — the etching a night scene and the painting a domestic interior with flat overall lighting," Kreydatus said. "Brian not only portrays each light situation through careful direct observation but through invention and interpretation gives equal weight to underlying abstract concerns of the picture plane and hints at mysterious narrative possibilities.
Kelley said his favorite piece in The Memory of Light exhibition was a print called "Leave the Christmas Lights Up Until February."
"It may not be the biggest or the brightest or even necessarily the strongest composition, but I really like this piece," Kelley said. "This is from this year, from this summer … I'm very much into doing color printmaking at the moment. Just trying to see how far I can push these, as much as they're prints, they're also using a lot of the light and color ideas that I usually think of in a painting."
The print arose from an experience Kelley had in northern Virginia, when he came across a string of Christmas lights wrapped around a tree in the middle of the winter.
"It was this day where there was snow and ice and a really orange streetlight and these blue Christmas lights," Kelley said. "You had this blue light and this orange light and all these weird icy reflective surfaces that the light was bouncing off of …. I just thought this light is incredible. I want to go back to that memory of that light."