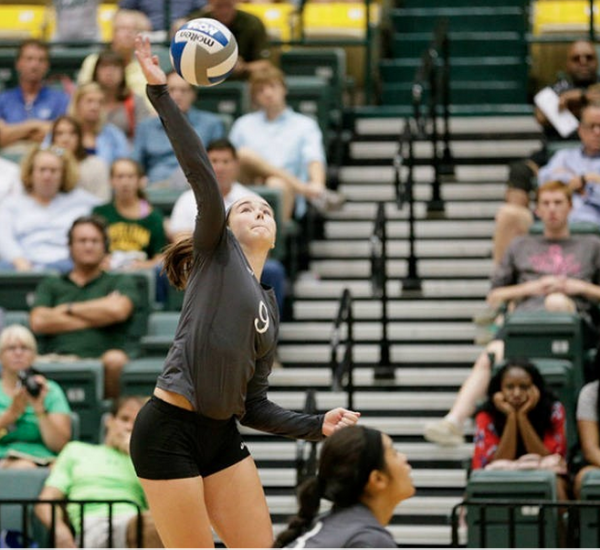 William and Mary fell to Elon 3-1 Saturday night at Kaplan Arena in the final game of the Tribe's six-game home stand. After losing the first set, the Tribe (8-13, 2-6 CAA) battled back and took the second set. However, Elon (4-17, 1-7 CAA) took the third set before coasting in the fourth to a 25-16 win to seal the match victory.
Elon started off hot, taking an early 5-1 lead in the opening set. Sophomore Sydney Biniak helped the College fight back to take a 13-11 lead, scoring four of her 14 points in the process. Later in the frame, Elon's Catherine Head scored two points to help the Phoenix battle back to a tie at 18. The two sides traded points until Elon called a timeout while leading 24-23. The Phoenix forced an attack error on senior Dessi Koleva to take the first game.
At a 1-0 deficit, the College came out swinging in the second set by taking the first three points and 10 of the first 13. Freshman Heather Pippus, this week's Colonial Athletic Association Rookie of the Week, fueled the run with three kills early in the set. The Phoenix encroached on the Tribe's lead, reducing it to just a single point at 14-13. Pippus and Biniak then carried the Tribe with two kills and a service ace and three kills, respectively, spreading the lead to 20-14. The teams traded points but William and Mary held its advantage and won the set 25-20.
Pippus again stamped her mark on the game, bringing the College back within four at 19-15 with four kills.
With the match tied 1-1, the Tribe was unable to carry its second set momentum forward as it allowed Elon to open the third set with a 14-6 lead. The Phoenix forced five errors from the Tribe. Pippus again stamped her mark on the game, bringing the College back within four at 19-15 with four kills. However, the Phoenix then took the final four points off kills, and snatched the third set 25-20 for the 2-1 lead on the night.
William and Mary jumped ahead of Elon to open the fourth set, but the Phoenix caught up and took an 8-6 lead off of kills from Elon's Ally Karle before the visiting Phoenix grabbed a commanding 20-13 advantage. Sophomore Olivia Jebb finished the match as Elon scored on her with a service ace to seal the Tribe's 25-16 set loss and 3-1 match loss.
William and Mary now faces a six-game road slate consisting entirely of conference foes. The Tribe faces James Madison (18-3, 8-0 CAA) in Harrisonburg, Va. Thursday.