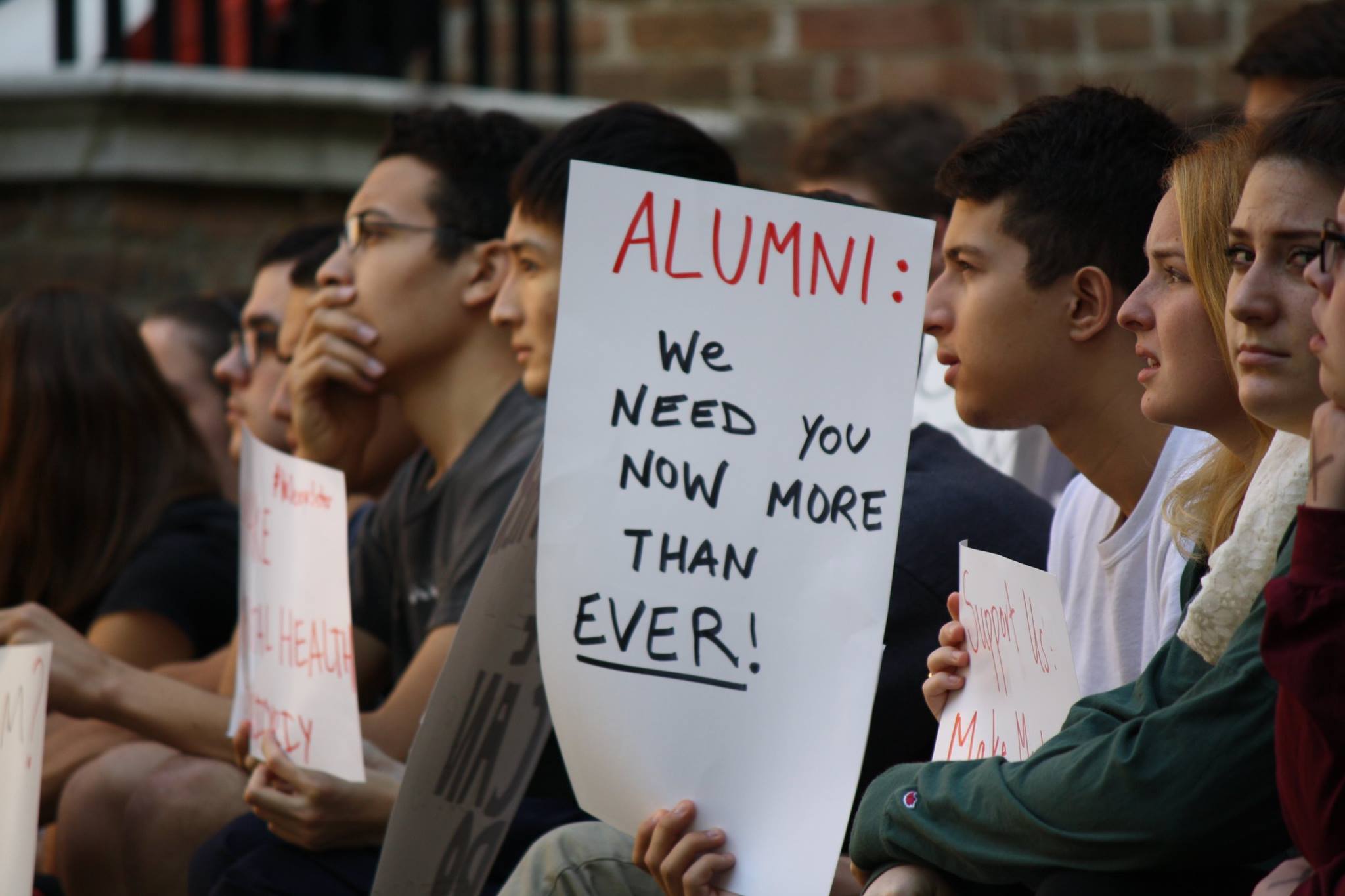 More than 100 students gathered at the Sir Christopher Wren Building Friday, Oct. 23, for a sit-in to raise awareness about mental health on the campus of the College of William and Mary. The protest targeted alumni in particular, many of whom were on campus for Homecoming Weekend.
The organizers, Taylor Medley '17 and Liz Wolfe '18, encouraged students to speak at the protest. Some talked about waiting times in excess of two weeks for appointments. Others discussed the dearth of clear information from the administration about the mental health resources available on campus, the lack of funding for the counseling center, and the general sense of alienation that many students feel as a result of pursuing mental health resources.
"Mental health is just like physical health," Corey Strickland '17 said. "If something's broken, you need to help fix it, you can't just go on without it, and that's why the two to three week period is so detrimental, I think, because it only lets the injury persist, and get worse. … [It's] just like having a broken leg and having to wait for the doctor for two to three weeks, it's going to be extraordinarily more difficult to recover after that."
Strickland also mentioned the benefit of hosting the protest during Homecoming.
"If we could make [alumni] knowledgeable about where the money's going, and how the students are quite honestly floundering due to a lack of help — not on the Counseling Center's fault — but a lack of funding," Strickland said.
Many students said they found the lack of funding to be an indication that the Counseling Center was not wholly equipped to help students with a variety of mental illnesses. Speakers expressed issues with going off-campus to seek care.
"Don't have enough money for outside help? Too bad, tough luck," Kalyn Horn '16 said. "The Counseling Center does a lot of good, but there's a lot more good it could do if it expanded itself, and offered resources to the students who have more severe issues than situational depression, midterm stress and stuff like that."
Medley invited speakers into the center of a semi-circle, some of whom shared intimate stories of their mental health experiences.
"You could see that [the students] had tears in their eyes," Medley said.
Outside of the central protest area, students handed out letters to alumni and students, and encouraged them to listen in on the stories being shared as part of the sit-in. The letters listed out the group's demands, including shorter waiting times and the hiring of a full-time psychiatrist for the Counseling Center. According to the organizers, the event saw mixed success with alumni. The organizers said that some alumni joined in, listened and even offered to donate to the Counseling Center.
Professor of gender, sexuality and women's studies Jennifer Putzi attended the protest.
"I think the students are doing a really important thing, today, in trying to remind the alumni and remind the administration about their concerns on campus," Putzi said. "I still have students who are having a hard time getting into the Counseling Center, it's taking entirely too long for them to get help if they need it."
Although fewer students participated in the event than initially anticipated, organizers said those present were very involved. Even as the event came to a close, Medley said that it was clear to her that there were still more students who wanted an opportunity to speak and for their voice to be heard. According to Medley, this was just one step in sustaining a conversation about mental health that many students want to have with administration, and bringing about the pressure necessary to result in meaningful changes.