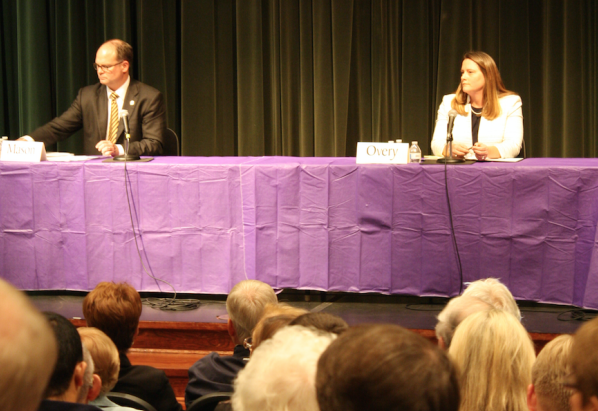 The League of Women's Voters held a debate at the Williamsburg Regional Library Thursday, Oct. 29, between Democratic incumbent delegate for the 93rd district Monty Mason '89 and this year's Republican challenger Lara Overy '08.
Mason has served as delegate since 2014, and he also is a current senior director at Visa. Overy is the director of development at Thomas Nelson Community College.
The debate focused on several issues specific to the district. According to Mason, a heavily talked about issue this year has been transportation, especially the planned expansion of I-64 between Richmond, Va. and Newport News, Va.
"I think the completion of the three phase widening of interstate 64 up to [route] 199 is something I hear a lot about," Mason said. "The second phase is funded through lower 199 [exit 242], but at this point, the money is not yet on the table to move to upper 199 [exit 234]. I think this will make 199 a parking lot. A good thing now is transportation organizations are looking at it as one full project, which will raise congestion for third phase and help us get it funded. We have to look at other comprehensive solutions for traffic like mass-transit and a third rail line to Newport News."
Education was a large focus for much of the debate, especially issues like bringing charter schools to the district, creating a universal preschool system, school safety, and student homelessness and poverty. For Overy, a continued focus on education and funding for the school system was an important issue.
"I have knocked on over 6,000 doors personally and I keep hearing the same things: jobs, education and transportation," Overy said. "I think I am uniquely qualified to address the issues of jobs and education here in our community. I have identified, after talking to a number of businesses, that we have a real skill gap. I would really like to focus on promoting work force training programs, working with counselors in high schools, parents and students to make sure they know about career opportunities. I also want to work with displaced workers, those getting out of the military, and those who are laid off from the shipyard, to make sure they have the skills they need."
The candidates also discussed campaign finance reform, an expansion to Medicaid, gerrymandering, starting schools before Labor Day, charter schools, drones, and what it means to be a graduate of the College of William and Mary. For Mason, he said being an alumnus of the College has been the reason for every opportunity he has had.
"I don't put my William and Mary bona fides up, that's up to you. I loved the school, it did everything for me," Mason said. "I applied early decision and didn't apply anywhere else. I [was] a government major and a history minor. Every opportunity I've had, everything I've gotten has come from there. You know what one of the biggest ones was, it taught me that I'm not that bright. I got to learn more about every topic that comes around, and there's always someone out there who knows more."
Another important issue focused on during the debate was gun control, specifically whether or not background checks should be required when purchasing guns from gun shows.
"I was a victim of violent crime that involved a gun," Overy said. "There is no piece of legislation that could have prevented what I had to endure. I think there needs to be responsible gun ownership and it needs to be legislated in a fair way. We need to make sure people in our community have good jobs and good education, because then crimes go down. We need to focus on mental health in our community."
Additionally, candidates discussed whether people should still be required to provide a reason when requesting an absentee ballot. Mason said that it should be removed, as access to elections is important in his opinion, while Overy focused on the integrity of elections.
"I do not think we should change the absentee voter laws," Overy said. "One of the greatest things about this country is our right to vote … that needs to be taken very seriously; we need to hold this to high standards. We can't just throw away votes. We need to uphold the integrity of the process."
Both candidates gave closing remarks focusing on how they would best serve the district in the coming term if elected.
Some students of the College were in attendance at the debate, including Sarah Mehaffney '19.
"I feel very passionate about local elections," Mehaffey said. "Most laws are passed by our state legislatures, so we need to be aware of all of the policies that are going on, and all of the candidates actively engaged in local and state governments. I went in knowing who I was going to vote for, but I was surprised by how much common ground they shared, and the amount of legitimate claims on both sides."