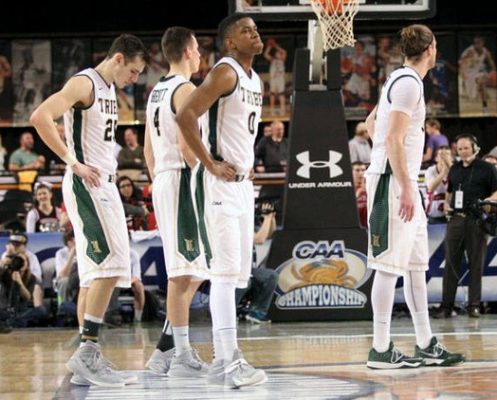 After losing arguably the greatest player the school has ever seen, many teams would look at the next season as a "rebuilding year," a chance to focus on developing young talent rather than making a run at a conference title. While William and Mary faces that same dilemma following the departure of guard Marcus Thornton '15, the dream of earning the College's first NCAA Tournament bid remains nonetheless alive and well coming into the 2015-16 campaign.
            "That's the one thing about sports," head coach Tony Shaver said. "It's not about last year, it's not about yesterday, it's what you do today. We've got a find a way to battle and scrap and fight, and stay in the top part of this league."
The Tribe returns practically the entire team that earned the No. 1 seed in the Colonial Athletic Association tournament last season, minus only Thornton and forward Tom Schalk '15. Four members of the starting five remain, anchored by super-versatile senior forward Terry Tarpey, a preseason All-CAA first team selection who averaged nearly 12 points a game in 2014-15. The reigning team leader in rebounds, assists, steals and blocks, Tarpey has already cemented his name in the College record books, as his triple-double against James Madison last season was the first in school history.
Flanking Tarpey will be two other double-digit scorers from last season, junior guards Omar Prewitt and Daniel Dixon. Prewitt, selected to the All-CAA second team, should be the new focal point of the Tribe's offense, having averaged 13.5 points per game last season, second only to Thornton. Dixon looks to add a new dimension to his game, having primarily been an outside shooter his first two collegiate seasons, and one of the best in the country at that, as he ranked fifth nationally in three point percentage last year.
Senior forward Sean Sheldon returns to the starting lineup as well. A good low post distributor, Sheldon racked up 67 assists and led the team in field goal percentage in 2014-15 while functioning as the lone big man in the College's typical small-ball lineup.
The fifth and final piece of the starting lineup puzzle, the point guard, remains a mystery. Not only does Shaver have to fill a role previously occupied by the first Tribe player to be selected in the NBA draft in 30 years, but the list of potential replacements, while technically gifted, lack serious collegiate experience and have battled injuries for a solid chunk of their short careers.
            "We've got three guys battling for the point guard spot, and they've all had really good moments, but they've all been hurt too," Shaver said. "So it's kind of hard to know who's been the best at that spot."
This trio of potential point guards includes sophomores Michael Schlotman, Oliver Tot and transfer David Cohn. Schlotman is a smart playmaker who has fought through several injuries, most recently a concussion, while Tot had flashes of excellence last season but never found a consistent role in the rotation. Cohn is the most experienced of the three, having played in 31 games his freshman season at Colorado State, but due to NCAA regulations still has not played a minute for the Tribe. Whoever gets the nod to start will obviously take most of the spotlight, but all three should play meaningful minutes throughout the season.
Beyond the starting five, the College looks to have a deep and well-rounded bench that will contribute when the starters need a breather. Sophomore guard Greg Malinowski has a strong shooting stroke, connecting on 46.8 percent of his three-point tries last season, and was the only reserve to appear in all 33 games last year. Sophomore guard Connor Burchfield worked his way into the lineup late in the season. Burchfield also possesses a knack for knocking down long jumpers. In the frontcourt, sophomore forward Jack Whitman and freshman Hunter Seacat provide size and athleticism in the post, while redshirt freshman Paul Rowley can spread the floor with impressive shooting range for his position.
William and Mary opens its 2015-16 campaign with an intimidating non-conference slate, including three teams that competed in the NCAA Tournament last season. The season tips-off Friday, Nov. 13 at N.C. State, who upset No. 1 seed Villanova in last year's tournament to reach the Sweet Sixteen. The game is scheduled to begin at 8 p.m., and will be televised on ESPN3.