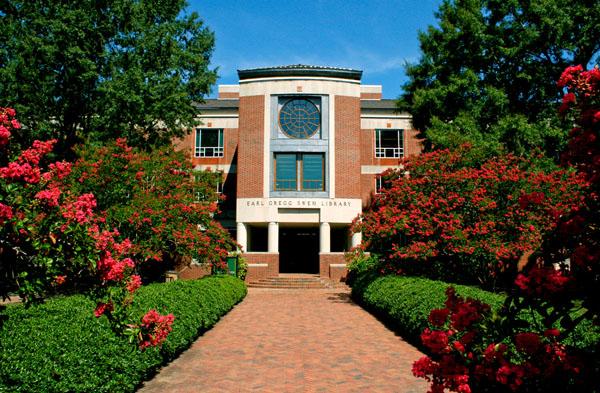 The Earl Gregg Swem Library sponsored a visit Nov. 6 from Cable Green, Creative Commons' director of global learning initiatives, who participated in an open forum on textbook affordability.
According to Bureau of Labor Statistics data, textbook prices increased 1,041 percent between January 1977 and June 2015, a rise three times the level of inflation.
In late October, during Open Access Week, an annual global event to discuss the importance of free access to information, Swem posted a survey about textbook prices. Featured on the front of the College of William and Mary's library on a large whiteboard, the survey results included 56 students who noted that high prices of textbooks caused them not to buy the required textbook, and 16 students who said they earned a poor grade as a result.
"We had quite a few students say that they didn't purchase a textbook for a class because it was too expensive, and they thought their grade suffered because of that," Arts Librarian and Interim Digital Scholarship Librarian Kathleen DeLaurenti said. "I don't want to see that happening. If there's something we can do, I want to be there to do that."
Creative Commons is a non-profit that works to address the affordability problem with content by allowing creators to share their resources for free. Green began the forum with a discussion of innovations in educational resources.
"We live in a world today where we can build an educational resource, like a textbook, and it might cost a lot to build that book, it might cost a lot to keep it maintained and updated and current and accurate, but once it's built, it's digital," Green said. "We can share it with everyone on the planet with near zero cost."
Open textbooks are free, openly licensed textbooks under Creative Commons, allowing teachers and students to freely use, adapt and distribute the material. Students can access open textbooks without violating copyright and download them for free. Creative Commons works on an international scale and has teams in 85 countries to work with organizations that want to implement Open Educational Resources).
Green urged students to encourage faculty to take an "open textbook pledge," or to review open textbooks available on their course topic before assigning materials. He also called for students to talk to the administration about marking courses that use an open textbook in the course catalog.
"We find when [open textbook courses are marked]; the institution moves quickly to OER," Green said. "And to be totally honest, the reason why that happens is students vote with their feet. If there's three sections of English composition one, and every faculty [member] is fabulous, because you're at William and Mary, and one offers open textbooks, students are going to sign up for that one."
In response to a question about the quality of open textbooks, Green said that any source of information can have errors. However, because open educational resources are free and online, they can be edited quickly, while print edition corrections can take years to resolve.
"In many cases [open textbooks] are superior," Green said. "And they're superior for a couple of reasons. One is a very practical reason. When you move to an open textbook, 100 percent of the students in the class have 100 percent of the resources on day one. Today at William and Mary, they're not the case. Today the national average is that 65 percent of the students in the class don't have all of the educational resources they're assigned. They tend to buy some of them, but they don't buy all of them. So that's a problem."
Green said the most important thing is for all students to have access to educational resources.
Nathaniel Clemens '17 talked about the importance of free textbooks to him and other College students.
"College students' favorite words are 'free stuff,' especially free textbooks or open access to textbooks, because just from a student perspective, it can be very frustrating to have to buy a very expensive textbook and only use it a few times when you're able to find the same information online," Clemens said.
DeLaurenti discussed what students can do to get involved with advocating for open textbooks.
"The library is really interested in partnering with student groups who want to try to increase awareness of OER with faculty," DeLaurenti said. "I think we can work alone, but I think we can be more effective together. So we are absolutely interested in partnering with students on this issue too."
Several other events were hosted Friday about implementing OER on college campuses, including a keynote for faculty and a session for librarians and academic technologists.