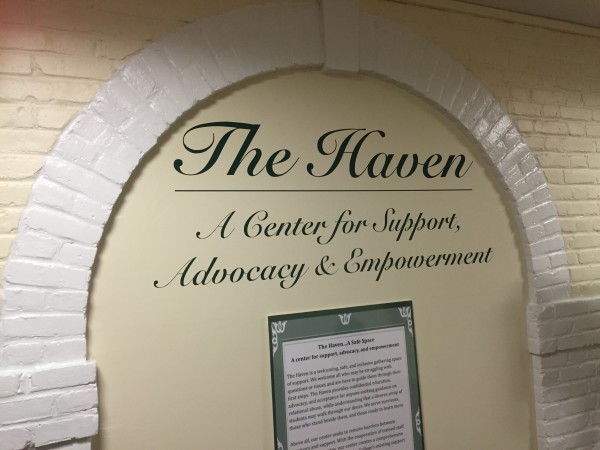 Students Mallory Tucker '15 and Hannah Boes '14 founded the Haven in collaboration with former Care Support Services and Senior Assistant Dean of Students Donna Haygood-Jackson in the spring of 2015. According to Senior Associate Dean of Students Vernon Hurte, Haygood-Jackson retired from the College this past summer.
"After Dr. Haygood-Jackson's retirement, I was asked to take over leadership for the continued development of the Haven," Hurte said in an email. "Currently, we are in the process of hiring a full-time coordinator for the Haven."
Haygood-Jackson had been on paid leave following her arrest March 29 after being charged with driving while intoxicated. She faced a civil violation for her refusal of a blood alcohol test and a traffic violation for improper backing. Her responsibilities for the College's Sexual Assault Response Services included supervising the Haven.
At the recommendation of the College's Task Force on the Prevention of Sexual Assault and Harassment, the College created a position for a full-time director and professional coordinator of the Haven. Hurte said candidates for the position are scheduled for on-campus interviews following the Thanksgiving break.
According to the Haven's mission statement, the space "provides confidential education, advocacy and acceptance for anyone seeking guidance on relational abuse, while understanding that a diverse array of students may walk through our doors."
Lauren Dybel '17 is a current volunteer at the Haven, as well as a member of the Healthy Relationships and Sexual Aggression Branch and the membership chair of Health Outreach Peer Educators at the College.
"The Haven is a confidential space where people that are dealing with some relationship violence or sexual violence can come speak with a student about their experiences and get help in looking for resources," Dybel said.
The Haven is located in Room 166 of the Campus Center. The space and its student volunteers help students through many types of situations, including medical emergencies, emotional challenges, serious academic concerns, personal issues and sexual assault, and gender-based violence or discrimination. In addition to functioning as a space to simply think or talk to a volunteer, the calming room offers relaxation methods including reading and coloring.
Survivors or friends of survivors of sexual assault are welcomed to come for information and resources, or to sit in the calming space. Visitors can enter the room to think or talk without any formal reports, as the Haven is confidential. Resources both on and off campus are made available to visitors, as well as information on how to report an incident to the appropriate authorities if the visitor so desires, according to Hurte.
Julia Canney '16 is a volunteer at the Haven, as well as the vice president of Healthy Relationships and Sexual Aggression Branch of HOPE.
"The goal for us is just making it a safe, inclusive space where people feel they can go as some sort of survivor or as a supporter of a survivor," Canney said.
Every semester, new volunteers for the Haven undergo a two-day training period where they meet with an Avalon outreach representative. Avalon is a center for women and children that is committed to intervening in the event of domestic violence and sexual assault. The representatives talk to Haven volunteers about topics related to sexual violence and how to support survivors or supporters of survivors. During the training period, volunteers also meet with representatives from the Dean of Students Office, the Counseling Center, the Student Health Center and Title IX Coordinator Kiersten Boyce.
"We are going to be meeting with the Counseling Center, and they will be giving us a more detailed view of how we can help survivors of sexual assault," Canney said.
Over the past year, Dybel said the Haven has increased its collaboration with the Dean of Students Office to open up more channels of communication over the past year.
"We've had a lot of logistical changes because we have a new director, a new coordinator, and now we have a graduate student helping us," Dybel said. "But our volunteers still have the same values, the same motives. The idea behind the Haven is very consistent."
The number of volunteers has increased at the Haven as well. Dybel said in fall 2014 the Haven only had 10 volunteers because there was no application process. Those who volunteered were recruited because they had previous training in the area of sexual assault.
"Last spring and this fall seem to be very consistent with about 30 volunteers," Dybel said. "There's more applicants than that too, so there's a lot of people interested in doing this kind of work and looking out for their peers in this way."
Logistically, the Haven has also changed its hours to adapt to the times volunteers saw people actually come into the space.
"We very rarely saw people come in late at night. So we've adjusted to the needs we see on campus and when the peak times were," Canney said.