Awarded Best Irish Tenor, Anthony Kearns has toured all around Ireland and the United States with the internationally recognized Irish Tenors trio, performed for several U.S. presidents and Pope Francis, and now will be singing a solo concert at the Kimball Theater in Williamsburg on Nov. 13.
Kearns is known for his versatility and will be singing an eclectic selection of songs at his upcoming concert. The concert will feature his voice accompanied only by Jon Laird on piano.
"The Kimball Theater is a beautiful venue … they have a lovely setting for an intimate concert with a singer and accompanist," Kearns said. "You can hear the raw instrument of the voice and piano together performing great songs that have been around for hundreds of years that we want to keep alive, and the music is entertaining. It's from musicals, opera, Irish sounds, great ballads, some powerful uplifting songs, some comedy … it's a roller coaster of music."
According to Kearns' publicist, Kirsten Fedewa, variety is an important aspect of his performances and career, which has included all kinds of different styles. He has performed both in groups and solo, in various cities throughout the United States and Ireland, and for all types of audiences.
"Whatever that voice sings, people love," Fedewa said.
Kearns said that his hometown of Wexford, Ireland had strong musical traditions, so he was exposed to traditional Irish music from an early age. He had a few teachers who were instrumental in inspiring him to pursue a musical career, particularly a conductor who taught Kearns in secondary school.
"I grew up in rural Ireland, so it was a little more difficult than those born in the city who have access to music teachers, particularly in classical music," Kearns said. "[It] was a great help to have a conductor who was renowned throughout Ireland for conducting shows, musicals, operas and concerts and working with one of the national orchestras … We are still friends to this day, years after finishing school, and I've worked with him [in] a professional capacity."
"Whatever that voice sings, people love"
His professional career got its unorthodox start with Ireland's Search for a Tenor singing competition, which he won.
"I started late in the music business; I was 23 years of age before I started taking lessons in earnest, so this competition pointed me in the right direction," Kearns said. "It introduced me to singing teachers and singing coaches and the world of classical music and opera, and took me away from the traditional roots but opened up a another world for me."
After the competition, Kearns began working with professional vocal coaches. For the next few years, he added technique to his natural talent. Then he got an invitation to perform with The Irish Tenors, who achieved rock star status in Ireland.
Kearns has visited Williamsburg before. In fact, he was awarded the international honor of Best Irish Tenor in 2010 by the Irish Music Association and presented with his award at the College of William and Mary's Phi Beta Kappa Theater, Fedewa said. College students and alumni have helped Fedewa promote his upcoming show around campus and colonial Williamsburg. Nour Aburish '17 and Maddie Doherty '17 have been promoting the upcoming concert by putting up posters at local businesses throughout Williamsburg.
"We got a very friendly response — the Cheese Shop started putting up the posters before we even left the venue," Aburish said in an email.
Aburish said she got involved with Kearns's shows through the alumni network, which gave them the opportunity to help at another one of Kearns' concerts that benefited veterans and K-9s for Warriors.
"[Kearns has] done a lot of work helping military charities that support veterans and their families … people just love the causes that he chooses," Fedewa said.
Alumna Nancy Velasquez '12 has been working with Fedewa since graduating with a major in government and a minor in sociology. She met Fedewa through the William and Mary in DC program.
"Our theme was media as a fourth branch of government. Kirsten has an incredible career in media in publicity and she came to speak to the class," Velasquez said. "I got in contact with her and I was helping her soon after."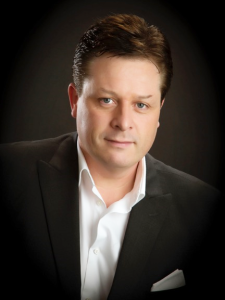 While the publicity helpers' main job is to promote Kearns' concerts, they all got opportunities to attend Kearns' shows and even meet him in person.
"I got to go and work with publicity and take photos at [Kearns' performance at the final mass of Pope Francis's visit to the United States] … I actually saw Pope Francis walk by," Velasquez said. "I got to stand on stage while different performers were singing and it was a really awesome experience and I was very fortunate to be able to go because of Kirsten and Anthony."
Kearns said that he never gets nervous, even when performing for such a prestigious audience as the Pope.  He applies lessons learned from his performances to all aspects of life.
"You have to go out and face your audience head on like the toreador wrestling the bull … and know you're good at what you're doing, you've put the years of work in and you just stand up and do what you have to do and then enjoy it … in anything, not just music, the sun will shine the next day, and you get up and you start all over and you start with a fresh tablet," Kearns said.