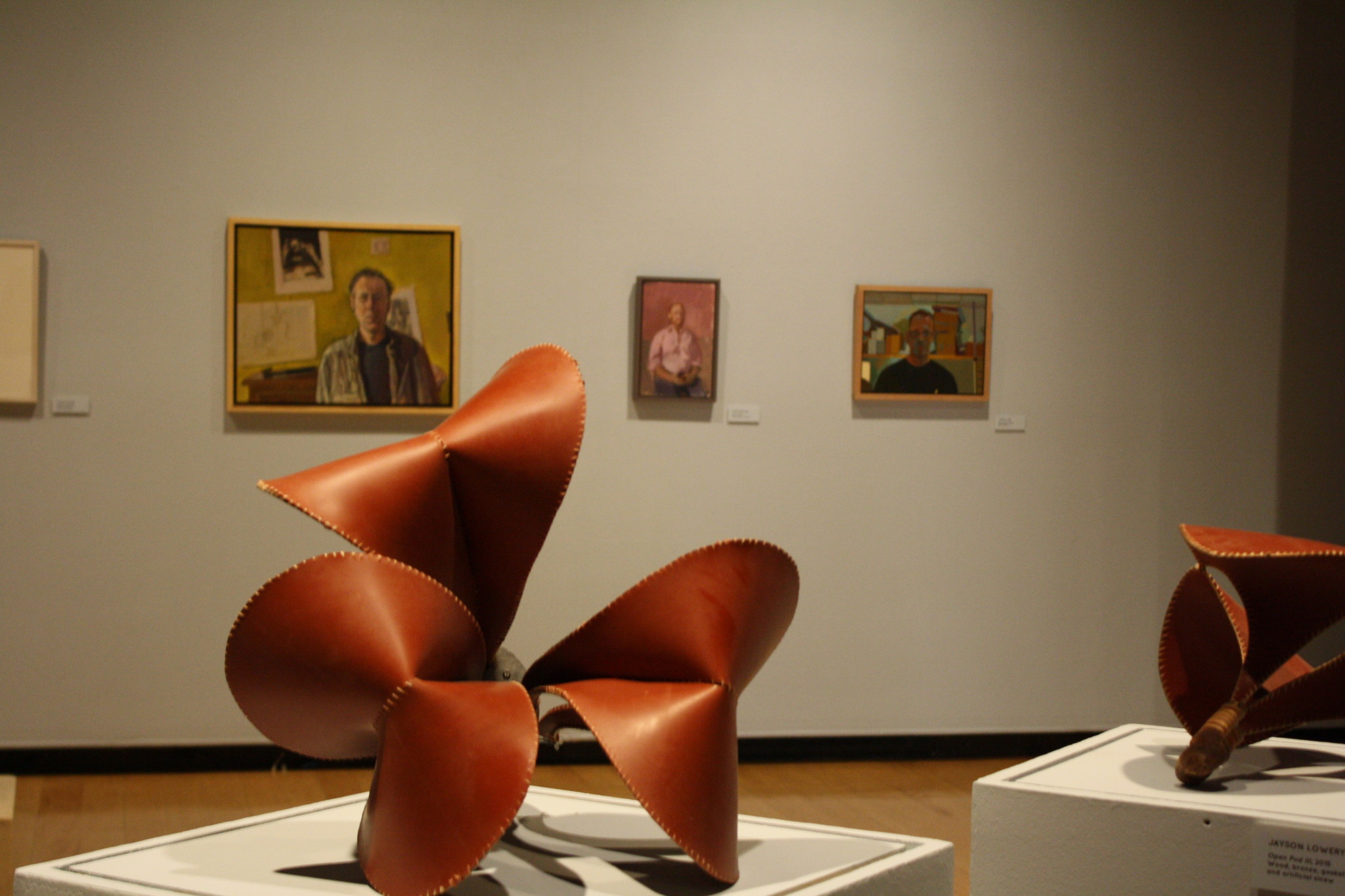 Lying between Alan B. Miller Hall and Phi Beta Kappa Memorial Hall, the multicolored windows of the Muscarelle Museum of Art are hard to miss. The full array of art on display inside the building, however, rivals the window art. Currently, the Muscarelle is housing the 13th College of William and Mary Faculty Art Show, which features a variety of media, including paintings, sketches, sculpture, architecture, woodwork, ceramics and photography.
This year's show consists of 17 faculty members' work and provides a view into the life of the artist beyond just teaching. For this reason, assistant professor John Lee, whose paintings are featured in the exhibit, says it is important to show faculty work.
"[The show] helps the faculty see each other and it helps students see who they're working with, […] it's important that the faculty have this opportunity to show what they've been up to in the last two to three years in the studio," Lee said.
This year, photography plays a new role in the show, highlighting the newly developed photography program in the art and art history department with pieces by visiting professor Eliot Dudik. Dudik said that his works in the show, coming from his larger series "Broken Lands," portray Civil War battlefields.
"They're done with an antique, hundred-year-old 8×20-inch view camera which I've loaded with two sheets of 8×10 color film," Dudik said. "So both sheets of film are exposed in the camera at the same time, and then they're separated afterward and processed separately, and I digitized them separately, and then to bring them back together again on the computer and print digitally."
Dudik said he enjoyed the show once he saw it all put together.
"Going into the show, for the first time I've seen a lot of my colleagues' work and [I'm] thoroughly impressed," Dudik said. "All of it."
Additionally, the show displays several pieces of porcelain and stoneware pottery by assistant professor Mike Jabbur, who said that his work is based around more utilitarian pieces.
"I started thinking conceptually about … larger work next to smaller work and how it implied things like abundance: social gatherings, dinner parties, potlucks," Jabbur said. "So I make big functional pieces that talk about that type of food and gathering experience and then I make smaller pots that I think talk about the more intimate experiences […] most of the pot forms I make have a food associated with them like a coffee mug, an oil cruet, a bread plate."
In reference to the exhibit, Jabbur said the importance of this show to him was showing off a bit of his work and his passion for that work.
"You know I obviously want to show my best work, and then I also want to show a range of the concepts and types of forms I'm exploring and the pieces," Jabbur said. "The form types I submitted were the forms I'm most excited about … some of those are newer ideas, some of those I've been working with as long as I've made pottery, but they're the things I wake up and want to make."
[The show] helps the faculty see each other and it helps students see who they're working with…
Associate professor Nicole Santiago has a number of paintings in the show. She said she forms her paintings through a series of observations and experiments with color in Photoshop.
"Sometimes I take the paintings and I'll take a photograph of the painting and put it in Photoshop and move stuff around to see how it would look or change the color to see how that would look and then go back in and … [see] what I need to do to edit it," Santiago said.
Santiago said her favorite piece in the show was Kathleen Hall's Portrait of a Male Figure.
"I mean there's so many that are so good but I think that one stuck out in my mind as one of the more beautiful pieces," Santiago said.
The Muscarelle is free to the College's students, faculty and staff and the faculty show will be up until Jan. 17, 2016.