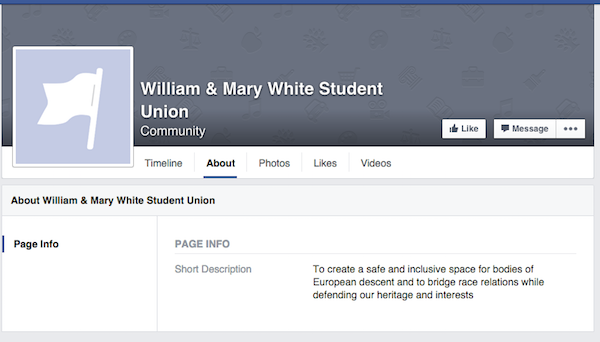 A page claiming to represent a white student union affiliated with the College of William and Mary appeared on Facebook Nov. 23.
This follows a recent, national trend featuring  similar pages claiming affiliation with over 30 universities, according to the College Fix. The authenticity of these pages has been called into question. The New York Times reported that the administrators of the pages have not been identified and may be linked to a neo-Nazi message board.
The page's only post cited the White Student Union at UCLA page and used language that mirrored posts on other white student union pages.
"European-American students on college campuses face unique and immediate challenges that are ignored or even actively denied in today's cultural climate," the post said. "We condemn the cowardly campaigns of moral subjugation and propaganda that seek to instill self-hatred and surrender within European-American youth and justify the continued invasion and degradation of the lands, institutions, and cultural heritage that are rightly ours."
The page currently has no likes.
Update (November 25 at 11:54 a.m.): "As you note in your story, this is not an official student organization at W&M and we have no information that the Facebook page was created by anyone affiliated with the university," University Relations Vice President Brian Whitson said in an email. "It appears to be copied from similar anonymous pages created by an outside group whose agenda does not reflect our community's values."