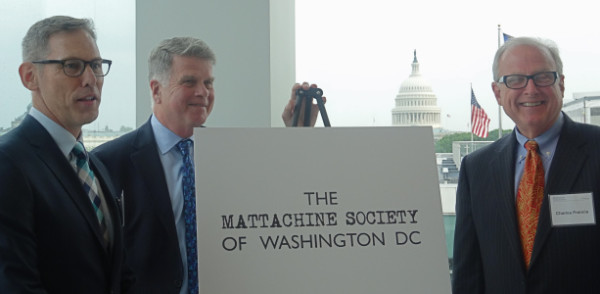 The College of William and Mary is launching the Mattachine Research Project to research and archive the history of LBGTIQ people in Virginia.  The College's project will be working with the Mattachine Society of Washington whose goal is to archive LGBTIQ history.
Similar projects are being conducted in other states.  The project is recruiting graduate and undergraduate researchers. Project researchers will search Virginia archives, including the Virginia Historical Society, the Library of Virginia and the Valentine Project. Old newspaper articles from Virginia newspapers like the Richmond Times Dispatch and transcripts from the General Assembly will also be searched.  Documents in Earl Gregg Swem library archiving the history of LGBTIQ people at the College will be studied. The Mattachine Research Project will digitize and upload articles to its website for view by the public.
Researchers will look at how laws in Virginia have affected LGBTIQ people.  Jan Hubenthal M.A. '13, Ph.D. '18, an American Studies Ph.D. student and the College's Mattachine Project research fellow, said researchers will focus on discriminatory laws regarding bars and ABC stores. He gave the example of the Alcohol Beverage Control agency instructing bars not to serve alcohol to known homosexuals. Another example provided was how Crimes Against Nature laws, which were anti-sodomy laws, discriminated against LBGTIQ people.
Virginia's history will be on display throughout the project.  American studies and history professor and Director of the Mattachine Research Project at the College Leisa Meyer said she hopes that the project will reveal unique connections to other Virginia historical events.
"Richmond was the capital of the confederacy," Meyer said. "There is a history of slavery and race relations. Virginia was the site of massive resistance in terms of segregation. I am hoping that we will find ways with this project to see how sexuality and race are intertwined and of speaking across what some might understand as barriers."
Meyer believes this project could be a great opportunity for student researchers and volunteers. She said she hopes to give domestic COLL credit for the project next year. As professor of "Sexuality in America," she has seen an increased interest in LGBTIQ issues and improving LGBTIQ rights in the past 5 years.  According to Meyer, she would eventually like to see students analyzing the research and presenting it to the community to start a conversation.  She could also see students using this research for an honors thesis.
Lauren Dickerson '18 attended the meeting for the Mattachine Research Project.
"Basically, I don't think that there is enough historical study on LGBTIQ," Dickerson said. "I think that it's an interesting field of study, and I think that expanding our knowledge of the history of LGTBIQ people will help us understand who they have been and help us embrace who they are today."
Hubenthal said that the ultimate goal of the project is to remember what LGBTIQ people in Virginia experienced.
"We tend to think of gay history as a progressive narrative," Hubenthal said.  "We tend to forget about the things that weren't quite so wonderful and I think that the ultimate end goal for us is to create a historical memory of the things that did happen and of the things that continue to happen. We want to disrupt the narrative of 'Well, we are done with that.'"
An interest meeting for graduate and undergraduate students who want to do research for this project occurred Nov. 16. President of the Mattachine Society of Washington Charles Francis, as well as College faculty advisors, were in attendance. In addition to discussing the project, the documentary "Uniquely Nasty," which investigated the discriminatory laws against LBGTIQ people enforced by the government, was screened.