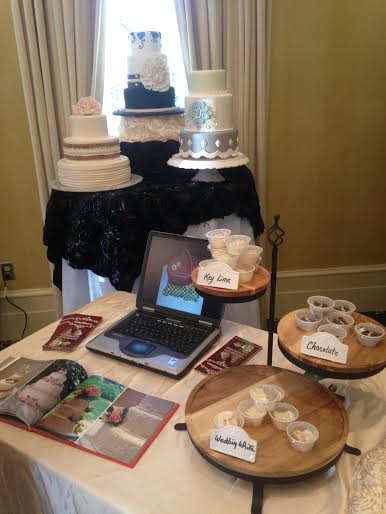 24 hours before his wedding date, Nicky Hutchinson proposed to his girlfriend. The next day Hutchinson and his bride were married in the Wren Chapel.
Misconceptions like the one that College of William and Mary alumni couples need to reserve a date five years in advance surround the history of weddings at the Wren Chapel. In reality, the chapel has been very flexible about the timing and types of alumni weddings that take place in the — even surprise weddings are not off the table.
According to Associate Director of Historic Campus, Kimberly Renner, spontaneous weddings like the Hutchinsons' can turn out to be wonderful events.
"[Hutchinson] contacted me two weeks out from when he was planning to have the wedding," Renner said. "He proposed to her and had the wedding ready to go and had her family in on it and everything, and he knew her well enough that he had, with the help of her family, the dress picked out and everything … They ended up being my favorite couple I've ever worked with."
Renner is in charge of booking the Wren Chapel for events such as weddings. She said that the rumor that reserving the chapel is ultra-competitive has caused many alumni to avoid the venue.
"There [are] a lot of people that don't come to us sometimes as a result," Renner said. "I don't know if the admission guides are still saying that, … but that's never been the case that we've booked five years in advance, we can't."
Like with any other venue on campus, booking revolves around the College's football schedule and events such as Family Weekend and Homecoming, which never have set dates until the football schedule is set. Moreover, Wren Chapel weddings are not open to the public, which increases the amount of available dates.
"Everyone has to be connected to the College; that's part of the reason we're not booked too far in advance," Renner said. "With this being a popular destination for tourists from all over, we wouldn't have the space for William and Mary families if we didn't keep it for that. So our rule is its alumni and their children, and then faculty and staff members and their children, that can get married in the Wren Chapel."
All couples have to do to reserve the Wren Chapel once they pick an open date is sign a contract with guidelines about how they can use the space.
"Because it is a historic site, there are certain guidelines they have to follow, and we're very particular about what they can do in the space," Renner said. "They can have whatever kind of service they like or whatever kind of wedding they would like, but they have to follow our guidelines which have a lot to do with decorations … for example, flowers can only be on the altar, there can be no candles anywhere except on the altar, nothing on the floor."
Like with any other venue on campus, booking revolves around the College's football schedule and events such as Family Weekend and Homecoming, which are never planned more than a year in advance.
According to Renner, depending on the couple's preferences, planning a wedding at the Wren Chapel can be an independent process or a more personal one with help and advice along the way.
"Some of them I don't work that closely with, I just book the space and they know the rules and they sign the contract, and they just show up and follow the rules and that's it," Renner said. "We do all sorts of different types of weddings … some couples I work more closely with if they want me to."
A wedding and/or reception on campus are obvious choices for alumni, as many of them have a long history with the school. In some cases, Renner said, even the bride and groom's relationship has ties to the College.
"It's amazing how many weddings we do see that it's both William and Mary alumni getting married and they met here, so it means so much for them to get married here," Renner said.  "[In] some families … parents have gotten married here, or other family members, and then they've gone here and gotten married here too so sometimes there's a legacy of Wren Chapel weddings."
The same is true for the Alumni House, which is a popular location for wedding receptions, especially with couples who get married at the Wren. According to Director of Business Development for the Alumni House, Cindy Gillman, staff make an effort to keep in touch with the families of brides years after the wedding.
"Our brides are really special to us because they don't leave us," Gillman said. "If you have your wedding reception here, chances are I'll see you at homecoming and I'll see you through the years … sometimes one of my brides will come back with little kids, it's really neat to be part of their happy day and be able to keep up with them a little bit."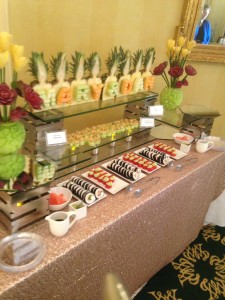 Gillman is in charge of the wedding showcase held annually at the Alumni House. This year's show took place on Sunday, Jan. 24 and featured caterers, bakers, DJs, photographers and planners from the Williamsburg area. The event was open to the public, but it tends to be especially popular with alumni brides and grooms.
The show consisted of several displays from different companies with samples of their work. It allowed future brides and grooms to see in person how the products would look, and to meet the vendors personally without any obligation or pressure to choose them.
"I think the event for a lot of people is a really relaxed event where they can start thinking about their wedding," Gillman said. "Our show is very small … we want to keep it that way."
The showcase is smaller than other bridal shows because it aims for a unique, personal feel. The casual atmosphere is meant to facilitate memorable conversations with vendors, the Alumni House staff and couples.
Melissa Saunders, a current student in William and Mary's part-time MBA program and a bride next October, said she enjoyed feeling the atmosphere at the showcase.
"Meeting the people [is] really cool, because you kind of get a feel for their style and their energy since they'll be part of our big day," Saunders said.
That sentiment was shared by the vendors themselves, who were very eager to talk to potential customers and make a good impression with product demonstrations.
DJ Howie Alexander, representing Colonial DJs, provided the soundtrack to the showcase, and demonstrated the Cupid Shuffle and the Wobble for the attendees.
"I own all my own equipment, all my own music, I probably got $250,000 worth of music, video and karaoke," Alexander said. "It's crazy how much over time you invest into it."
Meeting the people [is] really cool, because you kind of get a feel for their style and their energy since they'll be part of our big day.
According to Alexander, his software allows him to tailor the music to the couple's and guests' preferences and show off his flair for dance and ability to energize a crowd.
"[I get] very, very good results from this bridal show. We get great, quality people that come in, so our booking percentage seems to be a lot better at a show like this."
Cakealicious, a bakery and dessert bar based in New Town, is another recurring vendor in the showcase. The business is family owned and run primarily by Alice Cooke and her husband Randy Cooke. According to him, all the decorations on the cakes are handmade and edible. Cakealicous bakes for hundreds of weddings a year, and each cake takes approximately three days to make. The Cookes have worked with College alumni and staff, as well as celebrities including Williamsburg musician Bruce Hornsby, actress Coco Brown and Pittsburgh Steelers head coach Mike Tomlin.
"It's my wife's business and it's just a passion of hers," Randy Cooke said. "If you talk to her, she'll tell you she was taught by the master … and when she says 'master' she's talking about God. We've taken classes from the people that you see on TV on all these cake shows, we know many of them personally … so we've tweaked what we do but she's predominantly self-taught."
According to Gillman, most of the vendors said they had been participating in the showcase for several years, or since it began.
"Since we've done [the showcase] for so long, we've worked with a lot of the same vendors over and over again, so we have a really good relationship with the vendors, and I think that makes the day go a lot smoother," Gillman said. "We all work really well together … that's really appealing to brides; it makes them even more confident about how the day's going to turn out."
Above all, Gillman said that the event promotes cooperation between local vendors, as well as between popular venues like the Wren Chapel.
"There's a push in Williamsburg to really market Williamsburg as a wedding destination," Gillman said. "The more we know about other facilities and other event providers, the better service we as the city of Williamsburg can give to brides."