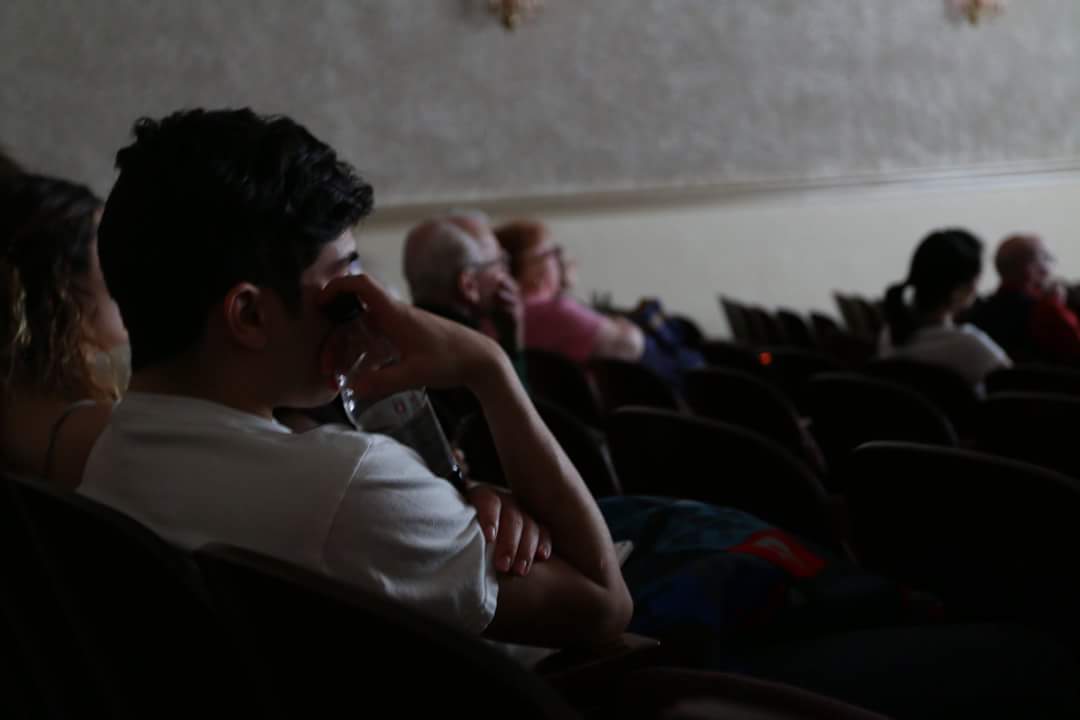 A solo searchlight swiveled to and fro, signaling to the night sky that the College of William and Mary Global Film Festival had returned to offer a four-day cinematic journey around the world.
This year's featured films ranged from documentary to mockumentary, from classic film to dramedy,  all of which fell under the festival's theme: Film and Community.
According to creative committee chair Michael Burrows '16, this year's list of big-ticket events was so impressive that it was difficult to choose a favorite.
"In previous years, I've been okay with saying one," Burrows said. "But this is one of the most consistently strong lineups we've had — it's very hard to choose one."
According to film competition committee chair Catherine Korizno '16, the 2016 motif was met with strong enthusiasm  the moment it was introduced. This enthusiasm was channeled into efforts to make the festival the most spectacular one yet.
"There's a lot more personal investment this year," Korizno said. "Everyone that's come through has been giving it 110 percent."
One of the first major films on the roster was "Journey Into Europe", the latest in a series of documentaries by American University's Chair of Islamic Studies, Ambassador Akbar Ahmed.  The film explores the place of Islam in the history and civilization of Europe, endeavoring to bridge the gap in understanding between communities in the shadow of violent atrocities and political strain. Presidents, archbishops, chief rabbis and grand muftis all lent their viewpoints to this piece, which has been called "compelling, gracious, and thoughtful" by the USA Director of the British Council in Washington, D.C., Paul Smith.
Ahmed acknowledged that one of the biggest challenges faced by communities and governments today is religious and cultural conflict, and he said that involving communities in that dialogue is important.
There's a lot more personal investment this year. Everyone that's come through has been giving it 110 percent.
"I congratulate William and Mary for organizing this Film Festival … Exactly how you involve the campus is involving the town ," Ahmed said.
Ahmed went on to speak about his inspiration for the film series.
"In America the discussion on Islam is one-dimensional," Ahmed said, using an hors d'oeuvre as a prop to demonstrate the multiple angles from which Muslims, tribal peoples and Europeans also view the religion. Ahmed then said that the best way to contribute to understanding in today's world is to "widen the circle" of voices in the discussion.
Immediately following Ahmed's film in the GFF lineup was "Chuck Norris vs. Communism", a documentary detailing Romanians' underground trafficking of forbidden Western films in the 1980s, actions which ultimately contributed to the toppling of [General Secretary  of the Romanian Communist Party Nicolae] Ceausescu's totalitarian regime. The film offered a glimpse of American values and prosperity through the eyes of an oppressed nation and expounded upon film's ability as a global medium to generate community.
After the film's conclusion, director Ilinca Calugareanu and producer Mara Adina took the stage for a Q&A session. Irina Nistor, a woman  who lent her voice to dubbing over 3,000 Western films in a time when discovery meant harsh retribution, joined via video chat. Discussion then turned toward selecting the film's name.
"I was talking to Irina, asking her what were the most popular actors from the films she dubbed, and she was talking about the holy trinity in Romania — which was Chuck Norris, [Jean-Claude] Van Damme and Bruce Lee," Calugareanu said. "Chuck Norris kind of stands for the all-American hero and always defeating the bad guys — a lot of times, Communists — very, kind of, pro-American agenda to his films … It felt like the perfect way to build the metaphor of the film."
As the question and answer session proceeded, an unplanned audience reaction surprised those in attendance. Receiving the microphone, an audience member stood, and, in Romanian, thanked the filmmakers for their work in portraying on screen the period through which he lived. To Irina, the man spoke of his gratitude for helping him to see the "beautiful side of the Western world."
Showcasing a whole different kind of community, the critically-acclaimed Ukrainian film "The Tribe" offered an unprecedented look inside a fictional deaf boarding school — a look characterized by its total lack of spoken dialogue or subtitles.
"'The Tribe' is pure cinema," GFF Webmaster Annie Curran '16, said. "Its real-time narrative style might be jarring to some, but that is exactly what makes this film noteworthy and unique … It is one of the most visceral film viewing experiences I have ever had, and I know that everyone in this audience will be thinking about it for days."
In a roundtable discussion between filmmakers on the theme of film and community, visiting film-scholar-in-residence, professor Robert Burgoyne, spoke on the idea that films have the power to both portray communities and create communities of viewers, naming the latter "communities of affect."
Every film we have on the list this year is somebody's all time favorite film.
"Film both reinforces local geographic community in a strong way, a powerful way, having a very deep relationship to the community," Burgoyne said. "But it also has a, kind of, affective dimension that can draw people in who are remote and entirely removed from the actual circumstances of the community being shown."
The discussion panel also benefitted from the input of Nicole Bernardi-Reiss, producer of "Radical Grace", and Thomas Logoreci, writer of "Bota." Both films were among those highly anticipated in this year's GFF lineup, along with the New Zealand mockumentary "What We Do in the Shadows," 1928 silent film "Show People," community documentary "In Jackson Heights," Brazilian animation "Boy and the World" and Academy Award-nominated Columbian film "Embrace of the Serpent." The Festival also included two student film  competitions, one of which featured films conceived and produced in 24 hours.
One film made its first debut to an American audience during the 2016 GFF; "Angry Indian Goddesses" focuses on the struggles faced by seven women in modern-day India who are finding their place in a community rife with misogyny.
"I laughed; I found it refreshing," GFF Senior Assistant Director and Director of Programing Kate Previti  said. "I was sort of shocked at how much I could relate to the film, and was not an Indian woman … It was ultimately one of the most hopeful films about community that I've watched."
"Angry Indian Goddesses" was one of over thirty short and feature length films shown at the festival this past weekend.
"Every film we have on the list this year is somebody's all time favorite film," Burrows said.
Annie Curran '16 was formerly The Flat Hat's News and Online editor.