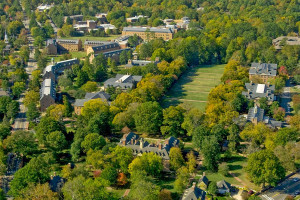 Mental health, diversity, transparency within the Student Assembly — it's easy for all the topics in this year's SA election to get muddled. Although the presidential and vice presidential candidates seem to focus on the same issues, their platforms differ based on the depth of their campaign promises and on their primary goals if elected.
The single-page platform that leads with big ideas and solutions from the ticket including Justin Canakis '17 and A.J. Scalia '17 differs greatly from the ambitious seven-page, multi-pronged outline of campaign promises made by Katherine Ambrose '17 and Liz Jacob '17, while the platform of Eboni Brown '17 and Hannah McKiernan '17 straddles the two strategies.
Transparency
According to Canakis and Scalia, their primary goal would be to create a working website for the SA if elected.
"I think the website is absolutely our main goal because that serves as a precursor to solving every other problem," Canakis said. "We live in an Internet revolution, and this is the new frontier. We are lagging behind, and so much can be done through social media and the Internet. This will serve as a catalyst to propel ourselves into solving all of our other ideas."
In fact, their platform for transparency primarily focuses on creating the website, similar to the other two campaigns. However, unlike the Ambrose-Jacob or Brown-McKiernan tickets, Canakis and Scalia leave their plan for creating the website open-ended. Their plans for what information will be included on the website does not significantly differ from the plans of the other tickets, but the ticket did emphasize that the interactive abilities of the website were important to them.
Ambrose and Jacob have already launched a model for their version of the SA website, which will require continued collaboration with the College's computer science club, ACM @ WM. Alternatively, Brown and McKiernan share the same vision for the website as current SA President Yohance Whitaker '16 — seeking to create a website attached to the College's own website, which will help ensure its continuity.
All three approaches to creating the SA website have their own list of pros and cons.  Continuity was the most significant issue with past administrations who have either provided or promised websites, but creating a website attached to the College's own website presents significant room for bureaucratic lag, which Whitaker's administration dealt with this year.
Diversity
Brown and McKiernan named their plans to make the College inclusive for every single student who joins its student body as the goal that they would most like to accomplish. Their definition of diversity centers on not only race, but also gender, sexuality and other forms, including creating gender-neutral facilities all across campus.
The unique element of their plan for diversity, in comparison to that of Ambrose and Jacob, is the extension of I Am W&M Week into monthly events highlighting different forms of diversity.
If we could get one thing done, it would be to get William and Mary to be a more inclusive environment, so students can actually feel, from day one when their parents drop them off, that they belong here," Brown said.
While Canakis and Scalia's platform does not acknowledge diversity at the College at all, Ambrose and Jacob's platform outline on diversity echoes Brown and McKiernan's through its emphasis on collaborating with different existing student organizations and programs, as well as with the Center for Student Diversity.
Sustainability
Ambrose and Jacob's campaign differs from the other two in its stance on sustainability. Canakis and Scalia do not have a published platform on the issue, and Brown and McKiernan's can be summarized in two bullet points: working with campus sustainability organizations and making the College more sustainable, including emphasizing recycling on campus. Ambrose and Jacob name different programs and areas to target for sustainability efforts, such as dining halls through Dining Services, as well as a variety of campus organizations and programs that address sustainability on campus to support.
Jacob said that her passion for sustainability comes from her environmental studies major and from her roles organizing Earth Week and in Seize the Grid, and has impacted the construction of their platform.
I was comparing us to other schools in the state and seeing that we could do a lot more and be a leader in how we look at environmentalism. That really stood out to me in how we bring that to the student body in a way that is not just a buzzword …" Jacob said.
Despite the differences in SA experience amongst the three tickets — with Canakis and Scalia having zero combined years of experience, Ambrose and Jacob a single year and Brown and McKiernan four years — all three campaigns remain similar in their approaches to transparency beyond implementing a website. Promises of monthly town-hall-style meetings between the SA and students with questions about the SA or of holding weekly office hours with SA representatives share the common goal of creating more opportunities for the student body to be informed about the goings-on of the SA.