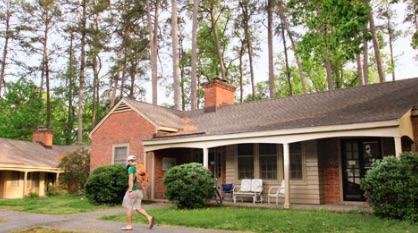 One of my first experiences at the College of William and Mary was on a denim couch in Lodge 10, where I sat watching as the Lodge's residents, including my host for the weekend, enjoyed a glass of wine with their upperclassmen friends.
"So this is college…," I thought, eyeing the seniors with admiration and the wine with trepidation.
As a naïve high school senior and prospective student, I didn't fully appreciate the Lodges. I saw a cramped kitchen, a dingy shower and a lot of roommates. Now, as a tenant of a typical residence hall, I can see why the Lodges are some of the most popular housing options on campus. The personal cooking space, the private bathroom and the opportunity to live with six close friends are definitely perks. The living room, front porch and back patio also provide great spaces for hanging out or working with peers. The Lodges are even in an ideal, central location, nestled in the woods near Sadler Center.
Unfortunately, these benefits will not be available to Tribe students after the 2015–16 academic year. The Lodges will be demolished as part of the College's construction plan, which, among other things, marks the end of these popular cottages.
While many people mourn the loss of the Lodges, this new center will be, in the long run, much better for the College.
The Lodges have been a part of campus since 1947, when they were built and originally used by fraternities. In 1994, some lodges were demolished to allow for the development of Sadler Center, and another one was later converted into the Daily Grind, an on-campus coffee shop. Now, each of the Lodges is serving its last seven residents; soon the buildings will be making way for the Integrative Wellness Center.
While many people mourn the loss of the Lodges, this new center will be, in the long run, much better for the College. The proposed IWC will cater to all aspects of student health, and will include an expanded Student Health Center, the Counseling Center and Health Promotion and Recreation offices. This development is a significant one that will better support student health in general, and hopefully increase the availability of resources for key areas, such as mental wellness.
The Lodges, which have been a part of the College for almost 70 years, will certainly be missed, but there should be no hesitation about trading an unconventional residence option for 49 students for a comprehensive wellness facility for the entire campus. While residents will be no longer able to enjoy the unique experience of the Lodges, and while high schoolers won't be able to have the interesting introduction to college that I had, the time has come for the Lodges to make way for something greater that will benefit the entire student body.
Email Lillian Waddill at lcwaddill@email.wm.edu